This Kamen Rider Yuuki (仮面ライダー幽汽, Kamen Raidā Yūki) was summoned by Swartz from the Another World to battle Sougo Tokiwa.
History
Kamen Rider Zi-O
2019: Operation Woz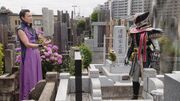 In presumably an altered variation of the events during Saraba Kamen Rider Den-O: Final Countdown, Shiro most likely defeated Ryotaro Nogami and the other Den-O Riders, He was later brought to the main universe by Swartz when Swartz is still on his way to summon more villain Riders to aid him. This time, he is able to summon Kamen Rider Yuuki by trapping a man named Yukihiro in his Another World, to battle with Katsumi Daido and White Woz against Sougo Tokiwa and Michal Minato.
Soon Sougo fights against the other Dark Riders. Zi-O, who is fighting Swartz's Yuuki at the time, is outraged by this and he attempts to strike the Time Jacker. Eternal interferes, and Swartz continues to mock Sougo that he will never see Black Woz and Tsukuyomi again. He leaves Zi-O to Eternal. Later Because the Eternal Gaia Memory can destroy the eternity of anything, Sougo must somehow make Eternal use his Maximum Drive. Because Zi-OTrinity links the 3 Riders, Sougo must use it while holding Eternal's Maximum Drive to teleport himself to Another World and drive Eternal towards the Aurora Curtains of the world, destroying all the Dark Riders. The Riders Swartz summons, Eternal and Yuuki, eventually disappear from reality as a result. 2019: Operation Woz

Kamen Rider Yuuki
Hijack Form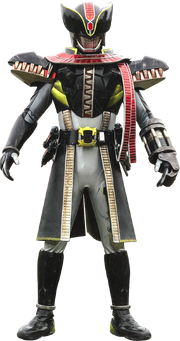 "Hijack Form!"
―Transformation announcement
Rider Statistics
Ability Parameters:
Hijack Form (ハイジャックフォーム, Haijakku Fōmu) is the form of Kamen Rider Yuuki that Shiro accesses on his own. Hijack Form has a black and red color scheme, compared to Skull Form's black and gold color scheme, lacking the skull-theme. Hijack Form also performs the Terminate Flash, but does so with his SavageGasher (サヴェジガッシャー, Saveji Gasshā) sword.
Appearances: Zi-O Episode 46

Equipment
Behind the scenes
to be added
Notes
Although Shiro was summoned by sending Yukihiro Osumi to the Another World, Shiro does share a couple things in common with Yukihiro and that is both having deceased girlfriends and an internal desire to see their loved ones once more.
Appearances
References
See Also
Shiro - original Kamen Rider Yuuki Hijack Form
Ghost Imagin - Kamen Rider Yuuki Skull Form
Community content is available under
CC-BY-SA
unless otherwise noted.