For the vehicle in Kamen Rider Hibiki, see Shiranui (Hibiki).
The Shiranui (不知火, Shiranui lit. "Phosphorescent Light") is a device invented by Akari Tsukimura with Sennin's help and a component already in Takeru Tenkuji's computer, which Ryu Tenkuji presumably had installed. It works by spraying golden dust over a certain area, allowing ghost-like creatures such as the Gamma, Ghost Riders, or Yurusen to become visible to humans. Akari uses a modified leafblower to spread the Shiranui dust by inserting a cartridge of it into a slot near the fan motor. She named the item as Akari Cannon (アカリ砲, Akari-Hō). Bullseye! Bow and Arrow of Justice!
The Shiranui is later made obsolete by the Kumo Lantern Ghost Gadget. Fast Shooting! Legendary Gunman! However, after Akari examined a piece of a Gamma Eyecon, she put the Shiranui to use again by modifying it into the Shiranui Kai (不知火改, Shiranui Kai lit. "Phosphorescent Light Revised"). The new device was meant to counter the Gamma but during its first use against Knife Gamma, the formula was rendered useless when the Gamma released a gas that emits electromagnetic waves. Gorgeous! The Fantastic Queen! To counteract the Knife Gamma's magnetic wave gas, Akari upgraded the device once again into Shiranui Kai Mark II (不知火改 マークII, Shiranui Kai Mark II lit. "Phosphorescent Light Revised Mark II"). Once again, her efforts prove futile when Igor as Gamma Superior Knife easily neutralized the attack, but Onari's sacrifice allows her to launch another shot, successfully injuring the Gamma. Reverse! Mysterious Science!
Gallery
Zi-O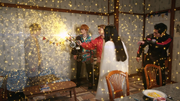 The Shiranui was used by Narita and Takeru to give Sougo Tokiwa's spirit a corporeal form after it was separated from his body by Another Ghost. GO! GO! Ghost 2015
Notes
The name Shiranui, in this case, is an allusion to an optical illusion of the same name. This is fitting, as one of the Shiranui phenomena seen by the Japanese people who witnessed it were ghosts.
Community content is available under
CC-BY-SA
unless otherwise noted.