"Dare ja? Ore ja? Ninja! Shinobi kenzan!"
―Transformation announcement
"(Word) Ninpow!"
―Special attack announcement
"Ninpou kirisute!"
―Sword summoning announcement
When equipped with the Shuriken Starter, the Miraidriver of Kamen Rider Shinobi becomes the Shinobidriver (シノビドライバー, Shinobi Doraibā)[1] When not in use, the entire belt is liquefied and stored within a Shinobi Hyoutan (シノビヒョウタン, Shinobi Hyōtan, lit. "Shinobi Gourd").
User
Transformation Items
Design
The Shinobidriver is composed of the following parts:
Gama Element (

ガマエレメント

Gama Eremento

): The main body of the Shinobidriver. By using the elements of wood, fire, earth, metal, and water, the Gama Element is able to materialize armor and weapons through the Kurogane Oogama (

クロガネオオガマ

Kurogane Oogama

) toad robot. The Gama Element also creates Shinobi Energy (

シノビエナジー

Shinobi Enajī

), which drastically raises the user's physical abilities, giving them superhuman strength and agility.
Shinobi Engine (

シノビエンジン

Shinobi Enjin

) The Shinobidriver's power source. When the Shuriken Starter is spun, the Gama Element's power flows into the Shinobi Engine, which amplifies it using the Super Hazumi Wheel (

スーパーハズミホイール

Sūpā Hazumi Hoīru

, lit. 'Super Inertia Wheel').
Shuriken Starter (

シュリケンスターター

Shuriken Sutātā

) - A starter key used to initiate the transformation into Kamen Rider Shinobi. When spun it collects the five elements necessary to transform from the surrounding environment.

Menkyo Kaiden Plate (

メンキョカイデンプレート

Menkyo Kaiden Purēto

): A purple device integrated into the Shuriken Starter. It identifies the user of the Shinobi Starter, presumably only allowing Rentaro to transform into Kamen Rider Shinobi. It also stores Shinobi's battle data.
Functionality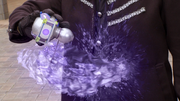 To transform into Kamen Rider Shinobi, Rentaro slots the Shuriken Starter onto the face of the Shinobidriver and spins it. After spinning the crank Shuriken Starter again, Shinobi can activate a finisher or some Ninja Techniques.
Special Attacks
Ninpo Kirisute (

忍法キリステ

Ninpō Kirisute

): Shinobi Summons a Ninjatō from the back of his belt, and slashes his enemy.
Strong Ninpo (

ストロング忍法

Sutorongu Ninpō

): Fires a stream of purple flame from his hand.
Megaton Ninpo (

メガトン忍法

Megaton Ninpō

): Summons a giant tornado to lift his targets in mid-air.
Victory Ninjutsu (

ビクトリー忍術

Bikutorī Ninjutsu

): Shinobi does a series of slashes at the enemy.
Flame Ninpo (

フレイム忍法

Fureimu Ninpō

): By initiating Ninpo: Katon no Jutsu (

忍法: 火遁の術

Ninpō Katon no Jutsu

, lit. "Ninja Art: Flame Technique"), he fires a large stream of flame from his hands. Shinobi can also coat his body in his flames to shield him from attacks. It's also used to cover his body in a flame barrier.
Ninpo: Bunshin no Jutsu (

忍法: 分身の術

Ninpō Bunshin no Jutsu

, lit. "Ninja Art: Replication Technique"): Shinobi creates three Clones of himself, and does a series of four elements energy slashes at the enemy.
Sunshine Ninpo (

サンシャイン忍法

Sanshain Ninpō

): Shinobi combines his Flame Ninpo and Hattari's Ninpo Tsumetai in order to create a temperature contrast, causes he actives the high rank Ninjutsu Ninpo Echo: Koton no Jutsu (

忍法エコ光遁の術

Ninpō Eko Kōton no Jutsu

, lit. "Ninja Art Echo: Light Technique").
Finish Ninpo (

フィニッシュ忍法

Finisshu Ninpō

): Attacks his opponents in high-speed movements while shrouded in a purple aura. Variations include:

In his first appearance, Shinobi does a combination of punches before doing a spinning kick.Happy New Woz 2019
In his battle against Kamen Rider Hattari, Shinobi makes a combination of slashes with his Ninjatō before doing a spinning final slash.

Seibai Ninpo (

セイバイ忍法

Seibai Ninpō

), which is a combination of Flame Ninpo, Megaton Ninpo and Ninpo: Bunshin no Jutsu, that sends the opponent flying, before summoning multiple clones of himself to attack the opponent all at once, using two clones to launch them even higher, and finally finishing with a bicycle kick shrouded in aura, sending his enemy crashing down to earth.
Behind The Scenes
Portrayal
The announcement of Shinobidriver is voiced by Kenya Hatsumura (初村 健矢, Hatsumura Kenya), who also voiced Hattaridriver later, he was credited as Voice of Kamen Rider Shinobi's Belt (仮面ライダーシノビのベルト音声, Kamen Raidā Shinobi no Beruto Onsei) in Zi-O opening credits.
Appearances
References
Community content is available under
CC-BY-SA
unless otherwise noted.