Wiki Targeted (Entertainment)
Play Sound
"I've got it together. My brain cells are in Top Gear!"
―Shinnosuke's main catchphrase when he starts becoming focused
"Let's go for a ride!"
―Shinnosuke's pre-battle catchphrase as Kamen Rider Drive
"I'm done thinking about it!"
―Shinnosuke's catchphrase when he get a conclusion.
"You have no right to exist yourself as a Kamen Rider!"
―Shinnosuke's warning to Kamen Rider 4 for ceasing him to exist before he damages his cybernetic leg.
Shinnosuke Tomari (泊 進ノ介, Tomari Shinnosuke) is a demoted police officer who joined the Special Investigation Unit following an accident during the catastrophic Global Freeze. During his time fighting the Roidmudes with Krim Steinbelt as Kamen Rider Drive (仮面ライダードライブ, Kamen Raidā Doraibu), his actions later earned him unparalleled praise and a re-promotion back into elite status.
Biography
Early Life
Shinnosuke Tomari was born on December 24, 1990 to Eisuke Tomari and an unknown mother. Shinnosuke's father was a police officer who taught his son the hardships of being one. He was later suspiciously murdered in the line of duty while Shinnosuke was in middle school. This would eventually propel Shinnosuke to pursue a career in law enforcement and crack the case of his father's death.Who Can Prevent the Dark Christmas Eve? What is a Kamen Rider? Where is Chaser Going?
Global Freeze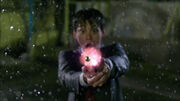 Six months prior to the series, during the "Global Freeze" incident, Shinnosuke and his partner Akira Hayase were tracking criminals known as Neo-Shade. During that day, the public had received a hostage message from Neo-Shade demanding a large amount of money. With careful deduction, Shinnosuke had found out about the true criminal, the Copycat Pirate. The two are able to find his location and they confront him. The man is revealed to be a talk show host, Koya Nishinori. Shinnosuke was about to arrest him before the sudden appearance of Roidmude 005. Nishinori runs, and unbeknownst to Shinnosuke, was captured and horrified by the monster. Shinnosuke later finds and arrests Nishimori.
After receiving reports of Neo-Shade stationing themselves in a building while taking hostages, the two rushed to that building. During the evacuation, he ran passed through a policewoman that he would meet months later. During Global Freeze, Shinnosuke and Akira were chasing down a couple of Neo-Shade criminals and was ambushed. Akira was cornered in between a flammable generator and one of the two criminals. Panicking, Shinnosuke pulled out his gun and tried to aim at the criminal, but due to the Slowdown effect, he accidentally shot the generator, causing it to explode and in the process, causing some pipes to collapse. As he tried to save Akira from the falling pipes, the Slowdown effect happened once again, causing him to be unable to save his partner from being crushed. Shinnosuke thus lost his motivation as a police officer, and was transferred to a special investigations unit. Episode 0: Countdown to Global Freeze Why Did My Time Stop?
Present Day
Inheriting the Kamen Rider Name
Now a slack-off police officer, Shinnosuke is sent to investigate a "Heavy Acceleration" case involving Roidmude 029. Shinnosuke realizes that he's fighting a monster, so the Drive Driver gives him the ability to transform into Drive. By utilizing his Tire Exchanges, he defeats Roidmude 029. With the sudden return of Roidmude 029, Shinnosuke theorizes that his powers are connected to the Roidmudes. Visiting his injured partner Akira, Shinnosuke receives encouragement from the latter and realizes the truth of the victims left behind by Roidmude 029. As Drive, he destroyed Roidmude 029 permanently with the latter calling him a "Kamen Rider". In a heated discussion with Kiriko and Shinnosuke in the background, Mr. Belt approves of the naming scheme of Kamen Rider, thus became titled as "Kamen Rider Drive". Why Did My Time Stop? What is a Kamen Rider?
Shinnosuke as Drive would later face countless Roidmude threats along with the enforcer/bounty hunter, Mashin Chaser. As the Roidmude threats were getting stronger, Drive would gain access to new forms, weapons, and Shift Cars. He also led to multiple secrets that the Drive Driver knew of, starting from Rinna being the Drive Pit's assistance to Krim Steinbelt's past as well as the creation of Roidmudes. Eventually sometime later, Mashin Chaser would be revealed as Protodrive, Shinnosuke's predecessor that was brainwashed by the Roidmude Executives.
Joining Forces with Mach
In the second year of his employment in the Special Investigation Unit, he was introduced to Go Shijima, Kiriko's younger brother and the new Kamen Rider Mach. While potentially more powerful than Drive, Mach boasted a huge ego (it turned out that Go took the Mach Driver prematurely in a stint of rashness). Although the two Riders butt heads many times, they nevertheless form a respect for the other, as evident from Go nicknaming Shinnosuke "big brother".
Soon after, Shinnosuke gained access to two new forms: Type Dead Heat (where he can share its powers with Mach along with the purpose to combat against Heart's Dead Zone), and Type Formula (which allows him to move at the speed of G-Force where he first used to put a stop on the crazed Mashin Chaser, at the same time seemingly killed him in his second usage of the form). Where Did That White Kamen Rider Come From? Why Won't My Little Brother Put On the Brakes? Why is Rinna Sawagami Nervous? What Can Be Spoken By the Irregular Dead?
Humanity's Hero, Senior's Return and Eisuke's Murderer
"Stealing from the police? Pretty bold move, buddy. Now you've been caught red-handed."
―Shinnosuke fighting against the Thief Roidmude.
Shinnosuke is forced to transform into Drive in front of civilians, revealing his identity as Kamen Rider Drive not only to just the rest of the Special Unit, but his former partner as well. When revealing the Drive Pit to Gen and Kyu, Captain Jun appeared himself and revealed he and Krim were colleagues and decided to make Drive's secret identity public. Eventually, this would had made into a massive turmoil in his life one by one, starting with several Roidmudes (especially Roidmude 001) infiltrate the police ranks and contemplated to destroy him (as well as other Riders) from inside. Why Has a New Battle Started? Soon, thanks to Kiriko's pursuit, Chase returned to his duty as Kamen Rider Chaser, despite Go isn't satisfied with his presence, going so far by joining the Roidmudes in Chase's place.
001's involvement not only placed the Special Investigation Unit on the trouble with sending Mitsuhide Nira, but also introduced the Neo Viral Cores that allows Roidmude and humans to combine. Nonetheless during this case, Shinnosuke felt himself closer to uncover the truth behind his father's murder and eventually comes to the suspicion of 001/Makage, the secretary of National Bureau of Defense thanks to Yukari Karasawa and Chase. 001 reveals his evolution form as Freeze, placing Drive at disadvantage due to Type Formula's weakness and Mr. Belt continuous trauma of losing him like Chase from Global Freeze.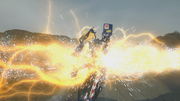 Even with Mr. Belt's renewed spirit, Drive's victory against Freeze takes a bad turn when the latter accessed his Over Evolved and kills both Shinnosuke and Mr. Belt in one swoop. Unknown to him, Mr. Belt manages to synchronize with Shinnosuke's mind, thus his body appears to actually in suspended animation instead, allowing the Special Investigation Unit and Go (whom actually worked undercover as Mr. X) to revive Shinnosuke and grants him Type Tridoron, allowing Drive to turn on the tables and finishes Freeze. However like their previous battle, his enjoyment in the aftermath of the battle cuts short again when a dying Freeze reveals himself not as Eisuke's killer.
Eventually, Shinnosuke, Kiriko and Jun discover Nira as the true murderer of Eisuke. Although Nira and Brain manages to get the evidence (Nira's pistol) away, later framing him and the whole Unit in front of the public and nearly puts Yukari's life at death's doors, but an unexpected help and Shinnosuke's quick-thinking skills turn the tides and finally puts his father's murderer to the face of justice.
Promised Number and the Second Global Freeze
Soon, more Roidmude executives from all over Earth return to Japan in the race to achieve the Over Evolved with the additional task to all re-capture and destroy Banno, who is currently in Go's possession. Shinnosuke temporarily allies himself with Banno when the latter aids the police, but Shinnosuke temporarily loses Mr. Belt when he is separated from him with Banno's betrayal. Shinnosuke learns of Heart's past with Go and obtains Mr. Belt back from Roidmude 004, but not before Roidmude 004 implants a chip into Mr. Belt.
Afterwards, Shinnosuke learns of Medic's past as she obtains her Over Evolved at the cost of losing herself due to modifications made by Banno. He also attempts to prevent Brain from being captured by Banno to prevent a true, permanent second Global Freeze from taking place, but fails. Shinnosuke and Mr. Belt also learn of Roidmude 004's other identity, "Krim Steinbelt".
Confronting Banno (now Gold Drive) at the SSDC, Go and Chase left behind to fight him while Drive, Heart and Medic proceed to stop Sigma. After they destroyed several Reaper Legion members, Drive and Heart enter the room of Sigma, heavily wounded by the machine until Medic's sacrifice allowed allowed the to destroy Sigma, ending the second Global Freeze. Shinnosuke nearly loses his life when he fell from the SSDC tower due to the fatigue from battling Sigma, ended up briefly meeting his successor, Kamen Rider Ghost in his dream before regaining consciousness after being saved by Heart. Heart battles Shinnosuke for the last time and still refuse to counteract, knowing that he and his race were just burdened by Banno's insanity. Heart wishes for Shinnosuke to remember his race before peacefully dies, having gained a human friend.
Post Second Global Freeze and Neo Shade's-disbandment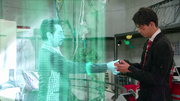 While the Units were celebrating their victory, Shinnosuke realizes that Mr. Belt is missing, and solves the problem by visiting the wrecked Drive Pit, where he prepares to lock himself and all Core Driviar equipments beneath Tridoron's parking space. After several parting words, Mr. Belt prepares the lockdown and all of the Unit members saluted for him.
Several days had passed and Shinnosuke and Kiriko drove their way to the Kuruma Driver's License Center until they were stopped by a police officer, whom inspected their car due to its similarity to the one recently stolen. Said officer, Koichi Kano was recognized by them for being Chase's human template before he confirms their innocence and leaves.
Sometime later, Neo-Shade made their move again after their last activity from one month ago when they were allying with Roidmudes. The Special Investigation Unit were mobilized for the last time to track the culprit, Keisuke Okamura, whom stole the Eyecon, the very evidence from the past case. Shinnosuke and Genpachiro catch him but loses when a Gamma attacks until Kamen Rider Ghost, whom he met once during one of his near death experience/dream, saves him again. Shinnosuke soon unmasks Keisuke as Neo-Shade's leader, wanting to reform the group by leading monsters and finally arrest him, saving Kiriko before returning the Eyecon back to Yurusen, Ghost's specter.
After Keisuke's capture, he receives promotion to the First Division from Honganji, eventually marrying Kiriko after she follows the promotion along and had a son named Eiji. He also manages to follow in his father's footsteps as a well-known detective. Kamen Rider × Kamen Rider Ghost & Drive: Super Movie Wars Genesis
Other Events
After Lupin sent a challenge letter to the police, Shinnosuke as Drive must defeat him quickly, after the thief was discovered to be Krim's abandoned Roidmude body, Cyberoid ZZZ. He teamed up with Gaim afterwards to defeat ZZZ Megahex.
Shinnosuke was alerted by the sudden appearance of a Heavy Acceleration. As he goes to said location in Tridoron as Drive, he witnessed the Ninningers

and mistook them for the cause of the Heavy Acceleration, having arrived late while the true creator, Youkai Buruburu

had already fled. After fighting the Ninningers, AkaNinger

tried to reason with Drive, only to be handcuffed as the others vanished. While AkaNinger was interrogated, he temporarily vanished before returning as his civilian form, Takaharu and tried his best to convince Shinnosuke the truth by bringing him into the battle of his teammates against the Youkai. When AkaNinger slashes him, Shinnosuke and Mr. Belt witness a Spider Viral Core, wondering what just happened until Kyuemon

, a silver-haired man and two other Roidmudes appear as they fights Drive alongside his comrades. After the Ninningers destroy Buruburu, Roidmudes 057 and 016 grew into giant proportions, capturing Drive as their hostage until the Ninningers summon Shurikenjin to rescue him before eliminating them with Shurikenjin UFO.
Suddenly, they realized that they are from another world and if something older exists in this world, it will quickly vanish. With Kyuemon taking his leave, the Ninningers are captured by police forces and labelled as public enemies. Shinnosuke remembered Roidmude 089 but none of the police forces including Mr. Belt prioritize the case, having entirely shifted to the dimensionally displaced Ninningers. After spying the Ninningers in their Ninjutsu dojo, Shinnosuke confronts Takaharu and decided to help him, first by evading police forces. The leftover Hitokarage in Drive's world attacked until Kiriko rescues them in a minivan. Kiriko shows them the silver-haired man (Roidmude 089)'s photo, which Saijo found on the internet. The man himself is a late scientist named Doctor D who died 40 years ago.
Searching for clues in Doctor D's old lab, they were joined by Mach, whom saved them from Hiruchameleon. Go as well had made some research into the history and using the photos he found, Shinnosuke finally solved the case until the lab itself was destroyed by Turtle Bazooka with Tridoron saved them. Regrouping with the other Ninningers, Shinnosuke and Mach revealed Shocker as the true mastermind. Once the Ninningers and Kamen Riders have transformed, they fight the Shocker armies and finally eliminated them, restoring UFOmaru

, Yoshitaka

and Tsumuji

back into existence again. After several encouragements, they part ways as the Ninningers vanish via a green aura.
Due to a timeline alteration by Shocker in 1973, Shinnosuke, Special Unit Police Force, and most of the Riders who were heroes become brainwashed villains into doing Shocker's dirty work of capturing the Rider resistance, which only leaves Blade in being captured and Kotaro Minami still being Kamen Rider BLACK and resisting Shocker's reign. Shinnosuke uses the title Shocker Rider Drive (ショッカーライダードライブ, Shokkā Raidā Doraibu) in place of Kamen Rider Drive. Yuto and Go are still the same prior to the timeline alteration, and the alteration results in the existence of Kamen Rider 3. Kotaro (as Black) fought against Drive when he protects children who resist Shocker. However, he is damaged by Drive when taking a stray attack from him that would have hurt the kids. Kotaro then finally manages to make Shinnosuke remember who he is and regain his original timeline memories in the process. Kamen Rider 3 appeared to blind the Shocker armies, allowing for Kiriko and Kotaro to escape to the Drive Pit secretly to find the truth about the altered timeline, while Drive was challenged by Ride 3 to a bit of a race and he lost him before catching up with Kiriko back at the Drive Pit. Back in the Drive Pit, they discuss about the existence of why Kamen Rider 3, known as the "Rider who should never have existed" existed after Shocker altered the timeline. During their conversation, they're surrounded by Shocker army, led by this altered world's Genpachiro Otta known as Cheetahkatatsumuri to capture and kill the Drive and BLACK, along with their fellow allies, who compromised the Drive Pit. However, they managed to escape from Shocker thanks to Kotaro's sacrifice, but Kiriko cannot make it and is presumed dead, while the Drive Pit chief, Jun cannot make it after being thrown to his death. He later meets up with Kamen Rider 3, in a civilian form, Kyoichiro Kuroi, who reveals that he is currently on the run from the Shocker Riders. While running from Shocker and the memory altered Riders, he and Kyoichiro are joined by Yuto Sakurai and Go Shijima to find Kamen Rider 3. While entrusting Yuto and Go to take care of Kyoichiro, and take him to safety in Rider Town, Shinnosuke left to find another hiding place to recover his original memory to catch up with his allies. Feeling something strange about Rider 3's true allegiance, Shinnosuke phoned one of two his allies who survived Shocker's attack on the Drive Pit, Rinna and Kyu to find a profile between Shocker and Rider 3 in this altered world, while asking him to prepare an upgrade on the Drive system for an upcoming Shocker's trap. With the help of Kyu, the surviving members of Drive Pit finds out that Shocker had been luring the Kamen Rider resistance through using Rider 3 into a fake Rider Town, known as Shocker Town, to make the Riders fall into Shocker's traps and alterinf their memories.
On the later day, Shinnosuke is fully recovered and prepared, and challenges Shocker to a race in a Rider Gran Prix on the next day, to restore the original timeline, if Shocker accepts it. If Drive lost, he will surrender to Shocker. He is surprised that Kiriko survived the previous fall and was currently being held a hostage. While in Shocker's prison, separate from Kiriko, Shinnosuke discussed with Yuto about Rider 3's hidden depth, and ensure Shinnosuke will find a solution to win and make Rider 3 realize if he felt regret on killing the original Double Riders in the past of '73.
As the race is about to start on the next day, while Kiriko and Yuto are tied by Shocker, in case not to interfere the race however, Shocker has been planning on cheating the race through their dirty works to make their strongest Rider, Rider 3 to win by default, using the other Riders as a shield, even sending Mashin Chaser to prevent and kill Drive from winning. With the help of a revived Kotaro (as BLACK RX), Faiz and Mach on countering Shocker's dirty cheats, Drive managed to get by Rider 3 in the first place, but was blasted behind. As Rider 3 insults Drive as a loser and must give up, Drive does not care, and gives an empathy speech to Rider 3 that winning or not does not matter, as long they have to keep up and try to find a solution to win without using dirty tricks, while also telling Rider 3 if he regrets killing the original Double Riders in the past, still Rider 3 does not care about Drive's empathy to him. Due to Drive's empathy, many civilians, including Shocker's own cadets rebels against Shocker and supports Drive to win.
As Drive wins the race using Type Formula, Rider 3 accept his loss while being encouraged by Drive to keep up to be winner. However, Shocker still don't know to accept their lose and decide to attack the resistant Riders, while the Great Leader of Shocker imprisoned Rider 3, who was revealed to be an energy source of the History Modifying Machine for the Great Leader's uses in a form of a giant mecha Rider Robo. Drive and his resistant Rider allies are joined by the Royal Ace Riders, who were once aligned with Shocker, but managed to regain their original memories as heroes. As Rider 3 still haa his willpower of being a true Kamen Rider to revive the original Double Riders, at the same time all memory altered Kamen Riders regained their original memories by the Double Riders' presence, The Great Leader has gone too far using Rider 3's powers with the timeline alteration beam to store most of the Riders into a data inside Rider 3's body, leading Rider 3 himself to break free of the Great Leader's imprisonment, rendering the Shocker's leader unable to use timeline alteration beam.
With the help of a Super Sentai Team, Shuriken Sentai Ninninger

, as they combine the OtomoNin into Shurikenjin

to defeat Rider Robo. Just as Drive witnesses the battle, Yoshitaka Igasaki

, The Last Ninja and grandfather of Ninningers gives him an OtomoNin Shuriken: Tridoron, which transforms Tridoron into OtomoNin Tridoron. Shinnosuke joins the Ninningers as they recombine their OtomoNin into Shurikenjin Tridoron. Together they fought against the Rider Robo once again and execute their finishing move to destroy it along with the History Modifying Machine inside it. With the destruction of Great Leader's Rider Robo form and The History Modifying Machine by the hands of Shurikenjin Tridoron, the history recreated by Shocker has been undone and Kamen Rider 3 won't be able to exist as a Rider any more. Kyoichiro says goodbye to Shinnosuke and his comrades, and ensure that he will be seen again on the other side. After the original timeline is finally restored, both Shinnosuke and Kiriko are saddened over Go's death as they mourn him and they will never forget the sacrifice Go made for the Riders. Before Mr. Belt informed Shinnosuke about an incoming Roidmude attacks, Shinnosuke sees that Kyoichiro is a successful racer for the Tachibana Racing Club, with the assistance of the three kids who were formerly Shocker cadets in the altered timeline on a newspaper Yuto gave to Shinnosuke.
D-Video Special: Kamen Rider 4
The timeline is altered once again after the events of Super Hero Taisen GP, where time itself is stuck in a strange loop on April 4, 2015. Shinnosuke, after recalling previous events, attempts to fix the disruption in time along with Zeronos and Faiz though their attempts inevitably fail with Go's death followed by time resetting itself back to April 4th, 9:55AM over and over again, as Drive and the Riders fight increasing odds from Shocker. Desperate to save Go, Shinnosuke sacrifices himself in one of the time loops to ensure the safety of his friend's life at the cost of his own. Upon the fourth loop, Shinnosuke realizes the situation he was in.
Upon learning the time loop was revealed to be caused by Takumi's wishes from Naoya Kaido, he, Go and Yuto helps Takumi destroy the Great Leader and his Kamen Rider army. After Takumi sacrificed his life on destroying the time loop and the Great Leader who has Takumi's face, Shinnosuke and others (except Kaido) has no recollection of Takumi.
Surprise Future
The events of this movie take place between episode 40 of Kamen Rider Drive and Drive Saga: Kamen Rider Chaser.
In the aftermath of obtaining Mr. Belt back, Shinnosuke receives a letter from Krim, telling him not to open the letter until August 8th, 2015. the two fight against a Giant Roidmude. At the same time, his son Eiji Tomari attempts to tell him not to attack the Roidmude. However, Krim goes haywire as something from his Driver is trying to control him, causing Shinnosuke to destroy the Roidmude and also severely damage the surrounding area. The two are split from each other by a Rider from the future, called "Dark Drive". Shinnosuke is unable to keep up with him due to Krim's malfunctioning and he is saved by Eiji.
Due to never reporting back in, he becomes a suspect due to the Metro Police HQ's reputation at stake for his actions. The situation worsens and the police are after him, chasing him in his latest hiding location. Shinnosuke learns of Eiji's origins and how he can modify the Drive Driver. Shinnosuke doesn't believe Eiji, but is forced to when the police finds him once more. Finally allowing Eiji to modify the Drive Driver, Eiji is killed by Dark Drive before he can complete his modifications.
Shinnosuke, Go, and Chase appear at the scene, fighting against the codeless Roidmude and Dark Drive, defeating them both, but at the cost of Krim once again going haywire, asking Shinnosuke to destroy him. Chase attempts to stop Shinnosuke from doing an action he will regret as he knows there is a conspiracy behind these events, but is unable to stop him.
Eiji reappears in front of Shinnosuke, stepping on his milk candy's box, revealing that he is actually Dark Drive and that through his tablet, his Drive Driver can fight without a user to a degree. Dark Drive attempts to kill Shinnosuke, but he is saved by Chase, who lends him his Mach Driver Honoh and Signal Chaser.
Shinnosuke reads the letter from Krim, entering the first Drive Pit a day earlier, causing a recording of Krim, who anticipated the event that Shinnosuke will not come on the correct day. Here, Shinnosuke is reunited with Kiriko, but as the first Drive Pit starts to be attacked, Shinnosuke drives the Prototridoron against Dark Drive. The Prototridoron is destroyed as Dark Drive leaves to the damaged power plants from before, leaving codeless Roidmude to attack Shinnosuke. Unable to use the Signal Chaser due to unknown reasons, he uses the Tridoron Key, assuming Super Dead Heat Drive.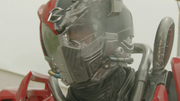 He manages to destroy one of the Roidmudes and is later assisted by the police and later by Kamen Rider Ghost, who destroys the last numberless Roidmude. Shinnosuke attempts to fight against Dark Drive once more to prevent the Eternal Global Freeze, but fails and has the Mach Driver destroyed during combat. Go also appears to assist Shinnosuke, but is defeated as well after Eiji/Roidmude 108 merges with his past self to become the Paradox Roidmude. Learning from the hints that Eiji dropped and from Krim himself, Shinnosuke sacrifices the Tridoron Key to copy its contents onto the discarded future Drive Driver, reviving Krim.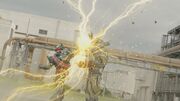 Becoming Drive once more, Shinnosuke fights against Paradox, but is frozen along with the rest of Earth in Paradox's Eternal Global Freeze. However, due to Kiriko's intervention, Shinnosuke is given the Shift Next Special Car, transforming into Type Special, a mix of the present Drive and the future Drive. Shinnosuke destroys the Paradox Roidmude in the resulting fight.
In the aftermath, Shinnosuke recalls from "Eiji" (Roidmude 108) that his mother rarely smiled, realizing that his mother was actually Kiriko. Kamen Rider Drive: Surprise Future
3 months after Krim sealed the Drive technology in the Drive Pit, Shinnosuke is trying to move on with his life and summon the courage to propose to Kiriko. While investigating the link between a series of strange crimes to a temple, he meets his successor: Kamen Rider Ghost. He and Takeru end up 10 years in the past, and are unwittingly part of the events that led to the death of Takeru's father. During this time, he encounters Krim again, and uses the Drive system to become Kamen Rider Zero Drive.
While in the past, trying to pass Eyecons to the future, Shinnosuke buries his ring box and tells Kiriko to find 'something' for her, in case he cannot return. Returning to the future to battle the army, Shinnosuke felt awkward as he had to leave Krim behind to keep the timeline secure. However, knowing he'd be needed, Krim brought all of the Drive gear out of storage for the fight. After winning the battle, Krim returned to the Drive Pit Storage Bay. Kiriko revealed to Shinnosuke she was wearing the ring, thus accepting his proposal, and the adventure helped him get over his slump and move on to become an exceptional detective.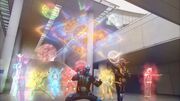 In the height of Xibalba's emergence, twins Freya and Frey orchestrate the attacks of past villains onto Ghost and Specter. While fighting against the Over Evolved Heart Roidmude, Takeru cites the same quote as Shinnosuke, bringing forth Drive's power and used it to defeat his opponent. Heart as well recalls Shinnosuke after acknowledging Ghost's determination before his defeat.

Dr. Pac-Man vs. Ex-Aid & Ghost with Legend Rider
Reuniting with Takeru and his friends, Shinnosuke used his police resources to assist him during the Next Genome Institute crisis. Ultimately, Shinnosuke became Drive again as Mr. Belt was returned to him by his old ally Gaim, who had retrieved Krim from the Drive Pit after returning to Earth from his new homeworld; facing the Next Genome Institute with his fellow Riders, Shinnosuke also met his predecessor Kamen Rider Wizard as well as the new Kamen Rider Ex-Aid. Appropriately engaging the robot-motifed Robol Bugster, Drive eventually defeated him through an advancing succession of his Types culminating in Tridoron. Taking his leave after the destruction of Genomes brought about the fall of the Institute, Shinnosuke returned to his station where his colleagues congratulated him on the news that his wife was expecting their first child; though knowing better through his prior encounter with Eiji Tomari, Shinnosuke claimed to not yet know the baby's gender. Kamen Rider Heisei Generations: Dr. Pac-Man vs. Ex-Aid & Ghost with Legend Rider
Kamen Rider Ex-Aid "Tricks": Kamen Rider Genm
Due to the past battle with the Next Genome Institute, Kuroto had been silently gathering the data of the past Heisei Riders, including that of Drive. Drive's power was translated into Full Throttle Drive as Kuroto tricked Emu into clearing the game and use it to complete the Gambarizing Gashat.
Despite not appearing in the web-exclusive series, Drive and 13 Heisei Riders were the projections of the Ganbarizing Critical Strike.
Chou Super Hero Taisen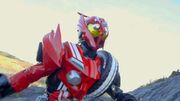 An iteration of Drive Type Tridoron was summoned from the Game World as part of a team of five of the Strongest Kamen Riders alongside five of the Strongest

Sentai Rangers

by Kamen Rider Brave, helping to defeat the army of Shocker. Kamen Rider × Super Sentai: Chou Super Hero Taisen

Heart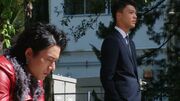 Shinnosuke appears to a discerned Heart and encourages him to follow his human heart.
Mach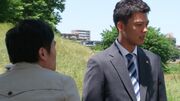 With the return of 005, Shinnosuke is a leading investigator on this case and finds out that Go is connected to the prime suspect. Go believes that a former criminal can change into a good person. Days after 005's defeat, Shinnosuke watches as Go walks off with Reiko hand-in-hand. He tells himself that Go was right and that bad people can change.

Kamen Rider Build: Be The One
Among the first 18 Heisei Riders, Drive fought against numerous monsters in a melee briefly witnessed by Sento Kiryu before being caught in the crossfire as Kamen Rider Zi-O BuildArmor used his Vortex Time Break to wipe out his enemies. Kamen Rider Build: Be The One

Kamen Rider Heisei Generations Forever
Personality
Shinnosuke was once an elite officer within the force with his partner Hayase, known for his great detective skills. He inherited his sense of justice from his father, who said police officers have the heaviest burden of all: protecting the people. Ironically, during this time, he had a problem of being too passionate about his work, often getting dangerously close to pummeling criminals to a pulp unnecessarily.
However, after accidentally injuring his partner, he turned into the very opposite of his former self due to immense guilt. He became constantly lacking motivation and lazy, contributing to his demotion to the special investigations unit. He is seen constantly running off to laze around, and more often seen eating milk balls than actually working, with milk ball eating being a sign that Shinnosuke's brain is "stuck". Even after becoming Kamen Rider Drive, he has yet to fully return permanently to what he refers to as "top gear", remaining aloof and takes situations and other matters lightly often, although this is seen to be improving and he takes his role as a Kamen Rider more seriously.
Under his aloof attitude and the lazy facade is a man who holds a strong bearing of justice. Shinnosuke refuses to see people around him be hurt and would be more aggressive in his dealings when such time comes, eventually shifting into "high gear" mode when clues to cases connect and/or when he is about to confront a criminal or a Roidmude. His appearance while under this attitude is often shown with him straightening his tie. However, this attitude adjustment is temporary and he will revert to his normal lazy self when cases are solved. If he feels particularly demotivated, his tie will mysteriously loosen itself for him.
Shinnosuke can also be a bit self-centered, hating his own date of birth, December 24th, due to having received only one gift that represents both his birthday and Christmas presents What is in the Belt's Past?, and dislikes riding shotgun on any automobile-themed vehicle, due to his affinity for driving. How Was That Decisive Moment Captured?
He would often say "I'm done thinking about it!" (考えるのはもうやめた!, Kangaeru no wa mō yameta!) whenever he has come to a conclusion. Whether these conclusions are helpful (throwing away his hesitation to help people) or not (forgetting his problems to continue lazing around) is a matter of luck.
Revolving around his father's death 12 years before the Global Freeze, Shinnosuke acts very recklessly and in a hot-headed manner as he pursues any possible clues that might lead him to whoever killed his father, to the point of nearly killing Heart.
As Drive, Shinnosuke has the archetype of a proud, snarky superhero, creating puns or bantering his opponent when he has the opportunity, apparently toying with his opponents. While he initially sees Chase as no more than an annoyance, he grew to respect the Roidmude due to Chase's unique sense of honor and comradeship. When he learns that Chase was Protodrive, he is more than willing to give the Roidmude the benefit of the doubt and is often seen trying his best to redeem Chase. As such, the decision of eventually having to finish Chase off due to the Roidmude being on the brink of actually harming innocent humans causes him great regret. As time passes, he begins to understand the Roidmude race more, and after being exposed to their past by Heart, he rarely sees them as enemies, yet realized that their villainy was due to being burdened by Banno's evil chip. In his battle against Heart, the last of the Roidmude's race, Shinnosuke pleads with him to coexist with the humans and willingly endures the injury delivered by the former until he finally accepted Shinnosuke's friendship in his final moments.
Shinnosuke holds a deep respect for other members of the force, as revealed when he met Ryu Terui/Kamen Rider Accel, upon discovering he was a Rider, Shinnosuke referred to him as 'sempai' and even saluted him.
Similar to Faiz, he would often grab his right wrist with his left hand, then close his right hand and flick it open as a hand gesture. When particularly spirited to fight a Roidmude, he will lean on one leg and say "Let's go for a ride!" (ひとっ走り付き合えよ!, Hitoppashiri tsukiae yo!) Shinnosuke has a weak sense of creativity, as demonstrated through his naming tastes and imagining a "Handle Gun" through inspired by Handle Ken.
Powers and Abilities
Powers
Resistance to Memory Manipulation: Just like Go, Shinnosuke has shown to have resistance to Freeze's memory manipulation.
Abilities
Expert Detective: As a former elite police officer and police detective of the Special Investigation Unit, Shinnosuke has proven himself a highly skilled detective with great detective skills. Even though he lost all his motivation after he accidentally injured his partner during the catastrophic Global Freeze. He later regains his confidence after becoming Kamen Rider Drive. Shinnosuke has shown to have very sharp and trust-worthy instincts, especially when he returns to what he refers to as "top gear". He shifts into "high gear" mode when clues to cases connect and/or when he is about to confront a criminal or a Roidmude which is able to solve the case instantaneously. He has shown to solve numerous of cases successfully throughout the season. His detective skills is rivaled by Go Shijima.
Expert Combatant: As a police detective, Shinnosuke is an expert in unarmed combat, having gone through the training that all Tokyo Metropolitan Police Department members do. His combat skills gradually enhanced as he fought against numerous Roidmudes as Kamen Rider Drive throughout the series. Even without transformed, he has proven to be an expert hand-to-hand combatant. In Kamen Rider × Kamen Rider Ghost & Drive: Super Movie Wars Genesis, Shinnosuke was able to effectively fight against numerous Gamma Commando with ease. In Kamen Rider Heisei Generations: Dr. Pac-Man vs. Ex-Aid & Ghost with Legend Riders, Shinnosuke was able to effectively fight against numerous Minor Bugsters in conjunction with his pistol with ease, even hold his own against the much stronger Soji Kuruse, a bugster and a master hand-to-hand combatant in his own right, though he was able to bring Shinnosuke down in the end.
Expert Marksman: As a member of the police, Shinnosuke is trained in using a revolver to disarm criminals.
Skilled Acrobat: To be added
Types
Kamen Rider Drive's forms are called Types (タイプ, Taipu). Some Shift Cars alter the suit based on a certain attribute, whereas other Shift Cars arm Drive with a certain element or weapon, by changing the Shift Tire (シフトタイヤ, Shifuto Taiya) on Drive's suit for a Tire Exchange (タイヤ交換, Taiya Kōkan). These two types of Shift Cars can be used in conjunction with each other, but some Shift Tires can only work with certain Types.
After turning the Advanced Ignition on the Drive Driver, Drive can perform one of two actions in each Type: Lifting the Shift Car placed within the Shift Brace between one and three times initiates either a special ability or an attack, while pressing the Igniter on the Shift Brace and lifting the Shift Car once unleashes the Type's Full Throttle (フルスロットル, Furu Surottoru) finishing move.
Kamen Rider Zero Drive
Height: 199.0 cm
Weight: 99.0 kg
Ability Perimeters:
Punching power: 3.9 t
Kicking power: 5.8 t
Maximum jump height: 27.5 m
Maximum running speed: 100 m per 6.2 seconds
Type Speed (タイプスピード, Taipu Supīdo) is Zero Drive's concept sports car-based form, which is accessed by using the present version of the Shift Speed Prototype Car with the 2005 version of the Drive Driver.
It is aesthetically similar to the completed Type Speed, but with its colors inverted and bears the Archetype Gear (アーキタイプギア, Ākitaipu Gia).
Zero Drive is the first functioning model of the Drive System and as such, its statistics and functionality is severely limited due to the fact that Krim Steinbelt has yet to even create a functioning Shift Car to work with the system. Despite these setbacks, Shinnosuke is able to use Zero Drive due to his experience and long term usage of the Drive Driver.
This Type's Full Throttle finisher is the Zerodrop (ゼロドロップ, Zerodoroppu), which is presumably a weaker version of the present Type Speed's Speedrop.
This form is exclusive to Kamen Rider × Kamen Rider Ghost & Drive: Super Movie War Genesis.
With the invention of the Mach Driver Honoh, the Drive Driver has undergone improvements to better combat the growing Roidmude threat. Drive's first upgrade is the Next System (ネクストシステム, Nekusuto Shisutemu), which allows both him and Mach to use a special hybrid Shift Car/Signal Bike. His second upgrade is the Advanced System (アドバンスドシステム, Adobansudo Shisutemu), which utilizes supplementary Shift Cars that allow Drive to maintain performance levels while transformed over prolonged periods of time.
Like Type Speed and Type Dead Heat, all versions of these Types bear a Shift Tire across Drive's torso.
Super Dead Heat Drive
"Signal Bike Shift Car! Rider! Chou Dead Heat! (Heavy metal ending solo)"
―Transformation announcement
Height: 199.0 cm
Weight: 101.0 kg
Ability Perimeters:
Punching power: 4.0 t
Kicking power: 5.6 t
Maximum jump height: 26.0 m
Maximum running speed: 100 m per 6.5 seconds
Super Dead Heat Drive (超デッドヒートドライブ, Chō Deddo Hīto Doraibu) is Drive's makeshift form accessed by using the Tridoron Key in the Mach Driver Honoh.
This form resembles Mashin Chaser and appears incomplete, with exposed circuitry and unpainted surfaces. It is also incredibly bulky compared to other Drive forms, making it slower than his enemies during combat.
Its stats are also significantly lower than Type Dead Heat/Dead Heat Drive, as it was not meant to be used for live combat. As a result, during his debut, he is barely able to keep up against codeless Roidmudes once his Dead Zone effect runs out.
Drive's special ability in this form is being able to emulate Heart's Dead Zone (デッドゾーン, Deddo Zōn) state by hitting the Boost Igniter four times, which raises his combat capabilities to an incredible degree.
This form's Full Throttle finisher is an unnamed Rider Punch, which covers Drive's arm in bright red energy as he jumps towards the enemy and strikes him with a powerful energized punch
This form is exclusive to Kamen Rider Drive: Surprise Future.
Dead Heat Drive
"Signal Bike Shift Car! Rider! Dead Heat! (Western rock guitar solo)"
―Transformation announcement
Height: 200.0 cm[39]
Weight: 107.1 kg
Ability Perimeters:[39]
Punching power: 15.3 t
Kicking power: 23.7 t
Maximum jump height: 36.5 m
Maximum running speed: 100 m per 3.2 seconds
Dead Heat Drive (デッドヒートドライブ, Deddo Hīto Doraibu) is Drive's motorcycle and sidecar-based form, which has the physical characteristics of both his and Mach's Rider Systems. Accessed through the Shift Deadheat Car, this form bears the Type Deadheat Tire (タイプデッドヒートタイヤ, Taipu Deddo Hīto Taiya), as well as the DH Kourin (DH-コウリン, Dī Aichi Kōrin, short for/lit. "Dead Heat Rear Wheel") on his right shoulder.
This form retains the exact same stats, as well as the ability to emulate Heart's Dead Zone (デッドゾーン, Deddo Zōn) state, as Drive's original Type Dead Heat.
This form is exclusive to Kamen Rider × Kamen Rider Ghost & Drive: Super Movie War Genesis.
Equipment
Devices
Weapons
Vehicles
Other Equipment
Legend Rider Devices
Relationships
Family
Behind the Scenes
Portrayal
Shinnosuke Tomari is portrayed by Ryoma Takeuchi (竹内 涼真, Takeuchi Ryōma).
As Kamen Rider Drive, his suit actor is Seiji Takaiwa (高岩 成二, Takaiwa Seiji) who has been the suit actor for the majority of leading Heisei Kamen Riders (except Kuuga and Hibiki).
Rider No.
As the protagonist of Kamen Rider Drive, Drive is labeled Kamen Rider #31 (仮面ライダー31号, Kamen Raidā Sanjūichigō) and Heisei Rider #16 (平成ライダー16号, Heisei Raidā Jūrokugō).
As noted by producer Shinichiro Shirakura in the run-up to the release of Heisei Rider vs. Showa Rider: Kamen Rider Taisen feat. Super Sentai, with the 15 Showa Riders and then 15 Heisei Riders facing off being "the point in which Heisei has finally aligned with Showa and in which both are equal", Drive, as the Rider following Gaim, marks the point where "Heisei Rider history will actually surpass Showa, making it a massive turning point for the whole franchise's history".
Notes
In Episode 20, it features a humorous nod to Gekisou Sentai Carranger, with Shinnosuke performing the team's signature pose after Roidmude 072 complains about how plain Drive's introduction is compared to Mach's intro speech.

The activation music of Type Dead Heat has a similar melody to the Carranger's opening theme.
The naming scheme of the weapons he uses also shows this similarity as like them, his weapon's names are of the weapon they are and what part of the car they are.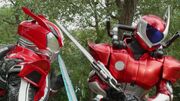 Shinnosuke shares some similarities with Ryu Terui/Kamen Rider Accel even the suit design details, including:

Both Shinnosuke and Ryu work in special divisions in the police force, with Ryu working with Dopant-suspected crime scenes and Shinnosuke working with Slowdown-involved crime scenes.
Both Riders have a red base form and a high-speed blue upgrade form. Their blue upgrade forms also have some kind of limitation to them (Drive Type Formula straining the user possibly causing whiplash and AccelTrial's risk of being forcibly de-transformed if the Maximum Drive is not successful).
Both Riders have their drive to find and exact revenge on their father's killers overriding their sense of justice and had to be talked down by the riders who came before them.
Both Riders got married to the lead females of their respective series in Movie Wars that came after the end of said series.
Drive's Turbo Smash attack is similar to AccelTrial's Machine Gun Spike Maximum Drive.
Both eventually have children at some point.
In response to the fans, Drive officially met Accel in Drive Saga: Kamen Rider Chaser.[65] This is also a request by Tomari's actor, Ryoma, who stated that Kamen Rider Accel is his favorite Rider and he quickly chose Ryu's actor, Minehiro Kunemoto when the director decided to bring a past Rider actor to the Drive Saga.[66]

He is the second primary Rider to drive a car-type Rider Machine since Kohtaro Minami (while as Kamen Rider Black RX). However he is the only primary Rider to have a car be his sole Rider Machine, having not ridden any other vehicle besides Tridoron.
With his profession as a police officer, Shinnosuke is the call policeman transformed into a Kamen Rider after Makoto Hikawa, Masashi Sudo, Ryu Terui, and Rinko Daimon. However, Shinnosuke is the first police officer to become the main Rider.
He is the second Rider that has been killed and then revived to transform into a Final Form (the first one is Gentaro Kisaragi).
Shinnosuke has a trademark sweet favorite snack: Milk Pops.
Drive does not possess an O-Signal on his helmet as Kamen Riders usually do. Instead, it is replaced with his emblem, a silver R stylized enough that it resembles a K and enclosing a D, which can stand for "Kamen Rider Drive". The emblem does not "light up", however, as behind it is a vertical line, similar to path "guide lights" in some dangerous roads, that flashes with his eyes as he changes Shift Tires. Occasionally, the eyes would instead glow when he's resolved or when he's about to fight really well.
Drive's Type Technic's mechanical abilities are similar to that of Kamen Rider Black RX's Roborider. Also like Roborider, Shinnosuke has a habit of moving like a robot as Type Technic.

Another similar trait to Kamen Rider Black RX is how changing forms requires a specific mentality.
Early scans and commercials show that Drive Type High Speed originally had the same Shift Tire as Type Speed; this was later changed in the special the form debuted in.
Drive's Type Formula is the first Super Form that is damaged due to overuse and yet can be fixed at the same time.
Out of all the Heisei Phase 2 Kamen Riders, Drive Type Tridoron took the longest to receive his Final Form by having it debut in episode 33 while the others all debuted in episode 32, except for Wizard's Infinity Style in episode 31.
Type Tridoron is the first Final Form where the Rider's Rider Machine combines with the Rider himself.
Ironically, while Super Dead Heat Drive has the word "Super" in its name, implying it to be more powerful than the regular Type Dead Heat, it is actually weaker than Type Dead Heat statistically and also in terms of combat ability.

In fact, it is his weakest form, being slower than Type Speed and weaker than Type Wild. Even the prototype Zero Drive from 2005 has slightly stronger stats than Super Dead Heat Drive with the exception of its punching power.

Shinnosuke is the only Rider to have used two versions of the same form (Deadheat and Super Deadheat). He is also the first user to have used the same form in two different Drivers (Deadheat in Drive Driver, and Deadheat in Mach Driver).
If looked closely, his transformation pose to become Drive is actually Shinnosuke tracing out his Rider emblem.
Appearances
Main article: Shinnosuke Tomari/Appearances
References
External Links