Shinmugurun (シンムグルン, Shinmugurun) was one of the last survivors of the Femushinmu civilization, having been transformed into a dark green Over Lord Inves before slaughtering countless weaker members of his kind when his world was touched by the Helheim Forest.
History
He was sent by Redyue to accompany Mitsuzane to kidnap Mai. He attacks Peko to force Mai to come with them, sparing Peko. However, not realizing that the microphone picked up the incident prompts Kouta and Kaito to investigate, leading them to find out the culprit behind his injuries and what has happened to Mai. While Mitsuzane (as Zangetsu Shin) battles Gaim and Baron, Shinmugurun takes Mai away.
He is later seen battling Duke and Gaim, when the Armored Rider resistance found a way to enter an infested Yggdrasill headquarters, as a result he is destroyed by Gaim Kiwami Arms.
Revival
Shinmugurun is revived by Maja and helps subdue Kouta Kazuraba alongside his fellow Over Lords and the deceased, mind-controlled Armored Riders. When Kouta revives all of the fallen Armored Riders to his side, the battlefield becomes open warfare with the Riders, Maja, and the Over Lords all fighting. Shinmugurun is soon enough destroyed again by the combined power of Armored Riders Kurokage, Gridon, and Bravo. Kamen Rider Gaim: Final Stage
Personality
Similar to Grinsha, he is very loyal to Mitsuzane Kureshima and Redyue. He is an arrogant and cocky Over Lord, which is shown during he beat up Peko, he called the Peko weak and stupid ape.
Abilities
Shinmugurun is shown has a powerful shell. He wields the Dimubu (ディムブ, Dimubu) axe as his main weapon. Alternately, he can summon a snake from his body to bind his opponents, which is strong enough to bind Gaim Kachidoki Arms.

Profile
Shinmugurun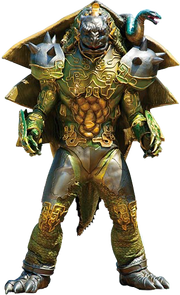 Height: 240cm
Weight: 195kg
Appearances
Behind the scenes
Portrayal
Shinmugurun was portrayed by an unidentified voice actor and an unidentified suit actor.
Conception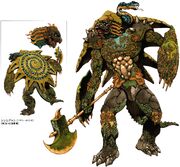 Shinmugurun was designed by Akihiro Yamada, the designer of the Green-type Inves in Kamen Rider Gaim.

Physical appearance
Etymology
The origin of its name シンムグルン (Shinmugurun, シンムグルン) might be coming from げんぶ (Genbu, げんぶ) , which is the Japanese name of the Black Tortoise. Given the inspiration, Shinmugurun's design is that of a snapping turtle.
External links
Community content is available under
CC-BY-SA
unless otherwise noted.