Shingo Hisanaga (久永 シンゴ, Hisanaga Shingo) is the older brother of Ataru who was forced by Tid to transform into Another Ultimate Kuuga (アナザーアルティメットクウガ, Anazā Arutimetto Kūga), derived from Kuuga Ultimate Form. He was kidnapped from year 2000 by Tid due to him being a Singularity Point.
Character History
TBA
Forms
Another Ultimate Kuuga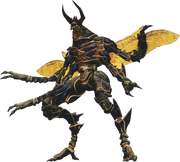 Another Ultimate Kuuga (アナザーアルティメットクウガ, Anazā Arutimetto Kūga) is the evolved form of Another Kuuga, accessed when Tid inserts the Another Kuuga Watch into Shingo's body and fuses with him. As its name suggests, it draws its power from Kamen Rider Kuuga Ultimate Form.[1] However, despite the watch is inserted into Shingo's body, it is entirely controlled by Tid himself.
Powers and Abilities
Flight: Despite his massive size, Another Ultimate Kuuga is capable of flying with a pair of insectoid wings on its back.
This form is exclusive to Heisei Generations FOREVER.

Behind the Scenes
Portrayal
Etymology
Notes
Shingo is the first and so far the only Another Rider host to be a child during the time he became an Another Rider.
Another Kuuga is the first Another Rider that only has a CGI appearance and more like a monster than regular humanoid Another Riders.
Since Another Riders are also Kamen Riders, Another Kuuga is the second Rider to be both giant and animated in CGI, succeeding Kamen Rider Core.
As a corruption of Kuuga Ultimate Form, Another Ultimate Kuuga resembles N-Daguva-Zeba, whose also a counterpart of the aforementioned form.
Another Kuuga's use of insectoid wings to fly is an allusion to the original Kuuga's support, Gouram. This motif is taken further by its evolution into Another Ultimate Kuuga, dyeing its body with black while retaining gold ornaments and grows a pair of longer horns.
Another Ultimate Kuuga is also to be the first with two people who share the same body, like with Kamen Rider Double.

This is in fact an inversion of Ryuichi Sakuma, who is a man that hosts two Another Riders.

Ironically, Shingo is a fan of the Kamen Rider Kuuga series and inevitably becomes the Another Rider counterpart of his idol. Additionally his brother, Ataru, becomes an Another Rider based on his idol as well.
Appearances
See Also
References
Community content is available under
CC-BY-SA
unless otherwise noted.