Shigehisa Aoki (青木 茂久, Aoki Shigehisa) is the human form of the Dolphin Orphnoch (ドルフィンオルフェノク, Dorufin Orufenoku).
History
555
He is Takumi and Kiba's boss at a pizza parlor, but was forced by Smart Brain to kill humans. He was defeated by Faiz but was spared, told to remain living as a human.
Decade
An alternate version of Dolphin Orphnoch was part of a group of five Orphnoch which attacked Decade and Natsumi during the destruction of the worlds. They were all quickly destroyed by Decade as Kamen Ride: Faiz. [Rider War (episode)]

Form
Dolphin Orphnoch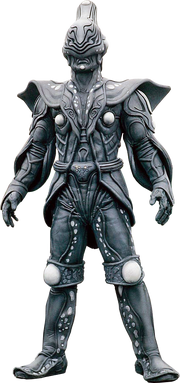 Statistics
Height: 203 cm.
Weight: 124 kg.
He was able to swim up to 85 knots, use echolocation to detect enemies up to 8 kilometers away, and was equipped with a fin-like sword.
Powers and Abilites
Transformation to Orphnoch: As all his race, he can transform from human to Orphnoch.
Destroy hearts: As Orphnoch, he can used his tentacle or weapon for eliminated the hearts of the victims in burst of flames. It wasn´t see in the series.
High-Speed Underwater Movement: He is able to move underwater at 85 knots (157 km/h).
Ultrasonic Detection: He is able to hear 8 km away from the spherical organs of the body.
Arsenal
Fin-like Sword: With his weapon, he can attacked his opponents and cut through a 20 cm thick iron plate.
Behind the Scenes
Concept Art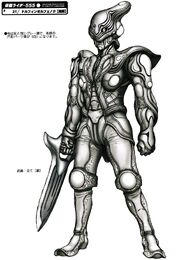 Dolphin Orphnoch was designed by Tamotsu Shinohara (篠原 保, Shinohara Tamotsu).

Notes
His name is not to be confused with Aoki, the Ox Orphnoch.
His suit was remodeled from the Snail Orphnoch.