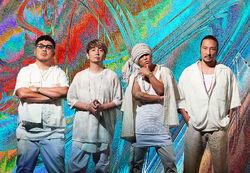 Shōnan no Kaze (湘南乃風, Shōnan no Kaze "Shōnan Wind") is a Japanese reggae band, which composes of four members: Red Rice, Wakadanna, Shock Eye and Han-kun.
They provided the series' theme song, Just Live More under the name Gaim no Kaze (鎧武乃風, Gaimu no Kaze, "Gaim Wind").[1] They also provides a song, YOUR SONG, which served as theme song for for Kamen Rider Gaim the Movie: The Great Soccer Match! The Golden Fruit Cup!.[2]
Interview
Red Rice felt honored that he would join the ranks of famous artists who have performed the series' theme songs. Shock Eye revealed he had long been a fan of the series as a child, and even in adulthood. Wakadanna spoke of how he liked the motorcycles and as a child wished he had one as well, as the show seems to have instilled a fighting spirit in those who watch it. Han-kun was jokingly critical about the show's fruit motif, but then said that he knew children would love the show.[3]
Discography
References
External Links
Community content is available under
CC-BY-SA
unless otherwise noted.