Doctor Strange in The Multiverse o Madness - The Loop
Play Sound
"Now, shall we begin the experiment? (

さぁ、実験を始めようか。

,

Saa, jikken o hajimeyou ka

)"
―Sento's catchphrase before transforming[src]
"Build Up!"
―Build's call whenever he changes forms[src]
"The laws of victory have been set! (

勝利の法則は決まった!

,

Shōri no hōsoku wa kimatta!

)"
―Build's catchphrase when he has an advantage or before he performs a finisher[src]
"This is the best!/worst."
―Sento's catchphrase whenever things go right / wrong[src]
"I'm amazing! I'm the best! I'm a genius!"
―Sento praising his own work[src]
"To protect something important...I will rise up as many times as necessary! That's the Build that we created!"
―Sento's unwavering resolve to protect the innocent.[src]
"Humans aren't that simple! Even if we make mistakes...we do research to make sure that the same thing doesn't happen again. That's the duty of science! I believe in humanity!"
―Sento's stand to protect the Earth from Evolto.[src]
"Now, shall we begin the final experiment? (

さあ、最後の実験を始めようか。

)"
―Sento's catchphrase before transforming into Cross-ZBuild[src]
Sento Kiryu (桐生 戦兎, Kiryū Sento) is the main protagonist and narrator of Kamen Rider Build. He is a 26-year-old physicist who transforms into Kamen Rider Build (仮面ライダービルド, Kamen Raidā Birudo) and fights the Smash to uncover the truth behind the Pandora Box and its ties to his mysterious past.
History
Background
Main article: Takumi Katsuragi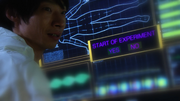 Takumi Katsuragi was the infamous "Devil's Scientist" researcher at the Touto Institute of Advanced Matter Physics, who alongside his father Shinobu Katsuragi was involved in the creation of Project Build, which was completed after Takumi had joined Faust. However despite Faust's objectives, Katsuragi reiterated that Project Build's primary purpose was to combat the alien Evolto, whom he discovered was masquerading on Earth as Soichi Isurugi. Confronting the alien, Katsuragi's plan was foiled and his appearance was switched with the musician Taro Satou. Erasing his memories as well, Evolto smuggled Katsuragi out of Faust and made it appear as if "Sento Kiryu" was just an amnesiac man found in an alleyway nearby Nascita on a rainy day.
Sento was later given the Build Driver and a set of Fullbottles by Isurugi. During his first fight against a Smash, he fought hand-to-hand but was beaten to the point where he had no choice but to use the belt. Upon transforming, Build defeated the Smash and headed back to Nascita, where Soichi and Misora Isurugi awaited for him. From that day on, Sento would continue being Kamen Rider Build in order to uncover the mysteries surrounding his past.
The Faust Conspiracy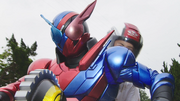 After gaining one year of notoriety as Build, Sento continued searching for clues relating his missing memories and landed a position at the Touto Institute. He would come across the escaped convict Ryuga Banjo, discovering a connection with their experiences of being experimented on. Understanding Ryuga's claims that he was framed for Takumi Katsuragi's murder, he is approched meets the journalist Sawa Takigawa who wishes to interview Sento for his activites as Build. Sento and Ryuga would come across the mysterious Night Rogue, who is one of the ringleaders of Faust.
Through Sawa's investigations, Sento and Ryuga searched for Masahiro Nabeshima, a man with a connection to Takumi Katsuragi's murder and Ryuga's jailbreak, but reached a dead end after Nabeshima's memories were temporarily erased. Sento would learn of a musician named Taro Satou, a man who is seemingly identical to Sento. Upon further research on Katsuragi, Sento would uncover the plans to Project Build and would be informed that the Devil's Scientist is alive according to Blood Stalk. With the battle with Faust was heightening, Sento arranges Ryuga to become Kamen Rider Cross-Z. After disovering Sawa was originally a spy from Namba Heabvy Industries, Sento experienced turmoil between the three regions' plans to reclaim the Pandora Box, especially after the death Nariaki Utsumi.
After having dreaming of himself robbing Kamen Rider Ex-Aid of his powers, Sento wakes up receiving the Doctor and Game Fullbottles purified by Misora. Kamen Rider Build later fights the Nebula Bugster attacking a power plant. He utilizes the new bottles to change into an form resembling Ex-Aid to land a hit against the grunts. However, Left Kaiser appears to take away the new bottles and as Cross-Z chases after him, he is transported into another world where the Sky Wall never existed.
Sento is later intercepted by Parado where learns he comes from another world and spent two years tracking Build down to retrieve Ex-Aid's powers back. Soichi Isurugi would appears to drop information on Left Kaiser's identity, Kaisei Mogami, before leaving behind the Phoenix and Robot Fullbottles. Upon further investigation, Sento learns Mogami was a researcher studying parallel worlds and the Bugster Virus. He also learned that Takumi Katsuragi worked very close to him and operated in Ex-Aid's world as Build, having taken Ex-Aid's powers to stop Mogami's nefarious agenda.
Sento would remain in contact with Emu Hojo and Ryuga Banjo from Ex-Aid's world, while he and Parado confront Mogami, learning his intention of smashing the two Earths with his counterpart, Right Kaiser. As the two Earths approached, Sento and Parado landed in Ex-Aid's world and he reunites with Ryuga. Sento finally meets Emu and returns the Doctor and Game Bottles to restore his powers. Build and Ex-Aid joined with OOO, Fourze, Gaim, and Ghost as they cycled against the Foundation X Guardians, until the two reached the Interlocking Enigma to confront Bikaiser. Build RabbitTank Sparkling fights with Ex-Aid Muteki Gamer to vanquish Bikaiser together. After Build and Cross-Z say their goodbyes to the Kamen Riders, they return back to their native Earth.
Igniting the Japanese Civil War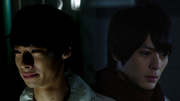 "This is the worst. Having you criticize me... I remember now. I...am a narcissistic-ego driven... hero of justice!"
― Sento regaining his confidence as a Kamen Rider.[src]
One night, Sento was informed by Nabeshima that Soichi Isurugi is Blood Stalk. While confronting Isurugi, Sento uses the power of the Pandora Box to become Build RabbitTank Sparkling. He would also be informed of Gentoku Himuro's true identity as Night Rogue. Although the interim Touto Prime Minister had just issued a warrant for both his and Ryuga's arrest, Sento manages to defeat and expose his identity. However, Sento would be told by Gentoku that he is actually Takumi Katsuragi the entire time. After learning of how he really lost his memories, Sento became overridden with guilt due to Katsuragi's past actions, but ultimately managed to find the confidence to resolved to right Katsuragi's wrongs by protecting his country as the hero, Kamen Rider Build.
With Faust's dissolution in Touto, the starving nation of Hokuto declared war on Touto by sending an army of forces to secure the Pandora Box. Sento and Ryuga voluntarily assisted Touto's govenment to protect the nation, but are forced to comply with Gentoku Himuro's orders. Build and Cross-Z would encounter Kamen Rider Grease, Kazumi Sawatari, and the Hokuto Sanbagarasu who are Hokuto's forces intent to take the Fullbottles. Furthermore, Ryuga would take the Slash Driver that Sento created to become Kamen Rider Cross-Z Charge.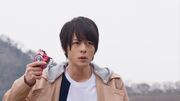 "I will stop you. Even if I lose myself!"
―Sento's before transforming to RabbitTank Hazard Form for the first time[src]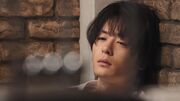 While Sento continue to fight off Hokuto's forces, he would learn that his Hazard Level is quite lower than expected. Blood Stalk would grant him the Hazard Trigger, a forbidden item created by Katsuragi that could risk losing sight in himself. Regardless, Sento ended up transforming with the Hazard Trigger, that sent Build into a mindless rage and in the process, taking Aoba's life. Once Sento realizes what he just did, he became too traumatized to continue fighting anymore. Despite this, he is invited as Touto's representive in the upcoming Proxy Battle between him and Grease. On the day of the duel, Build is forced to use the Hazard Trigger once more to defeat Grease. While he does go berserk, Ryuga manages to stop him on time and Touto is declared the winner of the war with Hokuto.
Despite this victory, Seito had launched an invasion to Hokuto as its forces are led by the Washio brothers. Sento and Ryuga joined forces with Kazumi Sawatari as Seito unveils Kamen Rider Rogue, revealed to be the previously exiled Gentoku Himuro. He becomes wary of Misora as the entity within her, Vernage, was slowly emerging. Sento had also suspected Sawa is still working as Namba's personal spy upon learning her true nature as a Namba Child. In his search to control the Hazard Trigger, Sento sucessfully created the FullFull RabbitTank. As he planned to unveil his latest upgrade at the Proxy Battle between Touto and Seito, he formulated a plan with Sawa to ensure Touto's victory.
During the day of the Proxy Battle, Build is paired with Rogue in the final match. When Rogue questioned his own motives of creating weapons of destruction, Sento confessed that he will accept responsibility for his actions. Using the FullFull RabbitTank Bottle, Sento transforms into Build RabbitRabbit, granting extra armor into the Hazard Form. Although he was able outwit Rogue, Seito had received data of form from Sawa, which allowed Rogue to counter back. However, Sawa was secretly colluding with Sento, giving the signal to transform into Build TankTank and defeat Rogue as he reaffirms in fighting for "love and peace". With Sento's victory, the war with Seito had seemingly come to a close.
The Evolto Revolution
Although the war between Touto and Seito had come to a close, Blood Stalk decided to press on by raising the Pandora Tower from the Sky Wall. While the Kamen Riders march on against Seito's forces, they would be informed of Blood Stalk's true nature as Evolto, the alien responsible for the destruction of Mars. Noticing the strange circumstances with Ryuga's past, Sento has Sawa look into his background, while creating the Magma Knuckle for him. As the Kamen Riders engage Seito's forces in the Pandora Tower, they manage to get through thanks to Rogue's unexpected assistance and Ryuga's transformation into Cross-Z Magma. After returning the Pandora Box back to Touto, Sento learns from Sawa about Ryuga's extraterrestrial origins and Shinobu Katsuragi's involvement in it.
After Rogue abducted Prime Minister Himuro, Evolto demands Sento for the Evol-Driver in exchange for the Touto Prime Minister's life. Finding the belt in his lab, the team head to the trade which goes south as Evolto wouldn't cooperate. While Sento disabled Gentoku's chip in exchange for his assistance, Evolto recovers the Evol-Driver and emerges as Kamen Rider Evol, killing Taizen Himuro in the process. Sento is later poisoned by Evol and will die within three days if he doesn't recieve the antidote. While Ryuga managed to defeat Evol in order to cure Sento from his condition, Evolto takes this opportunity to possess Ryuga and can access Evol's Dragon-based Phase 2 form.
Sento engineers one of the Pandora Box's panels to develop his final power-up item, despite the life-threatening risks. In battle, Build attempts to sacrifice himself to destroy Evolto, but it backfires and Evolto manages to take over Sento's body, ejecting Ryuga. With Sento now in Evolto's possession, Evolto accesses Evol's Rabbit-based Phase 3 form, but is still unable to activate his Evol-Trigger, believing humans aren't strong enough to handle the such power. Although Evolto's seperation with Ryuga rendered him unable to transform, his determination allowed him to reignite his genes and become Great Cross-Z. However, Evolto managed to complete the Evol-Trigger and access his Black Hole form, jettisoning Sento. However, his memories of being Sento are gone and is reverted back into Takumi Katsuragi.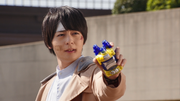 Katsuragi continued to assist the Riders in their efforts against Evolto. Although he behaved just like Sento, Katsuragi lacked the fundamental aspects of a hero, which prevented him from using the Genius Fullbottle that he finished from Sento's handiwork. Hearing of Sento's seemingly heroic deeds from Ryuga, Katsuragi experienced a flow of memories coming into his mind. Sento appears in front of Katsuragi, who asks him if he believed in the power of trust and friendship, to which Sento responds with a smile. With Sento showing Katsuragi the future he could build, they both join hands and assimilated with each other. During the battle against Kamen Rider MadRogue, Sento revealed himself to Ryuga having regained his memories. Declaring the return of the egotistic superhero, he reveals the Genius Bottle and successfully activates it into his Build Driver, thus giving birth to Kamen Rider Build Genius Form and overwhelming MadRogue with intense speed and power.
The Tomorrow Build Will Create
With his memories been restored back to normal, Sento begins to wonder why Evolto was collecting Fullbottles despite having already reached Black Hole form. He continues to speak with Katsuragi in their shared mental scape, the latter confirming Evolto is searching for Faust's Lost Bottles, which was created by their father Shinobu. While Sento continues to investigate his father's involvement with Evolto, he discovers that his father is still alive, having faked his death. Though Sento believed that Shinobu created Project Build with the intent of combating against Evolto, it did not seem that way as Shinobu was working alongside Evolto to complete the Black Pandora Panels using the Lost Bottles.
While the Kamen Riders continue fighting Evolto and Seito's forces, they are intercepted by another Kamen Rider Build, who is revealed to be Shinobu Katsuragi. Shinobu reveals his intent to collect the Lost Bottles and fights the heroes, turning Misora into the CD Lost Smash. Ultimately by working together, Sento and Ryuga defeat Shinobu, with Vernage giving some of her powers to Ryuga which also stops his episodes entirely. Upon reclaiming the Rabbit Fullbottle, he has evolved into Hazard Level 7. With the final Lost Bottle in hand, Sento leads the Kamen Riders into defeating Evolto for good. However, Shinobu arrives and places all of Evolto's essence and gear into a large container and reveals his true intentions to foil Evolto's plans. Although Sento hesitates to forgive his father, Evolto escapes and kills Shinobu before the man confides in his son information about a secret White Pandora panel.
After intercepting stray Smash attacking a pair of siblings, Sento is suddenly chased down by a mob of civilians compelled to attack him. It is revealed Japan's new governors were actually Blood Tribe members and part of the same race as Evolto. They had operated in the shadows and declared Build an enemy of the country, commencing the "Build Annihilation Plan". Sento quickly lost all of his supporters as Sawa and Misora fell into mind control, Gentoku and Kazumi were overwhelmed by the horde, and Ryuga was personally brainwashed by Kengo Ino. Finding himself attacked by Ryuga, Sento was robbed of the Hazard Trigger, which was used by Kengo Ino to transform into Kamen Rider Blood.
Sento was fortunately rescued by Evolto, but remained intent in saving Ryuga. Sento soon confronted the Blood Tribe and the possessed Ryuga in the station square. Using the Genius Bottle, Build was able to land a blow which separated Ryuga from Kamen Rider Blood, later curing Ryuga from his brainwashing. Knowing that a pair of Hazard Level 7 Fullbottles could defeat Blood, Misora channeled Vernage's power to combine the Gold Rabbit and Silver Dragon Fullbottles, as well as the Genius Bottle, to allow Sento and Ryuga to fuse into Kamen Rider Build Cross-ZBuild Form. Ultimately, this new power allowed them to vanquish Kamen Rider Blood and free his compulsion over the Japanese populace.
Sometime after Sento created the White Pandora Panel, it suddenly created a portal that pulled him in. Now on a mountain top, Sento discovers the past Heisei Kamen Riders fighting a platoon of enemies. Suddenly a Time Mazine lands in front of Sento. Kamen Rider Zi-O steps out, who later transforms using Build's powers to defeat the monsters down below.
Final Battle Against Evolto
While Sento is distressed over his father's death, Evolto evolves into a horrifying new monster form and announcing his intention to destroy Earth. Sento uses the Hazard Trigger with the Genius Bottle to purify a few Lost Bottles and restore Evolto back to Black Hole. Using his father's research, Sento figures out a way to merge their world with one where the Sky Wall did not exist, using Evolto himself as the catalyst. On Kazumi's request, Sento creates the Blizzard Knuckle for him, warning Kazumi that transforming with it would be fatal. Shortly after Evolto's national television broadcast, the Kamen Riders raced up to Pandora Tower. Kazumi and Gentoku stay behind to fight Evolto's replicants, while rest of the team awaited for Evolto at the top, later learning of Kazumi's death from becoming Grease Blizzard. Unable to grieve, Evolto arrives and Sento lashes out at the tyrant.
"To be surrounded by a bunch of idiots... this is the best!"
―Sento expresses his relief of being surrounded by idiots before transforming into Kamen Rider Build Genius Form.[src]
The three remaining Riders transform and charge at Evolto, who was unimpressed at their performance and takes an opportunity to transform back into his monster form. Sento and Ryuga watch as Gentoku sacrifices himself to immobilize Evolto, allowing Sento to trap Evolto and tether the worlds. However at the last second, Evolto grabs Ryuga and drags him into the ripple between the two Earths. Sento gives pursuit and faces off against Evolto one last time, who mocks his efforts for being a fake hero. Sento retorts that he's been fighting with love and peace, and ultimately accesses RabbitDragon form to vanquish Evolto once and for all. The energy begins the fusion, and both Sento and Ryuga are sent flying by a tornado. The two worlds merge, finally bringing peace.
New World
Sento wakes up in the middle of a park where the Sky Wall originally stood, holding onto a strange stopwatch with an image of with Cross-Z on it. While wrapping his head around the situation, he realized his plan to create a new world had succeeded. Takumi, realizing that he was no longer needed, bids farewell to Sento and disappears from his mental psyche. Though the world was finally at peace, no one will know who he was or remember his good deeds. However, Sento is able to happily reunites with the old world Ryuga after an encounter with his new world counterpart.
As the duo departed, they begin chronicling their journey into a 49 episode script and moved into a storage facility having finished the recordings. While Sento tasks Ryuga to sell his various inventions to make income, Killbus emerges from the White Pandora Panel and takes the Build Driver. While he tries to war Ryuga about the new threat, Killbus manages to reactivate the Pandora Box. Those who were experimented on Nebula Gas were able to recall their previous world memories, allowing Sawa, Misora, Kazumi, and Gentoku to resurface in Build's support.
After Ryuga regroups with the others, Sento learned Evolto had revived. When Ryuga delivers the Dragon Evolbottle, Sento processes the Ryuga needs a new power-up item to amplify Evolto's genes to defeat Killbus. This carries the risk of reviving Evolto at full power along with destroying Ryuga's body, a necessary risk that Ryuga was willing to take. The power-up item was later completed as the excited Sento christened the Muscle Galaxy Fullbottle. He then entrusts Yui Mabuchi to deliver it to Ryuga to finish the fight. After Killbus' defeat and Evolto subsequently leaving the planet, Sento continued to work on his latest inventions. It was later revealed he used the Genius Bottle to cure Yui's hospitalized students.
While Sento helps Nariaki Utsumi raise his Hazard Level with a Nebula Gas chamber, he and Ryuga are ambushed by Down Fall's Phantom Crusher. While Build and Cross-Z engage the Phantom Crusher, he negates their transformation and takes both the Hazard Trigger and White Panel. After regrouping with Kazumi, Sento questions how he could maintain his transformation and learns Grease and the Hokuto Sanbagarasu had bathed in a hot spring containing Phantom Liquid. Sento reunites with Takumi Katsuragi to study the Phantom Liquid's effects. He devises a new power-up item to harnesses the Phantom Liquid's power specifically made for Kazumi.
After the Hokuto Sanbagarasu were injured during a battle against Metal Build, Sento presented Kazumi with the Perfect Kingdom adapter but advised him that it lacks enough Phantom Liquid to complete it. Despite his suggestion the rest could be extracted from the Hokuto Sanbagarasu, it could put their lives at risk which Kazumi refused. However, the three offered to sacrifice themselves to complete the adapter. Once Sento retrieves Utsumi out from the Nebula Gas capsule, he created a replica Evol-Driver for him to use in the awaiting battle. He assumes Kamen Rider Build Genius Form to defeat the remaining Phantom Crushers. After the battle, Kazumi discovered the Hokuto Sanbagarasu were alive the entire time and Sento deliberately lied about their fate to raise Kazumi's Hazard Level.
Other Events
The following events currently do not have an established place within the main continuity.
A powerful Time Jacker named Tid appears and creates two powerful warriors, Another Double and Another Den-O and orders them to pursue a young boy named Shingo. Build and Cross-Z are drawn to Ataru's world to protect Shingo from the Another Riders, while assisted by Grease and Rogue despite them suddenly losing their memories. Together with Sougo Tokiwa, they both discover that Kamen Riders were TV show characters and are not real. Regardless, Sento chooses to continue fighting Tid's forces to protect the people. Build would join the Heisei Kamen Riders for a last battle together and Shingo is returned to his time.
Though he was seemingly erased as a result of Asmodeus' manipulations, he was restored back into existence once Touma Kamiyama had helped Shotaro regained his passion in drawing out the superheroes that he wants to draw out.
During the climatic final battle itself, he can be seen fighting alongside Kamen Rider Stronger, Denzi Red, Red 1 and Kamen Rider Espada.
Personality
Originally a man with no memories of his past, one of the greatest traits Sento has kept from the transition from Takumi is his genius-level intellect, which he has displayed numerous times with his advanced knowledge of science, mathematics, engineering, and cryptography. Sento is easily attracted to anything he deems mysterious or interesting, such as a new innovation or a lead towards uncovering his past, and will relentlessly pursue it. This will continue until either he reaches a conclusion or someone forcibly stops him during progress. When Sento gets excited (usually due to a discovery or breakthrough), he receives an ahoge, a single lock of hair that typically represents a person with a foolish and carefree personality, traits that are not entirely absent in Sento.
Another trait that is carried over from Takumi is his polymathism, which is accompanied by an inflated ego and sharp tongue: he likes to praise himself for his works, and often mocks Ryuga for his comparatively lower intelligence. Sento often relies on his own skills to solve problems and never expects sudden assistance from others, so when it happens, he tends to either be surprised or turns them down. Also, Sento can be easily caught off guard when he accomplishes anything or witnesses something unexpected and new which excites him, because of his reliance on his intellect. In this state, he is vulnerable to any surprise attacks.
Perhaps Sento's greatest and most well-known trait is his "superhero like" sense of justice, which Sento is said to have uniquely created all on his own, separate from Takumi's natural anti-heroic nature. A firm pacifist, he believes that science should be used for the sake of humanity, and harshly opposes using it for war. His selflessness and sense of duty causes him to try and shoulder the burden alone rather than involve others, whether he can carry that burden or not. This altruism intensifies the guilt he feels for his role in creating the Smash and escalating the war. While generally calm and composed, Sento is prone to making poor judgement during emotional turmoil.
Sento has a couple of catchphrases:
Pre-transformation: "Now, shall we begin the experiment?" (

さあ、実験を始めようか?

,

Sā, jikken o hajimeyou ka?

).
Post-transformation: "The laws of victory is set." (

勝利の法則は決まった

,

Shōri no hōsoku wa kimatta

).
Powers and Abilities
Powers
Artificially Enhanced Physiology: Sento underwent an experiment from Faust which injected him with a certain amount of Nebula Gas, which has enhanced his physical condition to a certain degree. To be noted that as his Hazard Level increases, his physical condition increases as well. Since his body was presumably been experimented on beforehand, as Takumi Katsuragi was able to become Build in previous occasions, he didn't mutate into a Smash and the gas retained his body without side affects apart from memory loss (mostly inflicted by Blood Stalk). As result, his initial Hazard Level starts at Level 3, which allows subjects like him to utilize the Build Driver to transform into Kamen Rider Build. Later, his Hazard level rose to 3.7 due to his anger during the battle against Blood Stalk. After continuous usage of the RabbitTank Sparkling Fullbottle, his Hazard level rose to 3.9; and after continuous use of the Hazard Trigger, his Hazard level was at 4.4 according to Blood Stalk, last time it was measured. By using a panel from the Pandora Box in the Build Driver, Sento was able to raise his Hazard Level to 6, a feat that should not be possible for a human being. Soon, he raised his Hazard level to 6.3+ by cranking the Build Driver's Vortex Lever. During his fight with the CD Lost Smash and Shinobu Katsuragi as another Build, Sento raised his Hazard level to 7.
Fullbottle Augmentation: By shaking a Fullbottle in his hand, regardless of whether he is transformed or not, Sento can gain abilities based on said Fullbottle's traits.

Rabbit: Allows Sento to gain fast reflexes. First used to defeat Ryuga Banjo in a one-on-one fight.
Gold Rabbit: Allows Sento to perform powerful punches. First used to defeat Shinobu Katsuragi's version of Build.
Gorilla: Allows Sento to perform fiery punches. First used to fight Ryuga Banjo.

Fourth-Wall Interaction: Used only for comical purposes, Sento is capable of interacting with Ryuga's recollection of his birth in various ways. This normally involves said recollection being thrown away or knocked off-screen somehow.
Hazard Level Measurement: Sento gained this ability following his acquisition of Genius Form. He was able to detect Evolto's rising Hazard Level while fighting him.
Abilities
Genius-Level Intellect: Sento's most defining trait is his intelligence. He is a genius in several fields of science and has an advanced knowledge of particularly both physics and chemistry. Thus, he created majority of Build's accessories and modified from Evol-Driver and Evol-Trigger to create Build Driver and Hazard Trigger that they would be safe to use by humans, all of Cross-Z's equipment on his own, some equipment and Fullbottles for Grease and Rogue. Since regaining his memories of Takumi Katsuragi, his intellect has combined with the latter as well, enabling him to complete Project Build. Director Ryuta Tasaki himself has noted Sento to have the "highest IQ of all the Heisei Riders".
Master Scientist: A exceptional scientific prodigy, Sento is a ingeniously resourceful, knowledgeable, and brilliant scientist who is well-educated in many different fields of science, including physics, chemistry, and advanced mathematics. This is publicly proven through his perfect test score on a difficult physics test administered by the Touto Institute of Advanced Matter Physics. This proves a significant asset in battle, which Sento incorporates into his fighting technique with his science knowledge. He cultivated and activated inert Evolto Cells despite Evolto being a completely alien life form. Moreover, he masters the usage of in his technology a Gas that warps Physics and Space-Time (The Sky Wall notably had Bugster Viruses in them which is not found in Build's Universe but rather Ex-Aid's).
Master Engineer: Sento is an extremely talented and prolific engineer and technician, having been able to make many complicated inventions. Since inheriting Project Build, Sento has showcased an immense and prolific talent in engineering by developing the majority, if not all, of the equipment used by himself and the rest of Team Build. He is also a master craftsman. Hence, he created fake versions of his gear to use as bait, which were completely indistinguishable from the genuine article with the naked eye. He has also made a modified microwave machine in Nascita's basement, and through Vernage's power inside of Misora Isurugi's bracelet to purified the harmful properties in Smash Bottle, leading to the creation of a Fullbottle which can then be used by Build.
Time Travel Knowledge: Sento also seems to understand the fundamentals of time travel as well, as he is able to maintain the bootstrap paradox previously established by Sougo, in fact that he is currently the only legacy Rider in Zi-O to remember Sougo giving him the blank Ridewatch and return it, knowing Sougo is a time traveler. In Heisei Generations FOREVER, he was able to repair a time machine without prior knowledge on how it works, though it most likely stems from his previous encounter with Sougo before the latter had even met him in the first place.
Expert Tactician: Sento has shown himself to be a capable strategist, being able to outwit Blood Stalk on two occasions as well as Namba.
Skilled Combatant: To be added
Bilingualism: Sento speaks his native Japanese, and can possibly speak English as he able to read files written in English entirely and perfectly translate it back to Japanese verbally.
Weaknesses
Form Data: As seen on Utsumi's tablet, Namba has data on most (if not all) of Build's forms, including tactical data for countering them. Hypothetically, Sento would be at a disadvantage if his opponents are powerful enough to utilize said counters.
Former Weaknesses
Dragon Fullbottle: As seen in episode 10, Sento's body cannot handle the Dragon Fullbottle's power as he transforms into Build KeyDragon, which causes him to be electrified by the energy surges and experiences intense pain. Further use of the Dragon Bottle causes his body to be engulfed in flame-like energy which hurts him even more and forcibly knocks Sento out of his transformation. This was due to Ryuga's Hazard Level 3 synchronizing more effectively with the Dragon Full Bottle from prolonged use and exposure to its energy, while Sento had never used it before. Sento uses the Dragon Bottle in the finale for his RabbitDragon form when he is finally above Hazard Level 7, giving him a complete control.

Dragon Jelly: Sento is also incapable of using this item as well when he uses Banjou's Sclash Driver.

Hazard Kill Switch: With Utsumi's help, Sento designed a switch that would allow the user to overload and destroy the Hazard Trigger, killing Sento in the process, should he ever lose control while using it. However, Sento has came up with an idea on countering the side effects of the Hazard Trigger by using the broken fragments of the Low Rabbit Fullbottle as a basis, thus the creation of the FullFull RabbitTank Bottle.
Alien Poison: Due to Evolto's poison injecting on him, Sento will suffer panic attacks and a high health risk, right until Evolto removes it from his body after a few hours while possessing Ryuga. This goes the same for Killbus, however, Sento manages to cure himself with the Genius Fullbottle.
Forms
Kamen Rider Build can assume a variety of different forms, called Trial Forms (トライアルフォーム, Toraiaru Fōmu), using different combinations of Fullbottles. However, each one has a Best Match (ベストマッチ, Besuto Matchi) with another Fullbottle that creates an especially powerful form. Best Matches usually have unique names in comparison to other mismatched forms, and the caps of Fullbottles indicate what Fullbottle is its Best Match.
Build initiates a finishing attack by turning the Build Driver's Vortex Crank again. The finisher of all Trial Forms is called the Vortex Attack (ボルテックアタック, Borutekku Atakku), while the finisher of the Best Matches is called the Vortex Finish (ボルテックフィニッシュ, Borutekku Finisshu).