For the sub-class this Worm belongs to, see Sectio Worm sub-class.
Sectio Worm (セクティオワーム, Sekutio Wāmu, 13): A Worm capable of spewing toxic bubbles, emitting electric shocks, and has scythes on the ears, shoulders, and left arm. Destroyed by Kabuto's Rider Kick.
Kamen Rider Kabuto
Kamen Rider Decade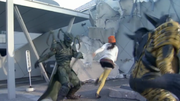 A Sectio Worm was part of a group of four Worms that attempted to kill Natsumi Hikari during the destruction of the worlds before Tsukasa Kadoya became Decade for the first time. They were all quickly destroyed by Decade as Kamen Ride: Kabuto. Rider War (episode)

OOO, Den-O, All Riders: Let's Go Kamen Riders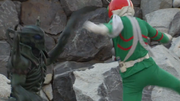 A mishap caused by the Greeed Ankh unintentionally altered the timeline which enabled Shocker to utilize the Core Medal to create the Shocker Greeed which defeated the Double Riders and seemingly erased the legacy of the Kamen Riders from history.Tiger Undead and other monsters and Kamen Riders come back later, Sectio Worm is seen fighting V3 and later he with the other worms fighting against Kabuto.OOO, Den-O, All Riders: Let's Go Kamen Riders

Sectio Worm
Sectio Worm
Powers and Abilities:
Human Duplication: Like all Worms, they can take the form of any human they see, duplicating their memories as well.
Clock Up: Like all molted Worms, they can trigger Clock Up, gaining the ability to move at incredible speeds while still observing the world around them at normal speed.
Weapon
scythe: Personal weapon and also use to execute his victims.
Behind the scenes
Portrayal
Sectio Worm is portrayed by Yoshimune Kato (加藤 義宗, Katō Yoshimune).
Concept Art
Appearances
Notes
Community content is available under
CC-BY-SA
unless otherwise noted.