The Seastar Fangire (シースターファンガイア, Shīsutā Fangaia) targeted female athletes and attacked them by discharging electricity from his body and targets female athletes. This led him to attack Mami, resulting in her becoming traumatized. His true name was The Proposition Related to the Guillotine and the Nest Box (断頭台と巣箱に共通する命題, Dantōdai to Subako ni Kyōtsū suru Meidai) and he was from of the Aqua Class.
Posing as a criminal that Keisuke Nago is pursuing, the Seastar Fangire played a part in putting Keisuke on the brink of madness by tormenting him in various ways. Though he overpowered Kamen Rider Kiva in his Kiva form, the Seastar Fangire was no match for Kiva's DoGaBaKi form. With the Fangire destroyed, his influence on Mami faded.

Statistics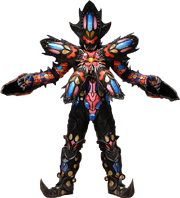 Height: 208 cm
Weight: 180 kg
Notes
Community content is available under
CC-BY-SA
unless otherwise noted.