Wiki Targeted (Entertainment)
Play Sound
The Seamoon Fangire (シームーンファンガイア, Sīmūn Fangaia) attacked people under the orders of Bishop. His true name was The Melancholic Cohabitation of the Grapes and the Radiator (ラジエーターと葡萄の陰鬱な同棲, Rajiētā to Budō no In'utsu na Dōsei) and he was from the Aqua Class. He was able to extend the tentacles on his arms to inject venom into his victims. Though outmatched by Kiva, the Seamoon Fangire was ultimately killed by a Mother Sagarc summoned by Taiga Nobori.
Kamen Rider Decade
The Seamoon Fangire appeared as part of a group of several Fangire which wrecked havoc as Natsumi Hikari was trapped within the changing dimensions during the destruction of the worlds. Rider War (episode)
The Seamoon Fangire later appears as a member of Dai-Shocker, accompanying Apollogeist in the World of Black RX. He is destroyed by Decade using Kamen Ride: Agito Rider Kick. RX! Dai-Shocker Attack

Statistics
Height: 216 cm
Weight: 227 kg
Behind the Scenes
Concept Art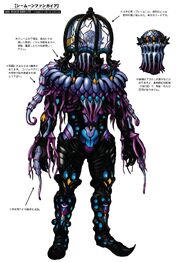 Seamoon Fangire was designed by Tamotsu Shinohara (篠原 保, Shinohara Tamotsu).