Scissors Jaguar (シザースジャガー, Shizāsu Jagā) is a warped scissor-bladed jaguar cyborg who can morph his hands into blades, the mastermind behind Shocker's nano-tech project who caused Kazami's transformation into V3. Based at the restaurant Legend of Gathering, Scissors Jaguar intended to turn all of Japan into cyborgs with the nanobots. However, his plans were foiled as he was killed by the Double Riders' Rider Double Kick and Rider Double Punch combo.
Form
Height: 174cm
Weight: 69kg
Behind the scenes
Portrayal
This Scissors Jaguar was played by Tomorowo Taguchi (田口 トモロヲ, Taguchi Tomorowo). Later he played Amadum in Kamen Rider Wizard. His suit actor was Tomotaka Watanabe (渡辺 智隆, Watanabe Tomotaka).
Basis
Scissors Jaguar was the first kaijin to fight Shiro Kazami in the Kamen Rider V3.
Concept Art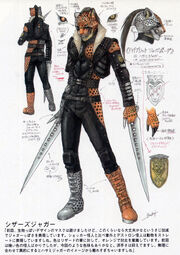 Appearances
Community content is available under
CC-BY-SA
unless otherwise noted.