Sakuyo Ichirin (一輪サクヨ, Ichirin Sakuyo) is a Florist-Type Humagear that competed in a competition against Rentaro Tachibana using the ZAIA Spec before temporarily being hacked by the Ark and transformed into the Ark Magia (Onycho Type) (アークマギア (オニコタイプ), Akumagia Onikotaipu)[1].
History
Sakuyo is visited by Aruto and Izu when she was working on the flower. They have a talk about the florist competition and Sakuyo accepts the offer. To increase her knowledge, she is taken to Hiden Corps for having her mind to be put on Zea Satellite for learning the skills.
During the day of the competition with Rentaro Tachibana, Sakuyo competed with him and lost. Despite the judgement's scoring, Sakuyo comments on Rentaro's working to be incompetent as she found an odd on his style, even goes far by telling that Rentaro doesn't fit to accept his Tachibana title which angering him. But after Rentaro slaps her until she falls to the ground, Ark hacks her and turns her into a Magia.
Aruto tries to stop her by accessing into Zero One Flying Falcon. But Gai interfere by transforming into Kamen Rider Thouser and going to beat him up alongside destroying Sakuyo for getting in his way.
Despite being hacked by the Ark, Sakuyo was not hacked with a Zetsumeriser, meaning her data was able to be restored, allowing her to participate in the second competition against Rentaro.

Magia Form
Ark Magia (Onycho Type)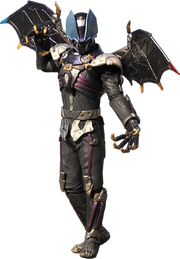 "Onycho!"
―Transformation announcement
Statistics
Height: 190 cm
Weight: 104.3 kg
After her programming is altered by the Ark remotely to incorporate the data of the Onycho Magia, Sakuyo is transformed into the Ark Magia (Onycho Type) (アークマギア (オニコタイプ), Akumagia Onikotaipu)
Arsenal
Zytalon (

ザイタロン

Zaitaron

): The sharp talons extending from the Onycho Magia's fingers.
Abilities
Humagear Hacking: Using a method similar to transforming into a Magia, the Onycho Magia can corrupt other Humagear and transform them into Trilobite Magia by piercing them with tendrils.
Flight: The Onycho Magia is able to fly using its wings.
Fireballs: The Onycho Magia can fire balls of energy from its hands.
Needles: The Onycho Magia can shoot barrages of needles out of its body.
Appearances: Zero-One Episode 17
Behind the Scenes
Portrayal
Sakuyo is portrayed by Honoka Murakami (村上穂乃佳, Murakami Honoka).
Etymology
The Onycho Magia's name is derived from Onychonycteris, an extinct species of bat that lived during the Eocene Period.
Notes
The design of the Onycho Magia's head is slightly similar to Kamen Rider New Den-O's helmet.
Sakuyo Ichirin is the second female Humagear to become a Magia, the first one is Seine Kanasawa.

However, Sakuyo can be restored to normal since she was hacked by Ark, while Seine was destroyed since her memory is deleted when she was hacked with a Zetsumeriser.
Appearances
References
Community content is available under
CC-BY-SA
unless otherwise noted.