Boba Fett Returns - The Loop
Play Sound
"If our experiment succeeds, the very concept of life will change."
―Saiko Yaotome
Saiko Yaotome (八乙女 紗衣子, Yaotome Saiko), born Saiko Zaizen (財前 紗衣子, Zaizen Saiko), is a doctor of the Seito University Hospital Centre for Regenerative Medicine in Kamen Rider Ex-Aid Trilogy: Another Ending. She is the daughter of Michihiko Zaizen.
History
Background
Saiko Yaotome is the daughter of Michihiko Zaizen, but had lost touched with him after her parents divorced Having watched him work as a doctor, she followed his profession. Circa 2010, her father was lost to Game Illness, having been employed by Genm Corp. CEO Kuroto Dan to surgically recover the Bugster Parado from Emu Hojo. Seeking to restore her father, Saiko pursued a career in regenerative medicine, and would head the initiative to restore those lost to the Game Illness following the demise of Masamune Dan in 2016.
From the fact that Bugsters retained the memories of their human hosts, Saiko determined that they retained their residual genetic material. Having investigated every possibility, Saiko and her team came to the conclusion that the only option to restore those erased by the Game Illness was by reconstructing their human genes from the Bugster whose virus they had fallen to. Recovering the Kamen Rider Chronicle Gashat from Taiga Hanaya, Kuroto Dan was able to revive his late father Masamune Dan, and had Saiko extract the Bugster Black Parado from his body.
Saiko commissioned the creation of the Bugvisor G from Tsukuru Koboshi. This new games console served as a platform for the Let's Make a Bugster, a game which could theoretically transform Bugsters into humans. Once the games console was completed, Saiko personally approached Parado and Poppy Pipopapo for assistance in her experiment, with her personally working with Poppy to play dress-up. She had also secretly abducted Parado using a Bugvisor and replaced him with Black Parado. After multiple Costume Changes, Saiko captured her in the Bugvisor and had her tied up, revealing her true colors. After Parado rescued Poppy, he confronted Saiko of her intentions and connection with her father. She later has Another Para-DX and a Genomes duplicate based on Michihiko Zaizen's data after the Bugster Riders, but her forces are swiftly defeated. When Kuroto Dan arrived, he quickly turned on her as his agendas don't fit her goals of creating regenerative medicine from the Bugster Virus. Depressed, Saiko took her leave as she was conflicted by the realization that the Bugsters had human hearts.
Following her disassociation with Kuroto Dan, Saiko was accosted by one of the Zombie Gamers brought forth by Dan's new game Zombie Chronicle. Though willing to accept her death, Saiko was saved by Kiriya Kujo as Kamen Rider Lazer. Kiriya explained that he knew her story as well as what she betrayed, however, he insisted that she was the only one who could perfect the Regenerative Medicine and bring back those lost to the Game Illness. Saikou continued to help the CR to put a stop at Kuroto Dan's game, only to later be turned into a Bugster Virus zombie who proceeded to attack Poppy. Ultimately, after Kuroto Dan was finally defeated by Kiriya, Zombie Chronicle ceased and so Saiko and all others infected by the zombies were restored to their original forms.
Following her recovery, Saiko retrieved the Bugvisor G. By applying the mechanics of Let's Make a Bugster, Saiko had Kiriya's human genes analyzed and reconstructed before resetting them to their base state, leading to the restoration of Kiriya Kujo in his human form in an operation headed by Hiiro Kagami. A vital component of this operation, however, was ironically the reprogramming ability of the God Maximum Mighty X Gashat left behind by Kuroto Dan. Through further research of God Maximum Mighty X, Saiko predicted that it would greatly change the future of regenerative medicine.
Personality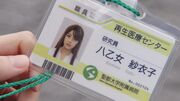 Saiko's sole purpose was to revive her father to get revenge on the Doctor Riders. 「Kamen Rider Brave & Snipe」 In reality, she is revealed to be nothing more than a tool for Kuroto's plan to create his ultimate game. 「Kamen Rider Para-DX with Poppy」 Eventually, she is able to forgive the Doctor Riders and cooperates with them to take down Kuroto Dan.
Behind the Scenes
Portrayal
Saiko Yaotome was portrayed by Yurina Yanagi (柳 ゆり菜, Yanagi Yurina)
Appearances
Notes