SOUGO Tokiwa (常磐SOUGO, Tokiwa Sōgo) is the main antagonist of Kamen Rider Zi-O: Over Quartzer. As the Leader of Quartzer (クォーツァーのリーダー, Kwōtsā no Ridā), he wishes to bring upon rebirth to the Heisei Era as Kamen Rider Barlckxs (仮面ライダーバールクス, Kamen Raidā Bārukusu).
History
Background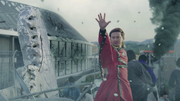 While details involving his history is unknown, he is the true incarnation Sougo Tokiwa who reigns as the leader of Quartzer. To maintain his existence a secret, he used the modern Sougo Tokiwa as his decoy to draw the attention of his enemies. SOUGO gave his subordinate, Woz, the Ohma Advent Calendar to guide his substitute on the path to become Ohma Zi-O. To ensure the Time Jackers wouldn't be aware of his existence, he also rescued his substitute's younger self by disintegrating one of the Dai Mazines.
Kamen Rider Zi-O: Over Quartzer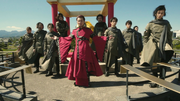 SOUGO Tokiwa continued to watch his substitute from the shadows by unifying the conflicting worlds of the Heisei Kamen Riders into a singular timeline for the Quartzers to eradicate. After Sougo Tokiwa completed his collection of nineteen Ridewatches, Woz stole all the Ridewatches to deliver them to the Quartzer leader. SOUGO finally made his presence to his alternate self seated on the throne with the other Quartzer members standing by him. Introducing the Quartzer as the "Wardens of History" and had Sougo imprisoned.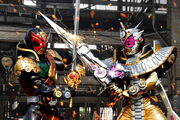 Deeming the Heisei Era to be a "mess" due to numerous contradictions, SOUGO Tokiwa and the Quartzer sought to remake it into a more unified timeline with themselves as the Kamen Riders. He transforms into Kamen Rider Barlckxs and proves to be a formidable opponent against Zi-O. However, once his substitute accesses Ohma Zi-O's power as Kamen Rider Zi-O OhmaForm, the battle turn into the tide of the heroes. Barlckxs later stabs Woz with his sword as punishment for his betrayal before facing the Heisei Riders. While using RX Bio Rider and J's Ridewatches to grow giant, Barlckxs is ultimately vanquished by the Heisei Rider Kick and ending the Quartzer Leader's reign for good.
Video Game appearances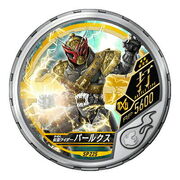 Kamen Rider Barlckxs is a playable character in Kamen Rider Buttobasoul.

Personality
SOUGO seems to be a rather cunning and patient person, as he was able to set in motion Ohma's rise back when his counterpart was just a kid, all in order to create a decoy that will draw the attention of his enemies. These actions reveal that he didn't care about involving innocent people if it meant benefiting him.
Like with most villains, his greatness weakness is his arrogance. He was unable to see that Black Woz had betrayed him and very much underestimated his young counterpart in battle.

Kamen Rider Barlckxs
Equipment
Devices
Weapons
Vehicles
to be added
Behind the Scenes
Portrayal
SOUGO is portrayed by singer ISSA of DA PUMP fame. As Kamen Rider Barlckx, his suit actor was originally reported to be Jiro Okamoto, who left the project due to scheduling conflicts and was replaced by Yuji Nakata (中田 裕士, Nakata Yūji).[2]
Notes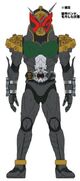 Appearances
References