"Ready!"
―Activation announcement
The Energy Handle Blade SB-555H Faiz Edge (エナジーハンドルブレード SB-555H ファイズエッジ, Enajī Handoru Burēdo SB-555H Faizu Ejji) is a one-handed lightsaber-like weapon whose blade is made of Sol Glass (ソルグラース, Soru Gurāsu) and is disguised to resemble part of the Auto Vajin when not in use as the left handle.
The Exceed Charge of this weapon is called the Sparkle Cut (スパークルカット, Supākuru Katto), where Faiz fires an anti-gravity pulse along the ground, immobilizing ground-based enemies by levitating them in the air and overcharge the energy in the blade, allowing it to perform more powerful cuts.
The damage is not actually caused by the blade's sharpness itself, but by the energy that it discharges once in contact with the target.
While in Axel Form, the Exceed Charge attack is enhanced into the Axel Sparkle Cut (アクセルスパークルカット, Akuseru Supākuru Katto), allowing Faiz to slash multiple enemies while running through them.
Riotrooper V2 also seems to carry this weapon, but instead of the standard shape, his version shares a similar design to the Axel Ray Gun, only enlarged to serve as a reverse-held short sword.

Arms Weapon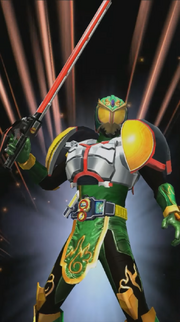 The Faiz Edge is the Arms Weapon wielded by either an Armored Rider or a New Generation Rider when they transform into Faiz Arms, which is assumed by Kamen Rider Ryugen in Kamen Rider Battle: Ganbarizing.

Ganbarider
The Faiz Edge is also among the various Rider Weapons used by Ganbarider in Kamen Rider Battle: Ganbarizing.
Behind the scenes
Portrayal
As a device of Smart Brain, the Faiz Edge's voice is provided by Takehiko Kano (假野 剛彦, Kano Takehiko), who also served as the narrator of Kamen Rider 555.
Notes
The Faiz Edge being carried in the Auto Vaijin's handlebar is a reference to Yuusuke Godai, who often took out his bike's left handlebar and transformed it into the Titan Sword to use in Titan Form.
When this weapon was introduced against the Scarab Orphnoch, the blade is already extended without the Mission Memory, but in later uses, Faiz needs to place the Mission Memory for the blade to extend.
Community content is available under
CC-BY-SA
unless otherwise noted.