The Transformation Belt SB-315B Psyga Driver (変身ベルト SB-315B サイガドライバー, Henshin Beruto SB-315B Saiga Doraibā), also known as the Belt of The Sky, was one of the Emperor's Belts created by Kyouji Murakami from the ruined Delta Belt. Its user was Leo. Ultimately, both he and the Driver disintegrated in battle with Kamen Rider Faiz, whose Sparkle Cut slashed past Psyga's waist, cutting through the belt and Psyga's spine. Kamen Rider 555: Paradise Lost
World of Faiz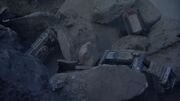 The Psyga Driver also existed in the A.R. World of Faiz but was unused. It was seen abandoned alongside the Delta Driver and Smart Buckle in the ruins of Smart Brain High School as Daiki Kaito retrieved the Orga Driver. 555 Faces, 1 Treasure
Behind the scenes
Portrayal
As a device of Smart Brain, the Psyga Driver's voice is provided by Takehiko Kano (假野 剛彦, Kano Takehiko), who also served as the narrator of Kamen Rider 555.
Notes
The sounds made by the Psyga Driver, excluding the voice clips, are a lower-pitched version of the sounds of the SB-555B Faiz Driver.
Community content is available under
CC-BY-SA
unless otherwise noted.