For the World of Build version, see Ryuga Banjo.
Ryuga Banjo (万丈 龍我, Banjō Ryūga) is a 23-year-old fighter who is the New World counterpart of Ryuga Banjo. He continues exists as an independent individual due to his original counterpart being merged with part of Evolto before birth.
Character History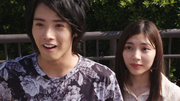 After the creation of the New World, a new version of Ryuga is walking his girlfriend Kasumi. Sento Kiryu goes to him, but Ryuga doesn't recognize him and thinks he is a fan of his fighting matches. Sento then just shakes his hand and then walks off in sorrow as the new Ryuga walks off with Kasumi to get ice cream. When Sento reunites with the Ryuga from the World of Build, Ryuga somehow survived and exists now as an anomaly too in this world. Ryuga complains to Sento that nobody remembers him and some doppelgänger of him has stolen his girlfriend. Sento surmises that since Evolto's DNA is part of Ryuga and a version of Ryuga exists here, Ryuga's alien hybrid DNA and the non-existence of Evolto is causing some kind of paradox that canceled out the erasure of the existence of one or both Ryugas. The Tomorrow Build Will Create

Behind the Scenes
Portrayal
Ryuga Banjo is portrayed by Eiji Akaso (赤楚 衛二, Akaso Eiji).
Notes
Noticably, this version of Ryuga sports black hair in contrast to the original's ginger colored hairstyle, implying the ginger color originated from him possessing Evolto's DNA.
It's currently unknown whether or not this Banjo regained his memories of the old world following Killbas' intervention like Takumi Katsuragi did, regardless of their anomalies' existance.
Appearances
References
Community content is available under
CC-BY-SA
unless otherwise noted.