Ryosuke Miura (三浦 涼介, Miura Ryōsuke) is a Japanese actor who is well known for his role as Ankh and Shingo Izumi in Kamen Rider OOO. He previously played Momose (Tiger Orphnoch) in Kamen Rider Decade.
As Ankh, he appeared in five Kamen Rider Series movies: Kamen Rider × Kamen Rider OOO & W feat. Skull: Movie War Core (2010), the crossover movie between Kamen Rider OOO and Kamen Rider W, OOO, Den-O, All Riders: Let's Go Kamen Riders (2011), the 40th anniversary movie of the Kamen Rider Series, Kamen Rider OOO WONDERFUL: The Shogun and the 21 Core Medals (2011), the summer movie of Kamen Rider OOO, Kamen Rider × Kamen Rider Fourze & OOO: Movie War Mega Max (2011), the crossover with Kamen Rider Fourze which takes place after Kamen Rider OOO, and Kamen Rider Heisei Generations FINAL: Build & Ex-Aid with Legend Riders, the crossover between Kamen Rider Build and Kamen Rider Ex-Aid featuring the returning casts of previous seasons, including OOO.
Before he was involved in the Kamen Rider Series, Miura previously portrayed Kane Lucano

(Beetle Sazer) in Chousei Kantai Sazer-X in 2005.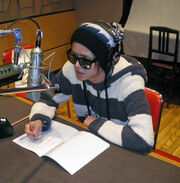 He reprised his role as Ankh, as a NPC in the game's Chronicle Mode of Kamen Rider: Battride War.[1]
Additional appearance
Notes
His real hair style is the one he dons while he plays Ankh (dyed blonde) and he wears a wig while playing Shingo Izumi. However, it is still disputed on whether his hair style is real or not while playing Momose, but it is possibly a wig.
He is the younger brother of actor Kota Miura, who played Takeshi Kurosaki in the second season of Kamen Rider Amazons.
External links
References
Community content is available under
CC-BY-SA
unless otherwise noted.