Ryo Ogami (尾上 亮, Ogami Ryō) is a 36-year-old[1] (44 as of Trio of Deep Sin) member of the Sword of Logos who transforms into Kamen Rider Buster (仮面ライダーバスター, Kamen Raidā Basutā).
History
Background
Ryo Ogami was born in 1984[2] and had lost his father due to illness when he was young. In his youth, he was close friends with Haruka Kiritani, who had always protected him from bullies, and both attended Kagari High School together. During his third year, Ogami found the Genbu Shinwa Wonder Ride Book and was later rescued by his teacher, Toshikazu Kamikawa, from a group of Shimi. Ogami accepted Kamikawa's offer to become his successor to inherit Dogouken Gekido. He later meets Hayato Fukamiya and trained with him following Kamikawa's declining health under the condition that Ogami trains his son, Kento, in the future.
Ogami was practiced to become the latest incarnation of Kamen Rider Buster, declaring himself as the "strongest swordsman in the world". After confessing his love to Haruka and graduating high school, Ogami was officiated into Sword of Logos. Four years later, he would meet Master Logos and became close friends with Tetsuo Daishinji. Ogami would become involved with the battle between the Sword of Logos and the Megid, and witnessed the demises of Amane Kagami and Kyoichiro Shinsen at the hands of Desast. With most of the swordsmen either killed in action, missing, and rendered unable to fight again, this forced Ogami to be the only swordsman remaining in the Northern Base at the time.
For the next fifteen years, Ogami had married Haruka and beared a son together named Sora. He proceeded to train the next generation of swordsmen to inherit the Seiken of the fallen. While Ogami tried to fulfill more responsibilities as a father following his wife's brief illness, he found it difficult to juggle both lives after Sora had an accident while home alone. While he confided with Kamikawa about the consideration to quit being a swordsman, an encounter with the Spider Megid forced Ogami to fight the Megid to protect Sora, intent in proving to his son that he is the strongest swordsman and a proud father.
The Land Swordsman
Ogami was dispatched to aid Kamen Rider Saber and Kamen Rider Blades against the Golem Megid, bringing Sora along to defeat the monster with ease. Ogami would formally meet Touma, the current Flame Swordsman, and initially did not believe that the novelist was chosen as Kaenken Rekka. After Touma helped rescue Sora, who was captured by the Hanzaki Megid, Ogami began to recognize the former's abilities.
At the time, Ogami was the oldest and seasoned combatant belonging to the Sword of Logos, having experienced a lot of pain in losing his fellow swordsmen years ago. He proceeds to help out the current swordsmen following the reemergence of Kamen Rider Calibur. Ogami investigates Hayato Fukamiya's betrayal and defection from the Sword of Logos, until it was revealed Hayato was seemingly killed by Daichi Kamijo, the previous Saber.
When the Immortal Swordsman, Bahato, unleashes his destruction to the world using the Book of Ruin, Ogami joined with the Northern Base swordsmen to battle in Wonder World. Kamen Rider Buster engaged the Shimi horde as Saber fought Falchion personally. Ogami, intent on fighting to protect future for his son Sora, wiped out the Shimi army with his fellow Swordsmen before Falchion was sealed away by Saber Emotional Dragon.
Final Showdown with Calibur
While Ogami pressed on to fight his former teammate, it would eventually result in the loss of Kento, having been lost into the darkness as the battle with Calibur progressed. As Kamijo enacted to seize the Almighty Book, Buster fought with Slash, Kenzan, and Blades to hold off the Megid generals while Saber chased after Calibur. Ogami and the rest of the Northern Base swordsmen would warmly welcomed Touma back once he returned from the in the realm of the Almighty Book.
Sword of Logos Conspiracy
Following the defeat of Calibur and Sophia's disappearance, Reika Shindai appeared to the Northern Base swordsmen to accuse Touma had betrayed the Sword of Logos. While Touma defended himself that there's a true enemy within the guild, Ogami was forced to fight his friend but is stopped by Kamen Rider Saikou's intervention that forced the Northern Base swordsmen to draw back. While everyone is transferred back to the Southern Base, Ogami and Daishinji remained skeptical whether Touma really did betray the guild.
Ogami became farther disillusioned with the Sword of Logos after Daishinji left the guild, especially after Reika brought up the reason for Sora's safety is because of the organization. While he helped Touma on some occasions, Ogami decided to duel him after his transformation into Primitive Dragon. The battle ends with Ogami barely winning despite their attacks, Ogami was able to stand up faster than Touma. But because of the fight, Ogami was able to trust Touma and announces that he will join his side.
While Ogami reassembles back at the Northern Base, he and Daishinji came face to face with Reika Shindai. Realizing her use of the Eneiken Noroshi, Ogami demanded answers from her but is swiftly defeated after her transformation into Kamen Rider Sabela. It was during this battle where he discovered Kento had returned from the darkness as Kamen Rider Calibur, on the pursuit to seal the Seiken. Ogami would continue to assist Touma as he is being compelled by the Primitive Dragon and was there to witness his evolution into Saber Elemental Primitive Dragon.
Following Rintaro's defection from the Sword of Logos, Ogami learnt that the true enemy of the guild was actually Master Logos himself, much to his anger. After welcoming Rintaro in open arms, Ogami began to find Ren Akamichi in hopes of joining forces like old times.
War against Master Logos
When Master Logos disabled the Northern Base defenses, the Megid and the Shindai siblings raid the base. Ogami joined with Rintaro to hold off the Megid forces and is beaten by Zooous Predator. He would lose Dogouken Gekido and the majority of his Wonder Ride Books to Reika Shindai in the process. When Luna made her return and had gone missing, Ogami went out to search for her and is forced to surrender when he and Daishinji were held hostage. While Touma managed to foil Master Logos' ritual to summon the Almighty Book, Ogami regains Gekido and his books back in his hands.
However, Master Logos is able to obtain a portion of the Almighty Book and transform into Kamen Rider Solomon, who proved to be a formidable adversary. Despite countless battles, Ogami would bear witness to the creation of Haouken Xross Saber and Touma becoming Kamen Rider Xross Saber. After Xross Saber defeated Solomon for the first time, Ogami congratulated him for his victory, with Touma granted a new power forged by the swordsmen's wishes to save the world.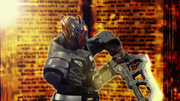 One day, Touma was sent to the world of Kikai Sentai Zenkaiger

with Mei Sudo and Yuri as a result of Asmodeus' awakening. As a result of Shotaro Ishinomori's unsatisfaction, Ogami was amoung the heroes who vanished. When Asmodeus raised more monsters, Touma and Shotaro arrived with their latest creations. Touma unveils Super Hero Senki, while Shotaro unveils Kamen Rider 1 and Himitsu Sentai Gorenger

, allowing the Kamen Riders and Sentai Rangers to remanifest. Ogami as Kamen Rider Buster joins his fellow swordsmen, the Kamen Riders, and the Super Sentai to battle Asmodeus's forces, emerging victorious in the ensuing battle.
Storious' Endgame
Though they were victorious against Master Logos, Storious began to enact his plan to destroy the world. Following Tassel's death, the destruction of the Wonder World began affecting Earth. Ogami participated in minimizing the disaster, but Storious grew stronger after becoming Kamen Rider Storious, ressurecting the Four Sages in the process as his loyal followers.
As the final battle approaches, Kamen Rider Buster joins the swordsmen as they storm Storious' Tower of Destruction. Ogami engaged against Lord of Wise Highlander, while covering for Touma as he reached Storious' chamber. Although he fought with Rintaro in defeating it, the battle was too exausting for Ogami, causing him to pass out and it was only Yuri's healing ability that allowed him to stand up. As the world eventually disintegated, Ogami was amoung many lives that were affected by a wave of destruction. However, once Touma became the Guardian of Wonder World, Ogami was amoung the populace resurrected in the restored Earth.
One Year Later
One year after the final battle, Ogami had a picnic with Haruka and Sora, playing baseball with his son. Upon hearing word that the missing victims that were unaccounted for had suddenly returned, Ogami joined up with most of Touma's friends as they reunited with their missing friend once more.
Ogami was at an outing with Sora, Rintaro, and Mei when he meets Ikki Igarashi at Happy Spa. As the demon Diablo emerged to threaten the Earth's future, this leads to Fenix's Kamen Riders and the Sword of Logos joining forces. They would also encounter time-displaced Shocker scientist Ryunosuke Momose, who sought to make amends with Hideo, his young son he left behind in 1971, who is now an adult man in 2021.
While Touma, Rintaro, Yuri, Vice, Daiji, and Sakura go to the future, Ogami stayed behind in the present to battle Leonidas Crisper in Siberia, fighting on his own until everyone was able to return. He would be assisted by Kamen Rider Saikou to defeat Leonidas Crisper.
Eight years after saving the world, Ogami becomes a teacher at Kagari Elementary School. Unbeknownst to him, the multiple swordsmen within the Sword of Logos have begun to disappear. Ogami would be vanished from existence by Mamiya using Amazing Siren's power. However, he would be restored back to normal after Mamiya reset reality. Ogami was shown to be greeting Sora off-screen.
Video Game Appearances
Personality
Ryo is a prideful swordsman who cares deeply for his son, so he gets aggressive whenever something bad happens to him. Ryo heavily underestimates situations, as he looks down on both Touma and Rintaro, ignoring their advice to keep his son off the battlefield. Therefore, if something dangerous does indeed happen, Ryo doesn't calmly tackle the situation and seems to ignore any potential risks. He later decides to believe in Touma after Kento vouched for him and the novelist followed through with his promise.
Ryo also understands the value of friendships and family, as he tried to comfort Kento after their first run-in with Calibur, Kento's biological father. Knowing that Touma was closer to Kento than he was, he entrusted Needle Hedgehog and Storm Eagle to them both. As a father himself, Ryo puts his family before all else, including being a swordsman and his duty to help save the world, in order to protect the futures of Sora and children like him, as well as those of the younger swordsmen. It is his dedication to his family that becomes part of the reason he defects from the Sword of Logos after Reika threatens their wellbeing.
Despite his pride and seemingly nature to not listen, Ryo isn't completely oblivious to the corruption that Touma claims is present within the Sword of Logos. For the raid of the Southern Base, Ryo discreetly gave his Book Gate to Touma and Tetsuo and did not show any form of hatred towards the former. After confining his thoughts with his son Sora, Ryo ultimately decided to stick with his guts, joining Touma's team after one last battle with Touma.
Family
Abilities
Expert Swordsman: As a former member of the Sword of Logos, Ryo is a highly trained and experienced swordsman which displayed considerable skill in swordsmanship, demonstrating his mastery at using Dogouken Gekido when fighting his enemies or opponents.
Above Average Physical Strength: Though practice, Ryo has gained a notable amount of strength, being able to easily handle Dogouken Gekido, which is the heaviest Seiken. In Chapter 41, he was even able to wield two copies of Gekido simultaneously with ease.
Kamen Rider Buster
Equipment
Devices
Relationships
Allies
Enemies
Behind the Scenes
Portrayal
Ryo Ogami is portrayed by Yuki Ikushima (生島勇輝, Ikushima Yūki). As Kamen Rider Buster, his suit actor is Jiro Okamoto (岡元 次郎, Okamoto Jirō).
Etymology
As with the naming scheme with all the Saber Riders, Buster's name is a corruption on the term "bastard sword", which were large two-handed swords used in Europe during the 17th century.
As with the surname scheme of other members of Sword of Logos, Ryo's surname, Ogami, contains a homophone of the kanji Kami (

神

) using its alternate reading "Gami".
Concept Art
To be added
Notes
While Ryo isn't the first character in the franchise to be both a Rider and a parent, he is the first to be active in both fields simultaneously from the very start. According to Ikushima, Ryo is an Ikumen (

イクメン

), men who actively take care and spend more time with their children.[8][9]
Ryo's own manga series takes place 20 years before the events of the show, when Ryo was 17-years-old. It is also officially stated that Ryo is 36 during the events of the series, while Ikushima was roughly around the same age when filming began.
Appearances
References

Kamen Rider Revice
Kamen Riders
Ikki Igarashi - Vice - Daiji Igarashi - Kagero - Sakura Igarashi - Lovekov - Hiromi Kadota - Orteca - George Karizaki - Genta Igarashi - Vail - Hikaru Ushijima - Go Tamaki - Hana Natsuki - Demons Troopers
Movie/Special-exclusive: Kamen Rider Century (Ryunosuke & Hideo Momose) - Ryu Mukai - Nozomu Otani - Azuma - Kamen Rider Igarashi - Hana Natsuki (Devil)
Clone Riders: Touma Kamiyama (1, Super-1, Accel), Rintaro Shindo (ZO, Kuuga, Blade), Yuri (Agito, Ex-Aid, Zero-One), Vice (Black RX, Fourze, Woz), Daiji Igarashi (Knight, Meteor, Ryugen), Sakura Igarashi (Nadeshiko, Poppy, Valkyrie)
Gear
Transformation Gears
Revice Driver - Two Sidriver - Libera Driver - Demons Driver - Vail Driver - Week Endriver - Cyclotron Driver - Destream Driver - Crimson Vistamp - Chimera Driver - Juuga Driver
Vistamp-related
Vistamps - Vistamp Holder - Vistamp Bar
Normal Weapons
Ohinbuster50 - Gundephone50 - Osutoderuhammer50 - Barid Shield - Rolling Vistamp - Evilblade - Livegun - Needle Kunai - Crimson Vistamp
Genome/Genomix Arsenals
Jeanne: Lovekov (Kujaku, Turtle, Hashibiroko)
(Over) Demons: Demon Bottom Higher - Demon Digzon - Demon Rumblejoker - Demon Ridolstinger - Demon Bladior
Destream: Komodo Dragonic Heat - Croco Wizarolling - Kong Astro Breaker
Vehicles
Vice (Ptera, Jackal)
Headquarters
Fenix Skybase - Deadmans Base - Ararat - Area 666
Allies
Happy Spa: Yukimi Igarashi - Shozo Irabu - Go Tamaki
Legend Riders: Takeshi Hongo - Ryu Terui - Hideyasu Jonouchi - Oren Pierre Alfonzo - Poppy Pipopapo - Izu - Yua Yaiba - Touma Kamiyama - Rintaro Shindo - Kento Fukamiya - Ryo Ogami - Ren Akamichi - Tetsuo Daishinji - Sophia - Yuri - Reika Shindai - Ryoga Shindai - Ace Ukiyo
Others: Genpachiro Otta - Naoya Kaido - George Karizaki (2071) - Akiko Narumi - Rinko Daimon - Kanon Fukami - Sawa Takigawa
Fenix
Director: Hideo Akaishi
Commanders: Yujiro Wakabayashi - "Yujiro Wakabayashi" - Hiromi Kadota
Squad Leaders: Daiji Igarashi - Tatsuhiko Tabuchi
Others: George Karizaki - Akemi Mikoshiba
Weekend
Leader:
Masumi Karizaki
Ushijima Family: Hikaru Ushijima - Tasuke Ushijima - Kimiko Ushijima
Others Members: Sakura Igarashi - Hana Natsuki - Go Tamaki - Demons Army
NOAH
Director: Agariyama
Researchers: Masumi Karizaki - Hideo Akaishi
Military: Shozo Irabu
Others: Junpei Shiranami
Deadmans
Demons: Giff
Notable Members: Hideo Akaishi - Orteca - Julio - Aguilera - Amahiko Haitani - Yasushi Kudo - Chameleon Deadman
Deadmen
Batta Deadman - Rex Deadman - Mammoth Deadman - Kamakiri Deadman - Megalodon Deadman - Kong Deadman - Lion Deadman - Spider Deadman - Daiouika Deadman - Wolf Deadman - Kangaroo Deadman - Cheetah Deadman - Brachio Deadman - Kurage Deadman - Planarian Deadman - Chameleon Deadman - Sabertiger Deadman - Queen Bee Deadman - Koala Deadman - Orangutan Deadman - Shark Deadman - Elephant Deadman - Anomalocaris Deadman - Rafflesia Deadman - Mandrill Deadman
Henchmen: Giff Junior
Gifftarians: Normal - TRUE - Hell
Others: Giffdemos - Deadman Clones
Deadmans' Contract Holders
Junpei - Tomoyuki Harada - Hiromi Kadota - Araki - Ibata - Ayaka Oketani - Unnamed Salary Man - Masao - Yasushi Kudo - Koji Maezono - Scamming Group - Amahiko Haitani - Seiko Omori - Taro Gondawara - Unnamed Comedian - Mayu Tominaga - Subaru Kimura
Gifftarian Hosts
Unnamed Excavator - Unnamed Deadmans Follower - Yosuke Okuda - Chigusa Yamagiri - Kanae Motomura - Unnamed man - Unnamed child
Shocker
Diablo
Crispers
Himiko Crisper - Khufu Crisper - Edison Crisper - Leonidas Crisper
Devil Rider Corps
Shocker Rider No.1 - Shocker Rider No.2 - Kamen Rider Ouja - Kamen Rider Eternal - Kamen Rider Sorcerer - Kamen Rider Duke - Kamen Rider 4 - Kamen Rider Barlckxs
Others
Shocker Executive
View • Edit