For the Manga version, see Riku (2015 manga).
Riku (リク, Riku) was born long ago to the nature-loving and peaceful Lynt (リント, Rinto) Tribe and was chosen to become the Ancient Lynt Warrior known as Kuuga (クウガ, Kūga) to defend them against the battle-hungry Gurongi Tribe (グロンギ族, Gurongi Zoku).
Biography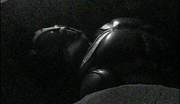 The peaceful Lynt Tribe lived their days coexisting with nature. One day, the tribe Shamans predicted a great darkness approaching and chose Riku to become their defender against the Gurongi Tribe, who have gained beast-like powers after their weapons smith made weapons out of the Amadam meteorite.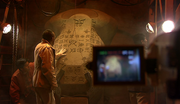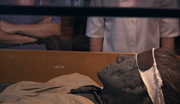 After Riku defeats every Gurongi attacking his tribe, Daguva confronted him. Riku managed to defeat Daguva with the help of Gouram (in the form of the Horse Armor). He sealed Daguva and the rest of his tribe using his own power and the Amadam's until the year 2000 when a group of archaeologists found and disturbed his sarcophagus, which accidentally lifted the seal. Although it was said that his body was destroyed by Daguva, it was revealed in Episode 39 that he was still alive around the time the Gurongi revived.
Forms
The Ancient Lynt Kuuga had four base forms that he relied on. His armor, eyes, as well as the Amadam Core on his belt would change color depending on the form. Like the Go-Gurongi, Kuuga can alter any item he has into a weapon by temporarily changing its atomic structure. Only four of his forms were known and recorded by his tribe (that was later deciphered by Sakurako Sawatari) and it is unknown whether he had accessed the Amazing and Ultimate Forms, although it is possible that Riku chose not to use the latter forms because of its side effects. Also, it is worth noting that he does not have access to Rising and Amazing Mighty, as Yusuke is able to access said forms by electro-therapy and are never recorded by his tribe. It is unknown if he even had a Growing Form, as Zu-Gumun-Ba expressed surprise when the future Kuuga showed said form.
Equipment
Devices
Weapons
Vehicles
Horse
Gouram - Mechanical beetle
Behind the scenes
Portrayal
Riku is portrayed by Kenji Tominaga (富永 研司, Tominaga Kenji), who also portrays the Rider in-suit throughout the series.
Notes
Since Yusuke could not defeat Daguva (in his complete form) without using Ultimate Form, Riku presumably used either this form or at least Amazing Mighty. However, considering that Riku was born into the Lynt Tribe and was specifically chosen to become Kuuga, it is also likely that with his level of power, he could have sealed all of the Gurongi without using any of Kuuga's strongest forms.

This is slightly questionable though, as Yusuke managed to both utilize and control Rising Ultimate on his first try, which has even more power than Daguva and Ultimate Form, thus hinting him to be even more powerful than Riku himself.
Appearances
References
See also
Community content is available under
CC-BY-SA
unless otherwise noted.