Ridewatch Holder (ライドウォッチホルダー, Raido Wotchi Horudā) is a strap for Kamen Rider Zi-O, Kamen Rider Geiz and the Quartzers used to carry Ridewatches. In comparison to Sougo, Geiz is constantly wearing the Holders on both of his forearms even outside of his transformation, which extends to any particular disguise he wears.Switch On! 2011
A green version of Ridewatch Holder named Miridewatch Holder (ミライドウォッチホルダー, Miraido Wotchi Horudā) is used by Kamen Rider Woz to carry his Miridewatches.

Notes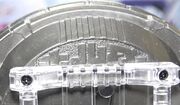 The DX Ridewatch Holder has the katakana for "Holder" (

ホルダー

Horudā

) on the back.

However, like with the Ziku-Driver, this clashes with Geiz's hiragana motif as it would have to read "Holder" (

ほるだー

Horudā

) in hiragana.

Unlike the holders from past series, this is the first time that the holder is not on the belt.

This is also the first holder to do so that appears with the transformation, with prior instances having holders appearing when the Driver is attached or added with the transformation, but attached to the belt.

Being the parallel to Kamen Rider Zi-O, Another Zi-O also has a pair of Ridewatch Holder on both of his hands but the storage compartment was occupied with what appeared to be solid Ridewatches instead of housing his Anotherwatches.
When Sougo became Ohma Zi-O, his Ridewatch holders became a golden color to reflect his Ohma Zi-O Driver.
Community content is available under
CC-BY-SA
unless otherwise noted.