Riderman Machine (ライダーマンマシーン, Raidāman Mashīn) is Riderman's Suzuki 250cc motorbike.[1] It was also generically known as Rider Machine, which is now used as an umbrella term for all Kamen Rider vehicles. In The Next Decade Music Video, the new Joji Yuki uses a Silver version of Riderman Machine.
History
All Rider Break
Riderman got on his Riderman Machine, among many other Kamen Riders and their Rider Machines, to perform the All Rider Break attack which ended the final battle with Rock Great Leader. OOO, Den-O, All Riders: Let's Go Kamen Riders
In other media
Kamen Rider SD
The SD Riderman lacks a motorcycle in the OVA, Kamen Rider SD: Strange!? Kumo Otoko, riding with Kamen Rider #2 on his New-Cyclone.

However, in video game Kamen Rider SD: Sortie!! Rider Machines, Riderman has his own motorcycle named Monsoon (モンスーン, Monsūn), the successor of Riderman Machine.

Kamen Rider: The Bike Race
Riderman appears riding Riderman Machine in Kamen Rider: The Bike Race, a racing video game featuring the majority of Kamen Riders and Rider Machines up to Kamen Rider Agito.
Kamen Rider Spirits

Riderman planned an effort to reach his partner Shiro who was trapped inside an EMP barrier which enveloped an entire city. To achieve this, he modified the Rideman Machine so it could achieve a top speed of 600 km/h so that its Rider Break could penetrate the barrier. This plan failed and Riderman was forced to abandon his damaged bike after being ambushed. He then rode the Helldiver with ZX and successfully rescued Shiro.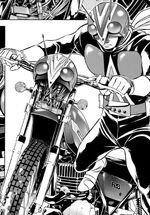 Later, he customized his original bike with a back-up Riderman helmet attached as its headlight.

Notes
Appearances
References
Community content is available under
CC-BY-SA
unless otherwise noted.