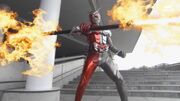 The Rider Thrust (ライダースラスト, Raidā Surasuto) is a finishing move from the Kamen Rider Series. It has traditionally consisted of a powered thrust, slam or stab with a pole-arm weapon and is used against the monster/kaijin after it has been weakened from fighting with the Rider.
This is a rare weapon-based finisher type.
Some Rider Thrusts involve the use of a sword weapon instead, deviating from the traditional Rider Slash.
List of Rider Thrusts