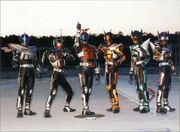 "Cast Off: Change Beetle!"
―Transformation announcement for Kabuto & Dark Kabuto's Rider Forms
"Cast Off: Change Wasp!"
―Transformation announcement for TheBee's Rider Form
"Cast Off: Change Dragonfly!"
―Transformation announcement for Drake's Rider Form
"Cast Off: Change Scorpion!"
―Transformation announcement for Sasword's Rider Form
"Cast Off: Change Stag Beetle!"
―Transformation announcement for Gatack's Rider Form
The sleek, offensive, Rider Form (ライダーフォーム, Raidā Fōmu) is one of two main forms, along with the bulky armored cocoon-like Masked Form (マスクドフォーム, Masukudo Fōmu), accessed by ZECT Kamen Riders of the Masked Rider System. However, the two Hopper Riders and the three Kabutech Riders only have one form.
Individual Rider Forms
Community content is available under
CC-BY-SA
unless otherwise noted.