"Wait, this Shift Car is not yet complete!"
This article is a stub, meaning it needs more info. You can improve this Kamen Rider Wiki article by expanding it.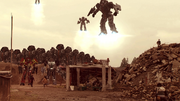 The Resistance (レジスタンス, Rejisutansu) is a coalition of the remaining members of the human race in the year 2068, who fight against the evil tyranny of the demonic king, Ohma Zi-O.
Known Members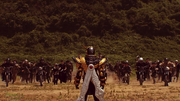 Resistance Captain - Leader (Deceased)
Geiz Myokoin/Kamen Rider Geiz - Fighter
Tsukuyomi - Fighter
Geiz's unknown friend - Unknown role (deceased)
Black Woz - Former captain (defected)
Various resistance fighters (majority of them most likely deceased as of 2068)
Various civilians
History
The resistance was formed at some point in time to fight against the evil tyrant. Black Woz was appointed as one of their captains and decided to perform recon by infiltrating Oma's Zi-O. However, Black Woz, whose true allegiance was to the Quartzer, defected to Ohma Zi-O's side and began feeding him strategic information while returning to the resistance with lies. This would eventually cause the resistance to weaken and eventually fall.
What happened of the members of Resistence following Swartz's defeat and Kamen Rider Ohma Zi-O's timeline reset is currently unknown.
Arsenal
Vehicles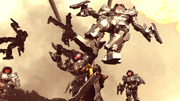 Weapons
Behind the Scenes
Portrayal
to be added
Notes
In an alternate reality introduced in 2019: World, Reset, a similar armed resistance would be formed during the aftermath of Hiryu Kakogawa's ascension to power.
Appearances
See also
References
Community content is available under
CC-BY-SA
unless otherwise noted.