Reminiscence! Secret of the Mind! (追憶!秘めた心!, Tsuioku! Himeta Kokoro!) is the thirty-second episode of Kamen Rider Ghost. It features the debut of Deep Specter Gekikou Mode.
Synopsis
Igarashi has called Takeru into the memories of past times. He finds out a truth that has been hidden for 10 years. The wishes and feelings of his father, Igarashi, Saionji and the Hermit resonate inside him. What could be beyond these strange changes Takeru is experiencing?!
Meanwhile, Shibuya is looking for his mother, who has escaped yet again. More and more adults are being turned into children. Society itself may spiral out of control. Everyone is running against the clock to solve the mysterious phenomenon the new Gammaizer has set in motion.
Plot
to be added
Cast
Guest Cast
Suit Actors
Ghost Eyecons
Eyecon Used:
Damashii Used:

Ghost

Toucon Boost Damashii, Grateful Damashii

Specter
Necrom

Ghosts summoned through Eyecon Driver G:
Gamma Eyecons
Eyecon Used:
Gamma Form Used:
Errors
Notes
Closing Screen Ghost Eyecon
Count at episode end

Takeru's days of life remaining: 39
Eyecons in Ghost's Possession: 10
Eyecons in Specter's Possession: 3
Eyecons in Necrom's Possession: 2
Eyecons connected: 11 (Ryoma, Musashi, Robin, Himiko, Newton, Benkei, Nobunaga, Edison, Goemon, Houdini, Tutankhamun)

Yurusen's historical trivia: Tutankhamun
This is the only time Ghost uses the Gan Gun Hand in an Ghost episode. He would later wield it as Tenka Touitsu Damashii in Heisei Generations.
DVD/Blu-ray releases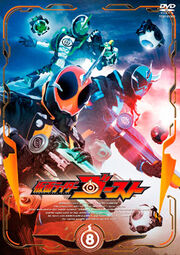 Kamen Rider Ghost Volume 8 features episodes 29-32: Second Coming! Ordeal of the Escape King!, Forever! Cries of the Heart!, Bizarre! Power of the Gammaizers! and Reminiscence! Secret of the Mind!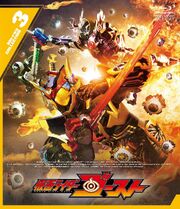 Blu-ray Collection 3 comes with 13 episodes.

External Links
References
Community content is available under
CC-BY-SA
unless otherwise noted.