Doctor Strange in The Multiverse o Madness - The Loop
Play Sound
"The Master's will is my will. I'm the one who'll turn his ideals into reality!"
―Reika's creed of following Master Logos[src]
"Smoke Swordswoman! Kamen Rider Sabela. (

煙の剣士!仮面ライダーサーベラ。

,

Kemuri no Kenshi! Kamen Raidā Sābera.

)"
―Sabela's rollcall in Saber + Zenkaiger: Superhero Senki

[src]
Reika Shindai (神代 玲花, Shindai Reika)[1] is a member of the Southern Base-branch of the Sword of Logos who transforms into Kamen Rider Sabela (仮面ライダーサーベラ, Kamen Raidā Sābera).
History
Background
Reika Shindai is a member of the Sword of Logos and the inheritor of Eneiken Noroshi known as Kamen Rider Sabela. She and her older brother Ryoga were members of the Shindai clan which served Sword of Logos for generations. Reika joined Southern Base to serve the current Master Logos, and soon was summoned to meet the leader. Master Logos instructed her to keep tabs on the Northern Base swordsman.
Southern Base Messenger
Reika Shindai arrived to the Northern Base as a Southern Base messenger to observe the latest incarnation of Saber, Touma Kamiyama. She would later encounter Kento Fukamiya and give him the Tri Cerberus Wonder Ride Book to aid him in his fight against Kamen Rider Calibur, leading him to uncover Calibur's true identity.
After Calibur's true identity was revealed to be Daichi Kamijo, Reika covertly kidnapped Sophia using the power of the Eneiken Noroshi under Master Logos' orders. She would also arrive in Wonder World to seize Ankokuken Kurayami and Calibur's Wonder Ride Books following Saber and Calibur's final battle.
The Smoke Swordswoman
Following the defeat of Calibur, Reika approached Touma to join the Southern Base, but he politely declined her offer. Deeming Touma a threat, Reika convinced the Northern Base swordsemen that Touma was a traitor, taking advantage of his claims that there is a "true enemy" within the Sword of Logos. This would lead to Touma's comrades turning against him in their attempt to take back his arsenal. However, this was part of a plan to draw out Kougouken Saikou, the light counterpart of the Ankokuken Kurayami wielded by Yuri, after being thought to have been lost for a thousand years.
As her assignment from Master Logos came closer to fruition, Reika would use the Eneiken Noroshi to become Kamen Rider Sabela to battle Touma Kamiyama and the swordsmen he brought to his side, which included Tetsuo Daishinji and Ryo Ogami. Sabela engaged the swordsmen in Northern Base, leading Touma to transform into Saber Primitive Dragon to protect his friends. She manages to hold her own for some time before being driven off by Kamen Rider Calibur, revealed to be Kento Fukamiya. While Sabela later fights Calibur, she manages to seize Slash's Wonder Ride Book from him.
Soon after, Reika meets with Master Logos to ask what they should do about the emergence of the new Calibur and the Seiken he had sealed. It was then that her brother, Ryoga Shindai, appeared to suggest they just defeat Calibur and reclaim Ankokuken Kurayami. Reika later went to interrogate Sophia again, only to be followed by Rintaro Shindo. Reika again demanded Sophia reveal the location of the book that had the power to create humans, but Sophia refused to answer.
War against Master Logos
Once Master Logos disabled the Northern Base defenses, Reika joined with Ryoga to breach the base. The Shindai siblings ordered the swordsmen into handing over the Seikens and Wonder Ride Books. While engaging with Saber and Saikou, Reika is confused after Yuri reveals Master Logos had teamed up with Megid. Ryoga tells Reika to not listen and told her to take the remaining Seiken and the Wonder Ride Books. Sabela made a quick getaway to seize Onjuuken Suzune, Dogouken Gekido, and Raimeiken Ikazuchi. While retrieving, she noticed Zooous in the base dragging Ryo Ogami's unconscious body, making Reika expressing doubts about the Master's intentions as she leaves.
While Reika continues to retrieve the Seikens, she remains unsure whether to trust Master Logos despite Ryoga's statement to just follow orders. Upon learning of the swordsmen's attempts to save Luna, Sabela abducted her for Master Logos who used her as part of his ritual to summon the Almighty Book. The Shindai siblings assist Master Logos to subdue the Northern Base forces, only to allow the Master to complete gathering the Seiken and Wonder Ride Books. While Touma managed to foil Master Logos' ritual, Reika regains her arsenal back in her hands.
However, Master Logos is able to obtain a portion of the Almighty Book and transform into Kamen Rider Solomon, who proved to be a formidable adversary. With confirmation that Master Logos had foreshaken his duties as the Sword of Logos' leader, the Shindai siblings had enough against the Master, only barely escaping in their battle with the intervention of the Northern Base swordsmen. While declined joining forces with the Northern Base, Reika and Ryoga joined the swordsmen as as Solomon enacted his destruction to the world. Standing alongside the other swordsmen, Reika would bear witness to Haouken Xross Saber's creation and Touma becoming Kamen Rider Xross Saber.
While trying to retrieve the Wonder Ride Books in Sword of Logos' possession, Reika and Ryoga learned Master Logos had frozen the Southern Base guards and expected them to arrive. While Reika is successful in retrieving the books during the fight, it ends with Ryoga being injured. The siblings retreated to Fantastic Bookstore Kamiyama where they were welcomed in open arms.
Reika and Ryoga were at the Northern Base to stop Zox Goldtsuiker

from taking the books. As the two cornered the intruder, Touma and the others arrived to demand the Wonder Ride Books he allegedly stolen. The Shindai siblings had also lost their Wonder Ride Books and tried to force Zox to give them back. It is revealed he doesn't have them in his possession and it's because of Orihime World

's influence that caused the books turned invisible. After Xross Saber, Blades, Espada, and Twokaiser defeated Orihime World, Zox departed back to the Zenkaigers's world, Reika and Ryoga chased after him when the pirate stole the Ocean History Wonder Ride Book, floating abroad CrocoDaiOh.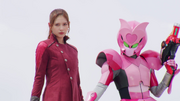 "I am Reika Shindai, also known as Kamen Rider Sabela!"
―Sabela's roll call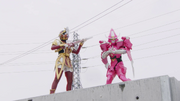 Arriving in the world of the Zenkaigers, Reika tried to help her brother retrieve the Wonder Ride Book, only to run into Kaito Goshikida

and Juran

. Suddenly, Hikoboshi World

arrived and captured Reika. Reika was sent into another location where women with ponytails are gathered. She meets Magine

and worked together to escape Hikoboshi World's prison. The ladies arrived in time to reunite with the heroes, transforming into Kamen Rider Sabela and Zenkai Magine together. After Hikoboshi World was defeated, Reika gave Magine a hug of affection before departing in embarrassment on CrocoDaiOh back to her world.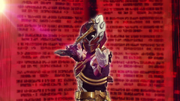 One day, Touma was sent to the world of Kikai Sentai Zenkaiger

with Mei Sudo and Yuri as a result of Asmodeus' awakening. As a result of Shotaro Ishinomori's unsatisfaction, Reika was amoung the heroes who vanished. When Asmodeus raised more monsters, Touma and Shotaro arrived with their latest creations. Touma unveils Super Hero Senki, while Shotaro unveils Kamen Rider 1 and Himitsu Sentai Gorenger

, allowing the Kamen Riders and Sentai Rangers to remanifest. Reika as Kamen Rider Sabela joins his fellow swordsmen, the Kamen Riders, and the Super Sentai to battle Asmodeus's forces, emerging victorious in the ensuing battle.
Final Battle against Solomon
Returning to the Southern Base, Reika was forced to fight Ryoga after his body is controlled by Solomon, later assisted by Buster and Slash to help him resist his control. Following Master Logos' defeat, she then expressed her genuine gratitude to Ogami and Daishinji for helping her free Ryoga.
Storious' Endgame
Though they were victorious against Master Logos, Storious began to enact his plan to destroy the world. Following Tassel's death, the destruction of World World began affecting Earth. Reika and Ryoga would come to Touma Kamiyama's aid to uncover the Megid's hideout. The Shindai siblings and Touma confront Storious and all the people that the Charybdis Megid ate. Storious merges with Charybdis and the remnants of his five former allies and transforms into Kamen Rider Storious, ressurecting the Four Sages in the process as his loyal followers.
While she trained in Liberation with Ryoga, Rintaro arrived to inform the siblings of the coming battle. Together with the rest of her comrades, Kamen Rider Sabela joins the swordsmen as they storm Storious' Tower of Destruction. Reika engaged a Lord of Wise, while covering for Touma as he reached Storious' chamber. While assisted by Rintaro once he caught up to them, she tells him to catch up with Touma.
The battle was too exhausting for Sabela, causing her to be place in bad as the battle progressed. When Durendal tries to use his temporal abilities, Jikokuken Kaiji was damaged in battle and led to Ryoga's death. This causes an enraged Reika to use the remains of Jikokuken Kaiji to destroy the Lord of Wise, but at the cost of her life. Yuri arrived to seemingly heal them both offscreen, but it was futile as Reika was amoung many lives that were affected by a wave of destruction, only to be restored back to normal.
One Year Later
One year later, Reika was with Ryoga and Sophia in collecting the remaining Seiken. Upon witnessing the Wonder Ride Books' powers restored and Yuri's return, Reika joined up with most of Touma's friends as they reunited with their missing friend once more.
Reika and Ryoga were on standby at the Southern Base when it was suddenly attacked by Himiko Crisper. Joining forces with the Northern Base swordsmen and Fenix's Kamen Riders, they stand to fight the demon Diablo, who emerged to threaten the Earth's future. They would also encounter time-displaced Shocker scientist Ryunosuke Momose, who sought to make amends with Hideo, his young son he left behind in 1971, who is now an adult man in 2021.
While Touma, Rintaro, Yuri, Vice, Daiji, and Sakura go to the future, Reika and Ryoga stayed behind in the present to battle the Deadmans in Alaska with Hiromi Kadota. While the Deadmans executive left the Kamen Riders to fight the Giff Juniors just as the pillar in Alaska was completed, Kamen Rider Sabela continued to stand strong against the grunts until Diablo was completely vanquished.
Eight years after saving the world, the multiple swordsmen within the Sword of Logos have begun to disappear. While Reika was with Ryoga keeping guard of the Sword of Logos, they came across Mamiya, who used Amazing Siren's power to erase them. However, she would be restored back to normal after Mamiya reset reality.
Video Game Appearances
Kamen Rider Battle Ganbarizing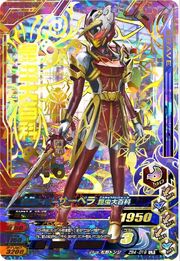 Kamen Rider Sabela Konchuu Daihyakka is a playable character in Kamen Rider Battle: Ganbarizing.

Personality
During her initial appearances, Reika presents herself as a very mysterious woman, keeping her true intentions concealed at all times. In conversation, she is polite, but not warm or friendly; instead, she takes a very professional, calm, and detached approach to most of her interactions with others. While generally keeping a cool tone, she can get more aggressive and stern whenever she needs to make a point, such as reminding anyone who doubts her orders that any of her words are from the Master himself. Behind her polite persona, Reika is very cold and ruthless, willing to perform underhanded means to reach her goals. At the same time, Reika never acts without planning first; every move that she makes is carefully calculated and planned by herself. While primarily a distant schemer and manipulator, Reika is not above taking to the field when necessary and demonstrates a high amount of combat prowess when fighting as Sabela, being able to take on both Buster and Slash at once. She is also adept at taking advantage of external factors in her fights, such as when she exploited Kento Fukamiya's interference in her battle to steal the Hanselnuts to Gretel Wonder Ride Book from Slash shortly after the Onjuuken Suzune was sealed.
Besides her cunning, Reika's other most notable trait is her intense loyalty to Master Logos. She is shown to feel pleasure and happiness whenever he praises her, and also seems visibly distressed when her brother notes she is falling out of favor with him. There are few orders that the Master could give that Reika would hesitate on carrying out, though she is even willing to violate the other codes of Sword of Logos as long as it means obeying him. Her attachment is not from simple duty, but because she believes that the goal he has with gathering the Wonder Ride Books will ultimately be for the good of the world. At the same time, Reika's loyalty has its limits; when she was faced with the possibility that Master Logos is conspiring with the Megid thanks to Yuri's words, she was shown to fall briefly into suspicion and horror over what her Master's real plans were. This same concern showed itself again when she witnessed Bahato in action, despite Ryoga telling the Master not to release him from the Book of Ruin. When confiding her concerns to her brother, he brushes her off and orders her to continue serving their Master, to which she reluctantly complies.
Reika most notably has a tendency of being overprotective towards her brother and jealous whenever someone gets near him. This is shown when she attempts to slash Mei after she tries to flirt with her brother. She also hits Touma in the head to the belief he's using her brother's sword (summoned from Haouken Xross Saber) without permission despite saving her brother's life.
Power and Abilities
Powers
Smoke Control: Using the Eneiken Noroshi, Reika is capable of freely manipulating smoke and her suit is often seen emitting it.

Smoke Travel: By transforming into smoke, Reika can move freely, allowing her to dodge attacks or quickly flee from a situation. She is also able to spirit away other people or objects along with her, making it appear as though they had vanished. She can use this ability to kidnap people and steal items (i.e. Wonder Ride Books and Seiken). However, if the opponent can pinpoint where she would appear next, this ability is rendered obsolete.
Intangibility: By transforming either her entire body or certain parts of it into smoke, Reika can avoid attacks, which simply pass through her.
Abilities
Expert Manipulator: Reika is cunning and capable enough to manipulate people to do her bidding. While not exactly lying, she gives half-truth statements that are enough to convince others to believe what she says.
Expert Swordswoman: Despite normally working as a messenger for Master Logos, she is also a chosen Rider of the Sword of Logos as well as an adept swordswoman. Along with her complete control over smoke, she is capable of fighting several transformed Riders all on her own.
Kamen Rider Sabela
Konchuu Daihyakka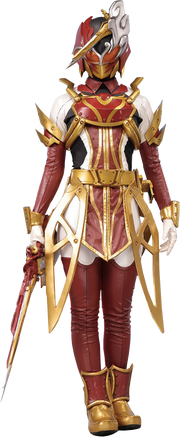 "Noroshi Kaisen! Flying! Smog! Sting! Steam! Konchuu Chu Daihyakka~! Tayutau Kissaki!"
―Transformation announcement[src]
Rider Statistics[2]
Rider Height: 196.7 cm
Rider Weight: 82.9 kg
Ability Parameters[2]
Punching Power: 41.5 t
Kicking Power: 75.4 t
Maximum Jump Height: 84.1 m
Maximum Running Speed: 100 m per 2.2 seconds
Konchuu Daihyakka (昆虫大百科, Konchū Daihyakka) is Sabela's bug-based primary form accessed by using the Konchuu Daihyakka Wonder Ride Book in the Eneiken Noroshi.
In this form, Sabela outclasses Saber Primitive Dragon in every area, but with the exception of a slightly slower running speed. However, Primitive Dragon's purely ferocious combat style gives it a noticeable edge against Sabela's graceful techniques. Being the swordswoman of smoke, she can teleport by turning into a mass of smoke, and become intangible by turning some parts of her body to smoke itself. Through the use of her Wonder Ride Book, she can sprout butterfly wings or spider legs from her back, and spew spider silk from her hands.
Konchuu Daihyakka consists of the following parts:
Sabela Helm Konchuu Daihykka (

サーベラヘルム 昆虫大百科

,

Sābera Herumu Konchū Daihyakka

): The helmet.

Sword Crown (

ソードクラウン

,

Sōdo Kuraun

): The blade installed diagonally positioned on the top of the helmet as a proof of being chosen by the Seiken. It has the role of adjusting the state of Kamen Rider Sabela and the Seiken, adjusting the power balance of both and canceling the transformation in an emergency. In addition, it can be used in battle.
Soyeux Cocoon (

ソワイユコクーン

,

Sowaiyu Kokūn

): The head armor. The elliptical shape reminiscent of an insect cocoon has a special structure that allows the impact from the outside to escape, and by stacking multiple layers, it protects the head flexibly.
Enfumer Visor (

オンフュメルバイザー

,

Onfuyumeru Baizā

): The insect eye-style visor. It works like a compound eye of an insect that captures multiple objects at the same time without being obsessed with one thing.
Insecte Mask (

アンセクトマスク

,

Ansekuto Masuku

): The facial mask. It has a strong jaw like an insect, and can add the ability of an insect by blowing a sigh on the smoke produced by the Seiken Eneiken Noroshi.

Sword Robe (

ソードローブ

,

Sōdo Rōbu

): The suit granted by the user of the Seiken Eneiken Noroshi. It is attached at the same time as the awakening of the Seiken, and gives the user the power to fight such as improving sword skills, strengthening physical abilities, and activating special abilities. Based on the form with the power of the Wonder Ride Book "Konchuu Daihyakka", various abilities can be added by additionally scanning the Wonder Ride Book.
Fumer Bustier (

フュメルビスチェ

,

Fuyumeru Bisuche

): The chest armor. It possesses the power of the story "Konchuu Daihyakka" and brings the abilities of the insects of the Hyakuhana Ryoran to the user. In addition, it is possible to make itself smoke by making the whole body finer by receiving the ability of the Seiken Eneiken Noroshi.
Fumer Dress (

フュメルドレス

,

Fuyumeru Doresu

): The dress section. The armor of each part of the whole body has an exoskeleton structure, and it is super lightweight but has excellent defense power, and it repels all attacks.
Insecte Cheminée (

アンセクトシュミネ

,

Ansekuto Shumine

): The diffuser. In addition to diffusing the smoke produced by the Seiken "Eneiken Noroshi", it also sprays pheromones that can be used to convey information such as signposts, warnings, and gatherings. In addition, it provides various combat support such as emitting a pungent odor and destroying the target's sense of smell.
Royal Sword of Logos Buckle (

ロイヤルソードオブロゴスバックル

,

Roiyaru Sōdo Obu Rogosu Bakkuru

): The belt. In addition to deploying the Sword Robe, it receives the power of the Wonder Ride Book from the Seiken to generate energy and control various abilities.

Royal Sword of Logos Holder (

ソードオブロゴスホルダー

,

Sōdo Obu Rogosu Horudā

): Storage for the Seiken, mounted on the left side of the Royal Sword of Logos Buckle.

Ride Insecte Arm (

ライドアンセクトアーム

,

Raido Ansekuto Āmu

): The arms. It possesses the power of the story "Konchuu Daihyakka" and produces powerful strength that cannot be imagined from its delicate limbs.
Ride Insecte Glo (

ライドアンセクトグロー

,

Raido Ansekuto Gurō

): The gloves. The user can increase the attack power of the Seiken by using swift and powerful piercing power. It also functions as an ability transmission road that connects the Seiken and the Sword Robe to convey the power of the Seiken and the abilities of the Wonder Ride Book.
Brian Aile (

ブリアンエール

,

Burian Ēru

): The wing-like armor. Following the behavior of the swordswoman, it enables a splendid sword dance that dances in the air.
Ride Insecte Leg (

ライドアンセクトレッグ

,

Raido Ansekuto Reggu

): The legs. It possesses the power of the story "Konchuu Daihyakka" and produces a great jumping power that cannot be imagined from its delicate limbs.
Ride Insecte Heel (

ライドアンセクトヒール

,

Raido Ansekuto Hīru

): The boots. The sole structure with fine irregularities makes it possible to stand still and walk anywhere, such as on walls and ceilings. In addition, the kicking power can be greatly increased and released by putting smoke together.
This form has three finishers:
Shot Insect (

ショットインセクト

,

Shotto Insekuto

): Has two variations:

Sabela creates a large cloud of smoke around herself and the enemy. While the enemy is distracted by the smoke, Sabela appears behind them and delivers a spinning roundhouse kick covered in pink energy that creates spider web-like energy construct upon impact.
Sabela manifests energy butterfly from her back and flies into the air before also sprouting eight mechanical spider legs. She then then launches a magenta energy slash from the Eneiken Noroshi, followed by gold energy slashes from each of the spider legs. The magenta and gold energy slashes combine before striking the enemy.

Eien no Hitosashi (

永煙の一刺し

,

Lit. "Eternal Smoke Single Stab"

): Has three variations.

Sabela transforms into smoke to avoid an enemy attack before returning to physical form. She then manifests energy butterfly wings from her back and flies into the air before delivering two magenta energy slashes.
Sabela transforms into smoke to avoid an enemy attack before returning to physical form. She then manifests energy butterfly wings from her back and flies into the air before delivering a flying magenta energy slash.
Sabela produces a mass of smoke from Eneiken Noroshi, which then pins the enemy against a wall and transforms into a spider web to restrain them.

Konchuu Mokumoku Giri (

昆虫黙々斬り

,

Lit. "Bug Mute Slash"

): Sabela produces silk that binds the opponents and shocks them. She then forms eight mechanical spider legs from her back, the tips of which are covered by pink energy before Sabela strikes the restrained enemies with all of the legs simultaneously.
Appearances: Saber Episodes 25-26, 32-33, 35-36, 38-39, No. 20-kai! Swordsman and World Pirate, Big Bro's Promise.

, Kamen Rider Saber + Kikai Sentai Zenkaiger: Superhero Senki

, 40, 43, 45-46, Kamen Rider Saber: Final Stage, Kamen Rider: Beyond Generations
Equipment
Devices
Family
Ryoga/Kamen Rider Durendal: Ryoga is Reika's older brother and her fellow swordsman of the Sword of Logos. Despite the latter treating her like a professional subordinate, Reika is constantly dedicated to winning her brother's favor and holds an immense amount of respect for him. Reika is always delighted to be with her brother and often refers to him using the "-sama" honorific. After Master Logos revealed his true intentions, Reika sought her brother out as a moral compass, consulting with him of their next course of action as they joined Touma's side to stop him.
Relationships
Allies
Enemies
Super Sentai
Behind the Scenes
Portrayal
Reika Shindai is portrayed by Mei Angela (アンジェラ 芽衣, Anjera Mei). As Kamen Rider Sabela, her suit actress is Yuki Miyazawa (宮澤雪, Miyazawa Yuki).
Etymology
As with the naming scheme of all the Saber Riders, Sabela is most likely derived from "szablya", the Hungarian word for "saber", and the scientific name of the white-fringed swift butterfly, which fits her bug motif.
As with the naming scheme of other members of Sword of Logos, Reika's surname Shindai (神代) includes the Kanji character "Shin" meaning "god" or "deity".
Notes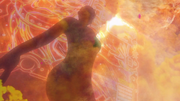 Sabela's transformation sequence, which involves her clothes unraveling and then being replaced with her suit, is based on insect metamorphosis, where the insect emerges from the chrysalis as an adult.
Sabela is the only Saber Rider whose primary form is based on an arthropod, which is the most common motif used by many Kamen Riders in the franchise.
All of the Riders in the series have Sword Crowns that point upward. However, Sabela's Sword Crown points diagonally downwards instead.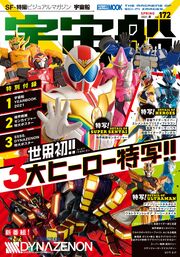 According to Uchusen Vol. 172, Reika and Ryoga are the first sister-brother sibling Riders in Kamen Rider history.[3]
Appearances
References

Kamen Rider Revice
Kamen Riders
Current Riders: Ikki Igarashi - Vice - Daiji Igarashi - Sakura Igarashi - Hikaru Ushijima - Genta Igarashi/Vail
Former Riders: Hiromi Kadota - Kagero - Orteca - George Karizaki
Movie-exclusive: Kamen Rider Century (Ryunosuke & Hideo Momose)
Clone Riders: Touma Kamiyama (1, Super-1, Accel), Rintaro Shindo (ZO, Kuuga, Blade), Yuri (Agito, Ex-Aid Muteki Gamer, Zero-One), Vice (Black RX, Fourze, Woz), Daiji Igarashi (Knight, Meteor, Ryugen), Sakura Igarashi (Nadeshiko, Poppy, Valkyrie)
Gear
Drivers
Revice Driver - Two Sidriver - Libera Driver - Demons Driver - Vail Driver - Cyclotron Driver
Vistamp-related
Vistamps - Vistamp Holder - Vistamp Bar
Weapons
Ohinbuster50 - Gundephone50 - Osutoderuhammer50 - Barid Shield - Rolling Vistamp - Evilblade - Livegun - Lovekov (Kujaku, Turtle, Hashibiroko) - Demon Digzon,

Demon Rumblejoker

,

Demon Ridolstinger

,

Demon Bladior
Vehicles
Vice (Ptera, Jackal)
Allies
Happy Spa: Yukimi Igarashi - Shozo Irabu - Go Tamaki
Demons:
Lovekov
Legend Riders: Takeshi Hongo - Ryu Terui - Hideyasu Jonouchi - Oren Pierre Alfonzo - Touma Kamiyama - Rintaro Shindo - Kento Fukamiya - Ryo Ogami - Ren Akamichi - Tetsuo Daishinji - Sophia - Yuri - Reika Shindai - Ryoga Shindai
Others: Genpachiro Otta - Naoya Kaido - George Karizaki (2071)
Weekend
Leader:
Masumi Karizaki
Ushijima Family: Hikaru Ushijima - Tasuke Ushijima - Kimiko Ushijima
Others Members: Sakura Igarashi - Hana Natsuki
Fenix
Director: Hideo Akaishi
Commanders: Yujiro Wakabayashi - "Yujiro Wakabayashi" - Hiromi Kadota
Squad Leaders: Daiji Igarashi - Tatsuhiko Tabuchi
Others: George Karizaki - Akemi Mikoshiba
NOAH
Director: Agariyama
Researchers: Masumi Karizaki - Hideo Akaishi
Military: Shozo Irabu
Others: Junpei Shiranami
Deadmans
Currently: Giff - Hideo Akaishi
Formerly: Julio - Amahiko Haitani - Yasushi Kudo - Chameleon Deadman - Kanae Motomura - Orteca - Aguilera
Deadmen
Batta Deadman - Rex Deadman - Mammoth Deadman - Kamakiri Deadman - Megalodon Deadman - Kong Deadman - Lion Deadman - Spider Deadman - Daiouika Deadman - Wolf Deadman - Kangaroo Deadman - Cheetah Deadman - Brachio Deadman - Kurage Deadman - Planarian Deadman - Chameleon Deadman - Sabertiger Deadman - Queen Bee Deadman - Koala Deadman - Orangutan Deadman - Shark Deadman - Elephant Deadman - Anomalocaris Deadman - Rafflesia Deadman
Henchmen: Giff Junior
Others: Gifftarian - Gifftarian (TRUE) - Giffdemos
Deadmans' Contract Holders
Junpei - Tomoyuki Harada - Hiromi Kadota - Araki - Ibata - Ayaka Oketani - Unnamed Salary Man - Masao - Yasushi Kudo - Koji Maezono - Scamming Group - Amahiko Haitani - Seiko Omori - Taro Gondawara - Unnamed Comedian - Mayu Tominaga - Subaru Kimura
Gifftarian Hosts
Unnamed Excavator - Unnamed Deadmans Follower - Yosuke Okuda - Chigusa Yamagiri - Kanae Motomura - Unnamed man - Unnamed child
Shocker
Diablo
Crispers
Himiko Crisper - Khufu Crisper - Edison Crisper - Leonidas Crisper
Devil Rider Corps
Shocker Rider No.1 - Shocker Rider No.2 - Kamen Rider Ouja - Kamen Rider Eternal - Kamen Rider Sorcerer - Kamen Rider Duke - Kamen Rider 4 - Kamen Rider Barlckxs
Others
Shocker Executive
View • Edit