In 2008, Ramon (ラモン, Ramon) is the human form of Basshaa (バッシャー, Basshā) and servant to Wataru Kurenai. In present day, he comes serve Yuko Kitajima.
History
Zi-O
Basshaa was summoned by Another Kiva in the year 2019 and served as her henchman, fought with Kamen Rider Zi-O, Geiz and Woz. 2008: First Love, Wake Up!
After Another Kiva was defeated by Woz GingaFinally, Basshaa turned back into his weapon form with Dogga and was left in a church. 2019: First Love, Finaly!

Forms
Basshaa
Height: 170 cm
Weight: 68 kg
While looking vulnerable compared to his friends, Ramon is able to assume his true form by spinning then snapping his fingers. He can shoot pressurized water bubbles from his mouth and his pupils turn into crosshairs to increase his aim. Basshaa is Castle Doran's housekeeper, assuming the form of a 13-year-old boy in a School Gakuran outfit while using his cunning and telekinetic abilities to mess with his housemates in their games from time to time. As Basshaa, Ramon is quite durable as he withstood being attacked by members of the Checkmate Four. He also fought multiple revived Fangires in 2008 hinting he became stronger as time passed. He along with the other Arm Monsters can also lend their powers to Kiva and presumably future Kiva through Fuestles. This is to the point where they can combine their powers at once to assume DoGaBaKi Form and DoGaBaKi Emperor Form.
Basshaa Magnum
"Basshaa Magnum!"
―Kivat's transformation announcement
"Basshaa Bite!"
―Kivat's finisher announcement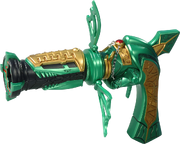 The Demon Sea Gun Basshaa Magnum (魔海銃バッシャーマグナム, Makaijū Basshā Magunamu) is a gun-like weapon that Basshaa assumes for Kiva to change into Basshaa Form. The Basshaa Magnum's turbine spins to generate bullets made of high pressure water. The finishing attack is Basshaa Aqua Tornado (バッシャー・アクアトルネード, Basshā Akua Torunēdo). This is done by first having Kivat perform a Basshaa Bite (バッシャーバイト, Basshā Baito) on the hammer of the Basshaa Magnum. From there, the gun's turbines spin, surrounding Kiva with an Aqua Field (アクアフィールド, Akua Fīrudo), a field of water, as the weapon creates a pressurized ball of water that can home on to enemies upon firing, leaving the Fangire in an extremely fragile state where even the slightest touch can shatter them.[1]
Design
The Bassha Magnum s composed of the following parts:
Aqua Muzzle (

アクアマズル

Akua Mazuru

) - The Bassha Magnum's muzzle. It shoots out Aqua Bullets (

アクアバレット

Akua Baretto

) produced by the Aqua Barrel. The Aqua Muzzle is a biological ring that can adjust the trajectory of the Aqua Bullets according to Kiva's will, and is capable to launching them at a speed of up to 700 meters per second. The red section on the muzzle is a kind of blood vessel, which transfers Kiva's power to the Bassha Magnum. When the Tornado Fins spin for the Bassha Aqua Tornado finisher, the Aqua Muzzle compresses multiple Aqua Bullets together to create a heavy bombardment unit to finish off targets.
Aqua Intake (

アクアインテーク

Akua Intēku

) - The gills on the Aqua Barrel, it forcibly sucks up any hydrogen and oxygen present in the atmosphere and sends it to the Aqua Barrel.
Aqua Barrel (

アクアバレル

Akua Bareru

) - The Bassha Magnum's gun barrel. The hydrogen and oxygen inhaled by the Aqua Intake is transformed into Aqua Bullets and is accumulated over time. It will fire the Aqua Bullets according to Kiva's will, which is read through the Power Trigger. On top of the Aqua Barrel is a decorative piece made of Lucifer Gold (

ルシファーゴールド

Rushifā Gōrudo

) which can transfer Kiva's power to the Bassha Magnum at high speed.
Tornado Fins (

トルネードフィン

Torunēdo Fin

) - Three fin-themed turbine blades attached on an axis in the middle of the Bassha Magnum. During the Bassha Aqua Tornado finisher, the Tornado Fins generates the Aqua Field, surrounding Kiva with water. During normal shooting operations, the Tornado Fins act as a type of stability unit to stabilise trajectory.
Devil Emperor Stone (Crimson) (

魔皇石(紅)

Ma Ō Seki (Kurenai)

) - (Note: Normally, the spelling for Ma Ō is (魔王 lit. Demon King), but this time it is (魔皇 lit. Demon Emperor) which sounds the same.) Red stones embedded all over the Bashha Magnum inside the 'eyes'. Amplifies the power of Kiva.
Merman Stamp (Double Splash) (

マーマンの刻印(ダブルスプラッシュ)

Māman no Kokuin (Daburu Supurasshu)

) - A golden seal engraved behind the Tornado Fins, it is the Merman coat of arms, consisting of two splashing waves, which is engraved by Bassha into hsi own body to remember the pride of his race. A Devil Emperor Stone is embedded in the middle of the stamp.
Hammer Fin (

ハンマーフィン

Hanmā Fin

) - The Bassha Magnum's gun hammer. Despite its name, it does not actually function as a gun hammer, but rather acts as a battle spike during close combat.
Marine Grip (

マリングリップ

Marin Gurippu

) - The Bassha Magnum's grip. The patterns on the golden part are blood vessels filled with green blood unique to Bashha. When turning into Kiva Bassha Form, the Marine Grip transfers Bassha's power to Kiva via the blood vessels, allowing transformation to Bassha Form.
Power Trigger (

パワートリガー

Pawā Torigā

) - The Bassha Magnum's trigger. It is an organ that tells Bassha Magnum when Kiva wants to fire Aqua Bullets, as well as whenever Kiva wants to execute the Bassha Aqua Tornado.
Attack Bottom (

アタックボトム

Atakku Botomu

) - The bottom part of the Marine Grip, it is the hardest part of the Bassha Magnum, and is used as an impromptu striking weapon in close combat.
Behind the Scenes
Concept Art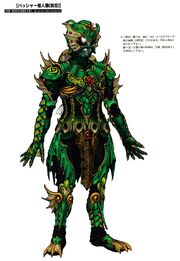 Basshaa was designed by Tamotsu Shinohara (篠原 保, Shinohara Tamotsu).

References
Community content is available under
CC-BY-SA
unless otherwise noted.