"Fashion! Passion! Question! Quiz!"
―Transformation announcement
"Final Quiz Flash!"
―Finisher announcement
When equipped with the Quiz Topper, the Miraidriver belonging to Kamen Rider Quiz becomes the Quizdriver (クイズドライバー, Kuizu Doraibā)[1]. Before use, it is summoned from the Question Pendant (クエスチョンペンダント, Kuesuchon Pendanto), a question mark-shaped pendant Mondo Douan wears around his neck.
User
Transformation Items
Design
The Quizdriver consists of the following parts:
Prodigy Engine (

プロディジーエンジン

Purodijī Enjin

) - The Quizdriver's main power source. It is built on both sides of the Quizdriver and supplies electricity when sufficient power generation is impossible or when dealing with deathblows.(Note: a prodigy is a person, especially a young person, who has exceptional qualities or abilities.)
RB Vibration (

RBバイブレーション

RB Baiburēshon

) - The vibration generator in the front that takes the form of red and blue question marks. The question marks are converters that convert the surface's vibrations into energy via piezoelectric means. Although the energy made is small, Kamen Rider Quiz's suit has the ability to drastically raise the amount of electricity, nullifying this problem.
Quiz Topper (

クイズトッパー

Kuizu Toppā

) - The main command key. It slots onto the middle of the Quizdriver, enabling transformation. The Quiz Topper changes its shape depending on what useful purpose it is needed for. To transform, the Quiz Topper takes a question mark-like form called Question Mode (

クエスチョンモード

Kuesuchon Mōdo

). To activate deathblows, the Quiz Topper takes an exclamation mark-like form called Symbolic Mode (

シンボリックモード

Shinborikku Mōdo

).
Functionality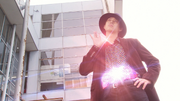 To transform into Kamen Rider Quiz, Mondo inserts the Quiz Topper into the Quizdriver in Question Mode.
To initiate a finisher, Mondo removes the Quiz Topper and changes it into Symbolic Mode before re-inserting it.
Finisher
Final Quiz Flash (

ファイナルクイズフラッシュ

Fainaru Kuizu Furasshu

): After asking a true/false question, Quiz jumps in the air only to be hidden by a giant sign with two panels marked "O" and "X" respectively. He then breaks through the correct answer's panel with his foot and hits the enemy with a spinning kick carrying projections of both symbols and an "!" on impact.
Time Burst/Final Quiz Flash (

タイムバースト/ファイナルクイズフラッシュ

Taimu Bāsuto/Fainaru Kuizu Furasshu

): Geiz and Quiz performing their respective Rider Kick.
Behind The Scenes
Portrayal
The announcement of Quizdriver is voiced by Asami Yoshida (吉田 麻実, Yoshida Asami), she was credited as Voice of Kamen Rider Quiz's Belt (仮面ライダークイズのベルト音声, Kamen Raidā Kuizu no Beruto Onsei) in opening credits.
Notes
The Quizdriver is the first transformation belt voiced by a female.
Appearances
References
Community content is available under
CC-BY-SA
unless otherwise noted.