Wiki Targeted (Entertainment)
Play Sound
"Quetzalcoatlus!"
―Transformation announcement
Quetzalcoatlus Dopant (ケツァルコアトルス・ドーパント, Ketsarukoatorusu Dōpanto) is the Dopant form assumed when one uses the Quetzalcoatlus Gaia Memory. [1]
Users
First
Main article: Quetzalcoatlus Dopant (first)
Shinkuro Isaka makes a copy of the Quetzalcoatlus Memory and uses it on a Red-and-green Macaw to further frighten Nagi Shimamoto by showing a sample of the Memory's powers as the giant Quetzalcoatlus Dopant, the monster Isaka would have her become. The Dopant drags Nagi off until Kamen Rider Double saves her. The copied Dopant is defeated by CycloneJoker Xtreme's Bicker Charge Break.
Nagi Shimamoto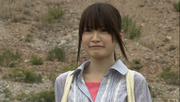 Main article: Nagi Shimamoto
The main user of the Quetzalcoatlus Memory was Nagi Shimamoto (島本 凪, Shimamoto Nagi) is a worker at the Futo Bird Sanctuary who becomes the unwilling subject of Shinkuro Isaka's experimentation with the powers of the Quetzalcoatlus Dopant. After he kills her father, she is made to be the Quetzalcoatlus Memory's user and both her compatibility with the Memory and her fear of Isaka makes it stronger for him to use later.
Kamen Rider AccelTrial later destroys the Quetzalcoatlus Memory before it can be used on Nagi to make it more powerful for Isaka's use.
Behind the Scenes
Concept Art
Quetzalcoatlus Dopant was designed by Katsuya Terada (寺田 克也, Terada Katsuya).

References