Wiki Targeted (Entertainment)
Play Sound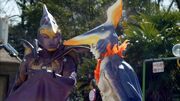 Two Pteranodon Yummy (プテラノドンヤミー, Puteranodon Yamī), a male and a female, first appear as antagonists in the Kamen Rider × Kamen Rider OOO & W feat. Skull: Movie War Core films, created by Giru. After being driven away by Nobunaga as Kamen Rider Birth, a male Pteranodon Yummy appears in Futo to collect the memory of all past Kamen Riders battles with Memory Memory, finding an ideal one by using the Gaia Memory on Akiko to reveal how her father became Kamen Rider Skull. After Kamen Rider Core is created, the male Pteranodon is later destroyed by Kamen Riders Accel and Birth.
A female Pteranodon Yummy appears in the Nobunaga's Desire portion of the film during Kamen Rider OOO's fight against Nobunaga, created from Yoshino Akechi's ballet shoes after her desire to dance is shattered with her strained foot. The female Pteranodon meddles in Kamen Rider OOO's fight with Nobunaga before being destroyed by OOO Gatakiriba Combo.
Another pair of Pteranodon Yummy appear in the television series in episode 32, after the Purple Core Medals enter Eiji's body. They proceed on using their mist to dissolve people into nothingness until Kamen Riders OOO and Birth show up. The two Yummy hold the Kamen Riders at bay until the purple Core Medals react and transform Kamen Rider OOO into Putotyra Combo, using its Scanning Charge to shatter the female Pteranodon after freezing her, and then vaporize the Pteranodon male with the Strain Doom Putotyranno Hissatsu. After having the other Core Medals enter his body, Maki produces a Pteranodon Yummy using the candle he had used to burn his sister to death. This Pteranodon Yummy is soon used to by Maki to test Eiji's worth as a more ideal holder of the purple Core Medals, easily destroyed by Kamen Rider OOO Putotyra Combo.
Statics
Height: 232 cm (Male), 227 cm (Female)
Weight: 165 kg (Male), 125 cm (Female)
Behind the scenes
Portrayal
The male Pteranodon Yummy is voiced by Yoshimitsu Shimoyama (下山 吉光, Shimoyama Yoshimitsu, Movie) and Nobutoshi Canna (神奈 延年, Kanna Nobutoshi, 32-33), and the female Pteranodon Yummy is voiced by Ami Michizoe (道添 愛美, Michizoe Ami, Movie) and the late Hiromi Tsuru (鶴 ひろみ, Tsuru Hiromi, 32).
Concept Art
Pteranodon Yummies were designed by Yutaka Izubuchi (出渕 裕, Izubuchi Yutaka).
Notes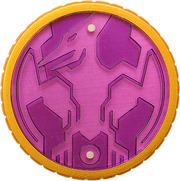 The Pteranodon Yummy are the only Yummy whose motif corresponds with one of the purple Core Medals of Giru/Kyouryu Greeed, which are used by Kamen Rider OOO to assume Putotyra Combo. Neither a Triceratops Yummy or Tyrannosaurus Yummy have been shown to exist in any medium.
The Pteranodon Yummy are similar to the Snail Imagin from Kamen Rider Den-O in that there is both a male and female version.
External links