Doctor Strange in The Multiverse o Madness - The Loop
Play Sound
Poppy Pipopapo (ポッピーピポパポ, Poppī Pipopapo) is a six-year-old benevolent Bugster based on the character of the same name from DoReMiFa Beat. Poppy serves as the "navigator" for the Kamen Riders, and takes on the civilian identity of Asuna Karino (仮野 明日那, Karino Asuna), a registered nurse at Seito University Hospital and a personnel from the Ministry of Health.
Using the Toki Meki Crisis Gashat and the Buggle Driver II, she is able to transform into Kamen Rider Poppy (仮面ライダーポッピー, Kamen Raidā Poppī).
As recorded by CR, Poppy is part of the Mid Tier of Bugsters within Kamen Rider Chronicle: alongside Vernier, Kaiden and Gatton. [The Forbidden Continue!?]
History
Background
The mascot of the Genm Corp. game DoReMiFa Beat, the character of Poppy Pipopapo was conceived by Kuroto Dan. As a Bugster, Poppy's origin is traced to the Y2K bug, which left what would be known as the Bugster Virus on the young Kuroto's computer shortly following New Year's 2000. After Kuroto extracted the virus from Emu Hojo, Poppy Pipopapo emerged from the Game Illness of Kuroto's mother, Sakurako Dan, at the cost of her life, thus completing Poppy's existence as a Bugster.
Poppy was assigned to be a navigator for the Kamen Riders, taking the guise of "Asuna Karino" to blend in more easily. She was present when radiologist Taiga Hanaya was recruited to become Kamen Rider Snipe but had him discharged due to his insubordination. Afterwards, she accompanied Hiiro Kagami, who became Kamen Rider Brave, a genius surgeon capable of fighting the Bugster.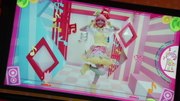 Five years after Zero Day, Asuna Karino proposed the anonymous gamer "M" as the next Gamer Driver candidate. Along the way, she runs into Emu Hojo, a pediatrics intern chasing after his patient, Sota Suyama. While she initially kept Emu silent over Sota's condition, Asuna later revealed to him about the Bugster Virus, leading Emu to take the Gamer Driver to defeat the Bugster himself. Learning that Emu is "Genius Gamer M", she later brings him back to CR after he defeated the Salty Bugster, where she officially revealed herself as Poppy Pipopapo. She christens Emu as "Kamen Rider Ex-Aid".
While acting as "Asuna Kirino", she is a mature and no-nonsense nurse who transfers patients to CR. Under her true nature as Poppy Pipopapo, she provides insight on the Bugster Virus and the Rider System. Due to her musical nature, she loves to dance and sing to music, even in her Asuna guise. As the battle against the Bugster Virus continues, she accompanies Emu Hojo as he would later meet several Kamen Riders like him. Poppy would expressed the desire for the four Doctor Riders to work together rather than against each other.
Poppy was present during threat of Dr. Pac-Man and the Next Genome Institute as they sought to unleash the Pac-Man Virus. She worked with her colleagues and Kamen Rider Ghost's allies as they sought to end the threat of the Pac-Man Virus. Poppy later provides aid to Akari Tsukimura after being infected by the Hatena Bugster's virus.
The Dark Christmas
During Christmas Eve, Poppy and the Doctor Riders finally became aware CEO of Genm Corp., Kuroto Dan, is the true identity of the "Black Ex-Aid", who christens himself as Kamen Rider Genm. The next day on Christmas, Poppy finally revealed her true nature as a Bugster to Emu and Hiiro, although the two had suspected that to be the case, which shocked her. Asuna was present to witness Kiriya being killed by Genm Level X in hopes of preventing the secret behind Emu's compatibility with the Gamer Driver from being revealed.
The Patient Zero Conspiracy
Following the death of Kiriya Kujo, Asuna had shown concern over Emu over his grief towards Kiriya, affecting his performance in the operating table and his prowess in fighting the Bugster. After Hiiro suspended him and confiscated his Gashats, Asuna was present after Emu uses the Mighty Brothers XX Gashat to become Ex-Aid Level X and can also splits into two separate bodies as Level XX, allowing him to counter Genm Level X.
After a chain of events that involved Genm Corp. memberTsukuru Koboshi as a victim, Kuroto finally revealed to Emu about his true nature as Patient Zero of the Bugster Virus. This caused Emu to experience a fatal outburst that seemingly subsided. She was present to see Emu under the influence of "Genius Gamer M" until regaining consciousness from Hiiro's word. Although she knew Emu became frightened to continue fighting the Bugster Virus, it was seeing Taiga Hayana fighting that motivated him to overcome his doubts.
Asuna would learn that the Kamen Riders and the Bugster Virus were intended to be part of Kuroto Dan's ultimate game, Kamen Rider Chronicle. During the penultimate battle against Genm, Asuna was present to see Emu's Gamer Driver gets destroyed to ensure he doesn't remain a threat to his goals. Fortunately, he was defeated by Emu using Kiriya's Gamer Driver and the newly-acquired Maximum Mighty X Gashat and becomes Maximum Gamer Level 99, allowing Ex-Aid to reprogram the Bugster Virus, allowing him to defeat Kuroto and strip him of his powers.
Following the defeat of Kuroto Dan, Asuna meets the new Genm Corp. CEO Ren Amagasaki, who is looking for a singer for the company's latest video game. After she reveals her true identity as Poppy Pipopapo, a Bugster from DoReMiFa Beat, she is brainwashed to sing the new game's theme PEOPLE GAME. She is later brought to Genm Corp., much to Parado's expectations, as Poppy is the final component of Kamen Rider Chronicle.
Kamen Rider Chronicle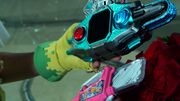 Serving as the mascot Kamen Rider Chronicle, Poppy becomes the navigator for the Ride-Players. She is later given the Gashacon Bugvisor II and the Toki Meki Crisis Gashat to become into Kamen Rider Poppy, enforcing the game's rules and punishing the Kamen Riders. Although Emu was unsettled by this, Parado reveals Poppy's memories were reset, alledging her true purpose was to collect data from CR for the Bugsters.
As Poppy was about to regain her memories, Emu took the initiative to reprogram her with Maximum Mighty X and revert Poppy back to her usual self. However, doing so allowed Poppy access to her host's memories. This left her conflicted over Poppy'strue nature as a Bugster that harms humans. However, Emu assures her that she loves to dance and play with people regardless if they are human or Bugster, allowing Emu to successfully saving her saddened heart. Though Emu's promises to play with her after "clearing" her game, this left Parado displeased and would go on to possess Emu.
Wanting to repay Emu for saving her, Poppy used the memories of her host to uncover an old Gamer Driver and the Proto Mighty Action X Gashat. Believing that she can separate the Emu from Parado's dominance with "Level 0", Poppy enters the realm of Proto Mighty Action X Origin and finds a Bugster Virus grunt containing Kuroto's data. After Poppy restored Kuroto as a Bugster, she brought him back to the real world free Emu from Parado's influence. As Poppy recieved more memories from her host, she realized that Kuroto's mother was her host. She convinces Emu and Kuroto to let go of their differences and work together. Poppy would also moderate Kuroto's antics and absorbs him into the Bugvisor II as punishment.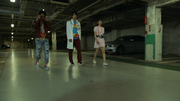 Poppy would continue to assist the Kamen Riders from the sidelines. As the game continues, Kuroto's father Masamune Dan later reveals himself to be the true mastermind and transforms into Kamen Rider Cronus. While he exploits the use of Pause and possesses the Proto Gashats that held the Game Over victims, Kuroto creates Hyper Muteki for Ex-Aid to counteract Cronus. Poppy would later help convince Parado to join forces with Emu and help him realize how they are more alike. After some trials and tribulations, the Kamen Riders advanced to the final stage of Rider Chronicle, preparing to confront the last boss Gamedeus.
The Gamedeus Pandemic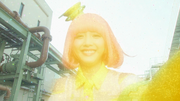 With Gamedeus and his Bugster Virus pandemic spreading rapidly, Ex-Aid and Para-DX fought against him while Asuna assisted the doctors to take care of the patients. Although the Doctor Mighty XX Gashat was developed to weaken him, Masamune barged in to absorbed the Bugster into his own body at the last minute. With the pandemic waging on, Poppy took action by injecting herself with Doctor Mighty XX to spread the vaccine onto the victims. Before she disappeared, Poppy gave final words to all her friends before finally disintegrating with a speck falling into Kuroto's hand.
Poppy's sacrifice motivated Parado to do the same as he charged in to neutralize Gamedeus at the cost of his own existence. Ultimately, Poppy and Parado's sacrifices enabled the remaining five Kamen Riders to finally defeat Cronus once and for all. Back at CR, Kuroto Dan, refusing to accept her loss, got to work and managed to restore Poppy from the fragment she had left in his hand, with Parado returned near immediately after having been preserved in the same way through Emu. With Poppy reunited, she continue to work in any future Game Illness case that CR will face.
Set after the Kamen Riders defeated Kamen Rider Cronus, a new outbreak of the Bugster virus occurs one rainy day as Kamen Rider Fuma storms Seito University Hospital with his Ninja Gamers. During a battle as Kamen Rider Poppy, she is infected and her mind is sent into the Game World. Due to her nature as a Bugster, she retains her memories as she observes Madoka Hoshi's brighter life. After Ex-Aid arrived and used the power of Mighty Creator VRX to teleport everyone back to the real world, Poppy's consciousness was returned to her body.
When Madoka Hoshi's condition was getting worse from her Game Illness, Asuna joined with Emu and Hiiro to operate on her. After the operation ended, Asuna and Nico watched Madoka's bedside as her father, Kagenari Nagumo, arrived to support her and seeing her wake up.
One year later, Asuna and Kiriya are researching and distributing Bugster Vaccines to patients, while Kuroto is back in his arcade cabinet prison, laughing madly as he has developed an unbeatable game. Asuna changes into Poppy and shuts the cabinet off as punishment for Kuroto trying to cause trouble again.
One week after Kamen Rider Build stole Emu's powers, Nebula Bugsters start to appear due to the effects of Enigma, an inter-dimensional gateway connecting his reality to the Build's world. This alerts the CR, who attempt to solve the issue without Ex-Aid, but they are also rendered powerless due to the effects of Enigma, controlled by Right Kaiser. While treating the patients at Seito University Hospital, she encounters Ryuga Banjo who questions what happened to the Sky Wall that split Japan into three nations, much to her confusion. As Ex-Aid's Earth and Build's Earth were vast approaching, it was stopped by the united forces between Ex-Aid & Build.
Two years after the Enigma crisis, Asuna continues to help CR develop a regenerative medicine to restore the humans from their Bugster form with Saiko Yaotome joining to assist them. After meeting with Taiga, he steals her Gashacon Bugvisor II to fight as Cronus against the Lovelica Bugster. After Lovelica's defeat at the hands of Brave Legacy Gamer, Asuna's Bugvisor was returned to her possession.
The next day, she scolds Parado for slacking off on the Seito University Hospital rooftop and forces him to work with Saiko Yaotome in the meantime. She assists Saiko in her "Let's Make A Bugster!" game and tried on different Costume Changes. However, it is revealed to be part of Saiko's plans to awaken the genes of her human host, Sakurako Dan, and Poppy is immediately tied up. After Parado help free her and uncovered Saiko's plan, Poppy join forces with Para-DX against a Genomes duplicate created by Saiko and Another Para-DX. After a victory by the Bugster Riders, Kuroto reveals himself and immediately turned on Saiko, even taking Black Parado's data just to devour it.
When Kuroto Dan unveiled Zombie Chronicle to the public, Poppy and Parado worked together to protect the civilians from the hordes of Genms causing mayhem around the streets. She also encounters Saiko Yaotome once more, having realized the errors of the ways, and works together with her to put an end to Kuroto Dan's schemes and continue their search to regenerate the Bugster victims back to normal.
Video Game Appearances
Personality
Poppy Pipopapo was created to serve as a guide to the Riders in CR. She provides insight on the Bugster viruses, the Rider system, and helps to transfer patients to CR if the situation requires it.
Poppy's true personality is bubbly and energetic. As Asuna, however, she takes on a mature and no-nonsense persona, although her normal personality will momentarily surface if she is addressed by her real name. But there have been times when Poppy as Asuna reverts to her true personality on her own free will. Despite being based on a Vocaloid, ironically, it is revealed Poppy cannot sing very well without music to accompany her and causes distress to those around her when she does. It is also revealed during an encounter with Kamen Rider Hibiki that she has a fear of Oni and ran away scared upon first seeing him.
After being brainwashed by the Bugsters, Poppy still has her bubbly personality, but she seems completely apathetic to the suffering of humans and casually focuses on her job as the "navigator" of Kamen Rider Chronicle. However, if Kamen Riders help the Ride-Players in the "game", which she states is against the rules, she will take on a serious persona briefly with a deeper voice before transforming and attack them as Kamen Rider Poppy. When Emu tried to get through to her to snap out of it, her erased memory and programmed loyalty to her kind caused her to knock him aside without a second thought. Fortunately, Emu restored her to normal using his reprogramming powers as Ex-Aid Maximum Gamer Level 99.
However, she has gained the memories of the female patient she killed in order to be brought into existence as a side effect. This briefly traumatized her to the point of almost breaking her emotionally, but Emu tried to reason with her that it was not her fault she was born into the world that way and she is not a killer as she has helped him save countless lives as his nurse. This seems to have made her feel a little better, but it is unknown how much of an impact it has on her emotional guilt. Being a Bugster born from Sakurako Dan, she also exhibits signs of maternal traits at times such as during her death she told Hiiro not to eat too many sweets and Kuroto to be a "good boy".
Powers
Forms
Equipment
Devices
Weapons
Legend Rider Devices
Relationships
Allies
Parado: A Bugster like her, who soon learns he's connected to Emu.
Enemies
Behind the Scenes
Portrayal
Asuna Karino/Poppy Pipopapo is portrayed by Ruka Matsuda (松田 るか, Matsuda Ruka), who previously portrayed Katsumi Sasahara in Kamen Rider Ghost: Ikkyu Eyecon! Awaken, My Quick Wit Power!!. As Kamen Rider Poppy, her suit actor is Jiro Uchikawa (内川仁郎, Jiro Uchikawa).[5]
Etymology
In episode 12, Hiiro Kagami pointed out that her alias, Asuna Karino is simply a wordplay of "temporary nurse" (仮のナース, Kari no Nāsu). As Poppy Pipopapo, her name likely originates from the Japanese onomatopoeia "pipopapo" a sound effect often used for computers or video games, similar to the English "beep boop."
Notes
Asuna's (Poppy) cell phone ringtone is the SF for the Gashat's Game Clear.
Poppy's status of both being an ally and a Bugster could be a reference to how some real life viruses can actually be beneficial instead of harmful to certain living beings, like certain bacteria are.

Game wise, it may also because that her base model is a support character where as regular Bugsters are based on antagonist or rival characters of their respective video games. Episode 19 further revealed that she is a playable character of her respective game.

She appears to be based on the Vocaloid series.
Asuna (Poppy) has shown some difficulty with English numbers on two separate occasions. Ex-Aid having to explain to her that '50' translates to 'go-jū' (

五十

) in Episode 15. She was later seen counting out on her hand to translate '99' in Episode 23
Poppy's transformation sequence into her Level X form is a homage to anime's magical girl genre, like shows such as Sailor Moon and the Pretty Cure series.
Poppy is the first female Rider to have a leading role in one of the movies. In this case Kamen Rider Para-DX with Poppy.
In the promotional poster of the movie Kamen Rider Zi-O: Over Quartzer, Poppy among other Kamen Riders is seen in the background of the movie poster but they didn't show up in the actual movie.
In Kamen Rider Revice: The Mystery, Julio imagined Aguilera dressed as Poppy Pipopapo.
Appearances
References