Wiki Targeted (Entertainment)
Play Sound
The Piranha Yummy (ピラニアヤミー, Pirania Yamī) are a school of Yummy created by Mezool by using a Cell Medal on the shopaholic Haruka Yamano (山野 遥, Yamano Haruka, portrayed by Moeki Tsuruoka), one of Hina Izumi's classmates in fashion college. Hatching from their egg-like form, the vast number of Piranha Yummy are countered by Kamen Rider OOO assuming Gatakiriba Combo to even the odds before the Yummy gather into a larger form that he destroys from the inside out with the Gatakiriba Kick. Another batch of Piranha Yummy are later created from a con artist while Eiji and Ankh were preoccupied with the Siam-Neko Yummy and Uva's Waste Yummy, succeeding in their purpose before being fed on by the Greeed.
Forms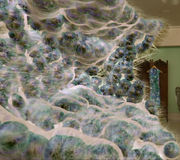 The eggs is the incomplete form of Mezool's Yummies. When the desire is complete, it will changes into true Yummy form.
All Kamen Rider: Rider Generation

Piranha Yummy appear as regular enemies in the video game All Kamen Rider: Rider Generation.

Behind the Scenes
Concept Art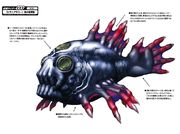 Piranha Yummy was designed by Tamotsu Shinohara (篠原 保, Shinohara Tamotsu).

External links
Community content is available under
CC-BY-SA
unless otherwise noted.