Wiki Targeted (Entertainment)
Play Sound
Not to be confused with the Phantoms, the villains of Kamen Rider Wizard.
There were two sets of Phantom Mutants in Kamen Rider Black.
Phantom Mutants #1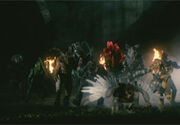 These Phantom Mutants (亡霊怪人, Bōrei Kaijin) (2nd Movie) are the first Phantom monsters who assisted the Dogfish Mutant. The Mutants revived are Flea, Goat, Rhino, Eagle, Tortoise, Anemone, Wasp, Ammonite, Coelacanth and Mantis Mutant.
Phantom Mutants #2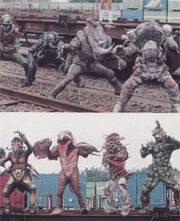 These Phantom Mutants (42) are another set of Phantom monsters who assist Fly Mutant. The Mutants revived are Spider, Silkworm, Rhino, Cactus, Longhorn Beetle, Coelacanth, Slug Moth, Mushroom, Red Salmon and Rat Mutant. Kohtaro encountered the spirits of Silkworm, Rhinoceros and Longhorn Beetle Mutant attacking a police station and henshined into Kamen Rider BLACK. Since they are spirits, Kamen Rider BLACK couldn't harm them. They disappeared when Yuki got away. The next day, the Phantom Mutants attacked and Shadow Moon warned the the people of Tokyo to take their leave. With Mokoto's help, Kohtaro found Rat and Slug Moth Mutant attacking people near a store and managed to repel them. Confronting Yuki/Fly Mutant at a railroad station, the Phantom Beasts were unleashed. When Rat Mutant's ghost grabs Mokoto, Kohtaro tells him to use his psychic powers to free Yuki. Once Mokoto uses his psychic powers to expel Fly Mutant from Yuki, the Phantom Mutants disappeared.
Community content is available under
CC-BY-SA
unless otherwise noted.