Petition! Diend Super Machine Legend!! (陳情!ディエンド超マシン伝説!!, Chinjō! Diendo Sūpā Mashin Densetsu!!) is the third episode of the webisode series, Kamen Rider Decade: All Riders Super Spin-off.
Plot
Kamen Rider Diend questions why he's even called a Rider if he has no vehicle to ride and goes to the Toei offices to petition for a Rider Machine of his own...or so it seems. Decade brings a gift basket to congratulate Kaito on obtaining his new bike, The Machine Diender. In reality, Diend stole the Machine Decader from Decade, a treasure of his co-star, and disguised the bike for the theft by using Toei's Recoloring room to make the bike appear cyan.
Cast
to be added
Notes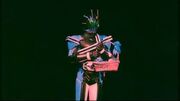 Community content is available under
CC-BY-SA
unless otherwise noted.