Ouroboros (ウロボロス, Uroborosu) is Shiina's inner Phantom trying to make its way out after he was driven into despair until Wizard and Beast destroy them via their Phantoms, first by tricking Ouroboros into tying itself up on a bridge.
Ouroboros is capable of flight and has two heads, one at each end of this Inner Phantom, armed with teeth and claws.
It is unclear if the destruction of Ouroboros still holds true following the erasure of Magic Land and restoration of the original timeline where Shiina lives happily with his mother.
Profile
Destroyed by: Kamen Riders Wizard and Beast's Strike End
Mythological Basis: Ouroboros
Behind the scenes
Conception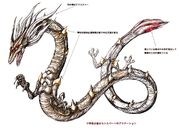 Ouroboros was designed by Hiroshi Maruyama, who designed all of the Phantoms in Kamen Rider Wizard.
Community content is available under
CC-BY-SA
unless otherwise noted.