For the original version, see Otoya Kurenai.
Otoya Kurenai (紅 音也, Kurenai Otoya), also known as Kamen Rider Dark Kiva, is a alternative version of Otoya Kurenai from Nega's World.
History
Kamen Rier Decade
World of Negatives
This Otoya shares many characteristics with his other self of the world Kiva, however, Negative Otoya is a cruel and ruthless dictator who plunged his own world into oppression under the power of his Dark Riders (Orga, Ryuga, Dark Kabuto and Alternative). He wanted Tsukasa to stay in the Nega World by giving him the K-Touch, but instead Tsukasa kills the other Dark Riders. Otoya was hiding while Tsukasa was fighting the other Dark Riders. At the end of the story arc, Otoya remains as the last Dark Rider in Nega World.The Nega-World's Dark Riders The Walking All-Rider Album

Abilities
Hand-to-Hand Combat: Otoya initially had little experience in fighting but soon learned more as he joined Yuri and the gang as he fought Fangires. His strength was fully shown when he, along with his son, managed to defeat the Bat Fangire despite it`s seemingly overwhelming powers.
Masterful Violinist: Otoya was known for his prodigious violin skills.
Kamen Rider Dark Kiva
Kamen Rider Dark Kiva
"Gaburi!"
―Dark Kivat's transformation announcement
Rider Height: 205 cm[1]
Rider Weight: 112 kg[1]
Ability perimeters
Dark Kiva only appears to have one form, similar to that of Kiva Emperor Form in black and red. However, Dark Kiva does not require the use of a being such as Tatsulot to achieve this form. As Dark Kiva, Otoya has access to a unlimited potential of power that is hindered within his successor such as telekinesis and the use of the Kiva insignia as a weapon.
Appearances: Decade Episode 20-21.

Equipment
Devices
Kivat-bat the 2nd - King's Kivat partner and servant.
Dark Kivat Belt - Transformation device that forms when Kivat bites King.
Fuestles - Whistle-like devices that activate a function, depending on the Fuestle.
Behind the scenes
Portrayal
Otoya Kurenai is portrayed by Kouhei Takeda (武田 航平, Takeda Kōhei), who would later go on to play Kazumi Sawatari in Kamen Rider Build, As Kamen Rider Dark Kiva his suit actor is Eitoku (永徳, Eitoku).
Notes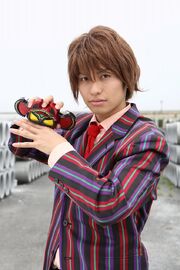 While the original Otoya was Wataru's father, Otoya does not exist in the World of Kiva because that world's Wataru had a human mother and Fangire father as opposed to a human father and Fangire mother.
Unlike the original Otoya of Kamen Rider Kiva, this Otoya did not die after transforming into Dark Kiva, indicating that he may possibly be a Fangire, or perhaps he died off screen. His status is unknown.

There's also the possibility that like the other Dark Riders, this Dark Kiva killed the real A.R. World Otoya and assumed his identity.

It is more likely, however, that he is immune to Dark Kiva's drawbacks as the original Otoya only transformed out of desperation, whereas this Otoya did it rather nonchalantly.
Coincidentally, the number of times he and his original counterpart transformed are the same: three.
Appearances
References
Community content is available under
CC-BY-SA
unless otherwise noted.