Cobra Kai Season 4 - The Loop
Play Sound
The Okra Orphnoch (オクラオルフェノク, Okura Orufenoku) is an Orphnoch whose human identity is unknown. He was equipped with an ax, a net, and a helmet that was ideal for headbutting. He aided Kitazaki until he was destroyed by Faiz Blaster Form's Photon Breaker.
Form
Okra Orphnoch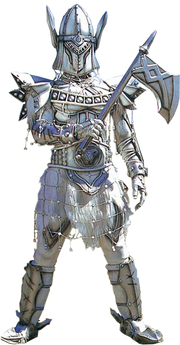 Statistics
Height: 216 cm.
Weight: 132 kg.
Powers and Abilities
Transformation to Orphnoch: As all his race, he can transform of human to Orphnoch.
Destroy hearts: As Orphnoch, he can used his worn tentacle or weapon for eliminated the hearts of theis victims in burst of flames.
Weapon
Net: He used a net to trapped to Kamen Rider Kaixa.
Helmet: Used as defense against his opponents.
Ax: Used as weapon of mele.
Other Appearances
Manga Appearance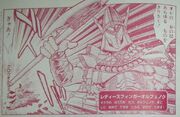 Kamen Rider Decade
An Okra Orphnoch was part of a group of five Orphnoch which attacked Decade and Natsumi during the destruction of the worlds. They were all quickly destroyed by Decade as Kamen Ride: Faiz. 「Rider War (episode)」

Behind the Scenes
Concept Art
Okra Orphnoch was designed by Tamotsu Shinohara (篠原 保, Shinohara Tamotsu).

Notes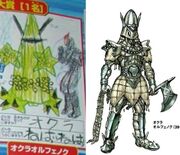 The conception of an okra motif Orphnoch is from a golden prize painting competition held by Televi-Kun.