A Clione Orphnoch (クリオネオルフェノク, Kurione Orufenoku) had appeared in Kamen Rider 913. Her name is Nozomi Munemiya (棟宮 のぞみ, Munemiya Nozomi).
Powers and Abilities
Heart Destruction: As an Orphnoch, she can use her tentacles as a weapon to eliminate the heart of her victims in bursts of flames.
Forms
Kaixa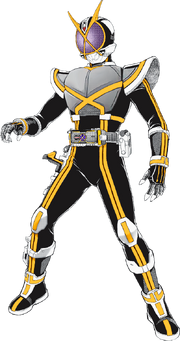 "Complete!"
―Transformation announcement[src]
Rider Statistics
Rider Senses
Ability Parameters
Special Attacks
Kaixa Armor
has several key features in its design to protect protection to the user. Like all gear, the Kaixa armor manifests when the
Kaixa Driver
generates
Photon Blood
, a glowing substance generates the soft
Sol Foam
suit,
Sol Metal
armor, and
Fullmetal Lung
chest armor via traveling through the two yellow
Photon Stream
s lines that gives Kaixa
greater strength at the cost of speed
. The steams end at the
Photon Terminals
at the gauntlets and
Power Anklet
greaves, the right Anklet having a
Energy Holster
that the
Kaixa Pointer
can be connected it. The helmet is unique due to its
Global Feeler
antenna to link up to Smart Brain's networks and the
X Finder
visor that gives Kaixa incredible vision to see in darkness, giving the illusion of a glowing eye, and a limited amount of x-ray vision.
Appearances
References