The first nine leading Kamen Riders of the Heisei era are split into two groups in Kamen Rider Decade.
The powers of the Nine Heisei Riders are used by the tenth Heisei Rider, Tsukasa Kadoya (Kamen Rider Decade), via the Rider Cards. These cards allow Decade to transform into the previous nine Riders and utilize most of their abilities and arsenal.
Nine Heisei Riders
Kamen Rider G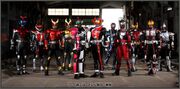 The Nine Heisei Riders appear with Decade through a dimensional wall in the special Kamen Rider G, urging on the titular rider to defeat the Phylloxera Worm. As Ryouta Murai voices Kuuga (as well as filling in for Ryuki), identifying him as Decade's Kuuga, Yusuke Onodera, it can be assumed that these Nine Heisei Riders were the A.R. versions from the Nine Worlds.
Gallery