Wiki Targeted (Entertainment)
Play Sound
Nightmare Dopant (ナイトメア・ドーパント, Naitomea Dōpanto) is the Dopant form assumed when one uses the Nightmare Gaia Memory. [1]

Profile

Height: 262cm
Weight: 130kg
As Nightmare Dopant, the user is able to enter anybody's dream and manipulate dreams. Besides that they are able to use a massive dreamcatcher-like net to place their victim in a coma.

Hajime Fukushima
Main article: Hajime Fukushima
The main user of the Nightmare Memory was Hajime Fukushima (福島 元, Fukushima Hajime), a college student at Futo University who fell in love with Himeka Yukimura when she called him her "prince". However, he soon realizes that Himeka tells this to any male who assists her, plaguing him with the thought that she will never love him back and giving him insomnia as a result. He acquires the means to become the Nightmare Dopant in order to inflict this same pain on Himeka, by making sure she does not get a good night's sleep in fear of his attacks. In his Dopant form, Fukushima uses his dream manipulation powers to trap all of his rivals for Himeka's affections in their worst nightmares before using a massive dreamcatcher-like net to place them in a coma. Each victim is branded with a letter H on their foreheads, standing for both "Himeka" and "Hajime". Though he fakes being among the victims to get Shotaro Hidari off of his trail, Fukushima is found out and his Nightmare Memory is destroyed by Kamen Rider Double Luna Metal's Metal Illusion Maximum Drive.
Movie War Ultimatum
The Nightmare Dopant made an reappearance in Kamen Rider × Kamen Rider Wizard & Fourze: Movie War Ultimatum, as one of the revived members of the Monster Army that Wizard faced in his portion of the movie. He was destroyed when Kamen Rider Wizard in Flame Dragon form fired a Dragon Breath at the group of kaijin, despite the "crowd"'s protests.
Behind the Scenes
Concept Art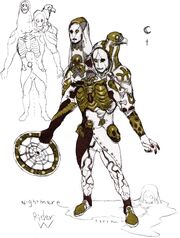 Nightmare Dopant was designed by Katsuya Terada (寺田 克也, Terada Katsuya).

References