Doctor Strange in The Multiverse o Madness - The Loop
Play Sound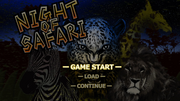 Night of Safari (ナイトオブサファリ, Naito Obu Safari) is an animal-themed video game which serves as the basis for the Night of Safari Gashat. This Gashat was created by Genm Corp. development team and later stolen by an unknown Foundation X member.
History
The Gashat was first seen being slipped into Emu Hojo's pocket after a mysterious man knocked him over. Takeshi Asakura was after the Gashat as part of his sick "game" before becoming bored and proceeding to violently beat up Emu after tossing away the Gashat. Hiiro found his colleague unconscious and badly hurt, still clasping the Gashat. Hiiro takes it off of him and uses its power to defeat Kamen Rider Ouja, then somehow loses it and it ends up in the hands of a Foundation X operative. The agent reports to his superiors that the "experiment" was a success and they can begin research on Gashats. It is also revealed he was the one who gave Emu the Gashat to see how a Rider could use its power. [ Kamen Rider Brave: ~Let's Survive! Revival of the Beast Rider Squad!~]
Users
Night of Safari Gashat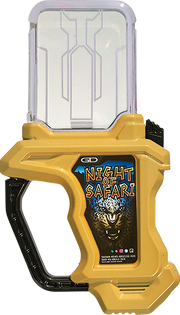 When activated, the Gashat reformats the battlefield into a Game Area. It does not seem to generate any Energy Items or a even a Gamer, making it an oddity among Gashats.

Notes
This is game is based off of animal hunting game series like Cabela's Dangerous Hunts and Big Buck Hunter.
The parts of Safari Gamer are recolored and retooled from Hunter Gamer's parts to look like a wild cat Chimera, with the head of a lion and the body of a leopard.

Perhaps related to the armor being retooled Hunter Gamer armor, in the Ganbarizing game, when the form announcement is finished, instead of a proper wild cat roar, a dragon's roar can be heard (which is notably reused audio from Wizardragon's roar).
Unlike the Hunter Gamer, it lacks the ability to split up its parts

The Night of Safari Gashat was released the same day as the Galaxian Gashat in the toyline. Coincidentally, both are Gashats used by Brave, both are exclusive to another media, and both have green glows when activated.
The "Gao-Gao" Level 2 activation jingle and transformation announcement of Night of Safari is a reference to Hyakujuu Sentai Gaoranger.
Appearances