Night Rogue Chapter (ナイトローグ編, Naito Rōgu Hen) is the second installment of Transformation Lessons ~The Laws Of Transformation Are Set!~.
Continuity and Placement
This chapter takes place between episodes 7 and 8.
Plot
Gentoku Himuro films a FausTube video in their secret lab base (restarting several times after the cameramen interrupt him for going too over-the-top) showing his viewers three things: his transformation into Night Rogue, the combination of the Transteam Gun and the Steam Blade: the Steam Rifle, and the Steam Rifle's finisher: Steam Shot with a Faust Bottle, resulting in the camera's destruction, ending the video.
Characters
Villains
Faust
Main article: Faust
Cast
Suit Actors
Errors
to be added
Notes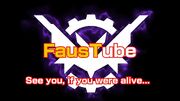 Closing Screen Fullbottles:
FausTube is a parody of YouTube.
This is the first time that Night Rogue uses the Steam Rifle.
External links
Community content is available under
CC-BY-SA
unless otherwise noted.