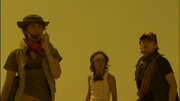 Neo-ZECT (ネオゼクト, Neo Zekuto) is an organization which surfaced in the alternate timeline seen in Kamen Rider Kabuto: God Speed Love.
In 1999, an enormous meteor crashed onto Earth carrying extraterrestrial creatures known as Worm within it. These creatures took on the identities of real humans and then killed them. In order to counter this new threat, ZECT was formed, who in turn created the Masked Rider System to combat the Worms. The battles lasts over seven years, depleting Earth's resources and turning it into a barren wasteland. By present time, power struggles in ZECT have caused a splinter group, known as Neo-ZECT, to be created by Hidenari Oda. Neo-ZECT is an organization that does not wish to follow ZECT's orders, and fights for their freedom. Daisuke Kazama and Shura Hokuto are also part of Neo-ZECT.

Neotrooper
Main article: Neotroopers
Foot soldiers created by Neo-ZECT, these soldiers act as the cannon fodder for Neo-ZECT's assaults. The armor is silver with blue lines. The Neotroopers are armed with shield units and Machine Blade Guns which have seals on them.
Community content is available under
CC-BY-SA
unless otherwise noted.