Wiki Targeted (Entertainment)
Play Sound
Neo-Shocker (ネオショッカー, Neo Shokkā) is a restoration of Shocker.
History
In the shadows of society, Shocker is reformed as the Neo-Shocker organization. Remaining hidden from the eyes of the public, they play a role in numerous disappearances and terrorist attacks around the world for years, including the death of Hiroshi Tsukuba's father, who refused to help them.
Neo-Shocker's members believe that the human race is an infestation upon the planet, consuming its resources carelessly. They believe that, if left unchecked, all of humanity would face extinction in the near future, disappearing completely. Claiming to wish to allow the very best of humanity to live on and protect the planet's future, they aimed to cut down the Earth's population to just one third, the very best of humanity, who would have a long and prosperous life under Neo-Shocker's reign.
Reuniting in a secret base in Paris, France, Neo-Shocker commanders from the entire world discuss the progress of their plans. The Neo-Shocker divisions in Moscow, Egypt, Beijing, Netherlands and India had successfully managed to reduce the population of their areas initially, but Japan had problems due to the appearance of a New Kamen Rider. The various branches decide to give support to the Japanese one.Kamagirijin! The Dreadful Ceremony
Admiral Majin soon takes control of the Japanese Neo-Shocker and starts operations with foreign agents that manage to overwhelm Skyrider.Admiral Majin's Great Electric Hell Operation
However, soon the Seven Legendary Riders notice Neo-Shocker's activities and take on their forces around the world and in Japan itself, alongside the New Kamen Rider. Enter Stronger; Two Riders vs. Two Formidable Monsters
In spite of the organization's stated goals, Neo-Shocker's Great Leader's shows total disregard for human life and mankind's future, using Neo-Shocker as a cult to increase his own power, even requiring human sacrifices. After Admiral Majin's repeated failures and the Riders' discovery of the Great Leader's secret headquarters in Japan, the Great Leader kills Admiral Majin and takes direct control of operations.
The Great Leader reveals to his close followers and the Skull Assassination Squad that he's an alien from a Dark Nebula and Neo-Shocker's true goal is actually to be an advance attack force for the invasion and conquest of Earth. He's shown to be willing to destroy all of Earth's oxygen, rendering the planet uninhabitable to anyone outside of Neo-Shocker members, that had taken special measures to guarantee their survival. However, the Eight Riders united manage to stop his plans, although they disappear at the end of the battle alongside the Great Leader himself.Farewell, Hiroshi Tsukuba! Eight Heroes Forever....
Later history
Shortly afterwards, aliens from the Dark-Nebula B-26 would be behind a human secret organization, the Dogma Kingdom, and would attack Earth directly as the Jin Dogma.
Dogma Revenge Corps
Three Neo-Shocker monsters, Kurageron, Golden Jaguar (wielding Jaguar Van's shield), and Zombieda, were part of the Dogma Kingdom's Dogma Revenge Corps. Kurageron was destroyed by Skyrider, Golden Jaguar was destroyed by Kamen Rider #1, and Zombieda was destroyed by Kamen Rider Amazon. Kamen Rider Super-1 (film)
Badan Empire
Badan claims to inherit the will of, among other organizations, Neo-Shocker. Gameleojin of Neo-Shocker was one of several monsters who were revived to serve the Badan Empire.
Gameleojin was one of several monsters destroyed by Badan's own Space-time Fracture System during their battle against the Ten Kamen Riders. Birth of the 10th! Kamen Riders All Together!!
Membership
Neo-Shocker Kaijin
Cyborgs created by Neo-Shocker, some being equipped with acid to dissolve anything and anyone it touches. When killed, the body of earlier Neo-Shocker Kaijin would disintegrate, leaving no evidence that would confirm Neo-Shocker's existence to the public. Later more animal-like models would usually spontaneous combust with only ashes remaining of them.
Video game appearances
Kamen Rider (FM-7)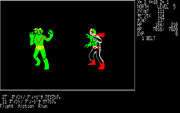 Neo-Shocker's monsters are faced by the player-controlled Skyrider in the FM-7 Kamen Rider game.

Core Medal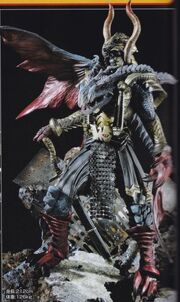 Neo-Shocker Medal (ネオショッカーメダル, Neo Shokkā Medaru): The Neo-Shocker Medal is the Neo-Shocker-themed Core Medal used to create the Neo-Shocker Greeed. World of OOO
Greeed
The Neo-Shocker Greeed (ネオショッカーグリード, Neo Shokkā Gurīdo) is a Greeed which is based on Admiral Majin and the Great Leader of Neo-Shocker. He was created from the Neo-Shocker Medal. World of OOO

Behind the scenes
Neo-Shocker served as the evil organization in the revival series known simply as Kamen Rider.
Both Neo-Shocker and the later Nova Shocker literally mean "New Shocker".
Appearances
External links
[classichenshin.com/kewalaka/riders/neoshocker.htm The Kamen Riders' Neo-Shocker page]
Community content is available under
CC-BY-SA
unless otherwise noted.