My Rap Changes the World! (オレのラップが世界を変える!, Ore no Rappu ga Sekai o Kaeru!) is the twenty-eighth episode of Kamen Rider Zero-One. It features the creation of the Rampage Gatling Progrise Key and a silhouette of RampageVulcan, as well as Horobi's return as Kamen Rider Horobi and Yua's first transformation into the Fighting Jackal Raider.
Synopsis
At long last, the final round of the "5-Round Workplace Competition" between Hiden Intelligence and ZAIA Enterprise has arrived! With a referendum on whether or not to implement the creation of a Humagear automated city on the table, the result of this round of the competition will decide the victor between the pro-Humagear company, Hiden Intelligence, against the anti-Humagear company, ZAIA Enterprise! The final round involves a persuasive speech to the public! ZAIA Enterprise has sent forward a politician who opposes Humagears, whereas Hiden Intelligence is unable to send up their own Politician-Type Humagear, for a politician elected by humans cannot end up being a non-human Humagear! However, Hiden Intelligence has chosen a suitable Humagear designed to promote the Humagear Automated City to its highest capacity, the Rapper-Type Humagear, MC Che.ck-It-Out!
Plot
to be added
Cast
Guest Cast
Suit Actors
Forms and Collectibles Used
Key Used:

Zero-One
Vulcan
Horobi
Thouser

Standard
Jacking Break

Flaming Tiger, Flying Falcon, Shining Assault Hopper

Form Used:
Errors
After removing the Scorpion Key to use in the Attache Arrow, Horobi somehow still has the key in his Forceriser.
Notes
Viewership: 3.8%
Closing Screen Progrisekeys:

Kamen Riders: Vulcan
Raiders: Fighting Jackal
Progrisekeys:

Vulcan: Assault Wolf
Valkyrie: Fighting Jackal

Count at episode end

Progrisekeys in Zero-One's possession: Rising Hopper, Biting Shark, Flying Falcon, Flaming Tiger, Freezing Bear, Breaking Mammoth, Shining Hopper, Hopping Kangaroo, MetalCluster Hopper
Progrisekeys in Vulcan's possession: Shooting Wolf, Punching Kong, Gatling Hedgehog, Trapping Spider, Assault Wolf
Progrisekeys in Valkyrie's possession: Fighting Jackal
Progrisekeys in Jin's possession: Burning Falcon
Progrisekeys in Horobi's possession: Sting Scorpion
Progrisekeys in Thouser's possession: Amazing Caucasus, Sparking Giraffe, Crushing Buffalo, Exciting Stag, Splashing Whale, Dynamaiting Lion, Storming Penguin, Scouting Panda, Rushing Cheetah, Lightning Hornet, Rampage Gatling
Progrisekeys in unknown possession: Amazing Hercules
Humagear Progrisekeys in Zero-One's possession: Is, Uchuyaro Subaru, Saikyo Takumi Oyakata, Dr. Omigoto, Sumida Smile, Mamoru, Bengoshi Bingo, Ikkan Nigiro, Okureru, Matsuda Enji, G-Pen, Matsurida Z
Zetsumerisekeys in Thouser's possession: Awaking Arsino, Berotha, Kuehne, Ekal, Neohi, Onycho, Gaeru

This is the first time Kamen Rider Thouser uses Thousand Jacker's Hacking Break attack.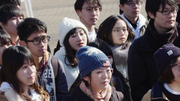 Japanese Youtuber IYCH (real name Yota Ito) made a brief cameo in this episode, who is a fan of Kamen Rider franchise, he also mentioned it in one of his video.[1]
External links
References
Community content is available under
CC-BY-SA
unless otherwise noted.