"Cho Kaigan! Mugen! (angelic rock music) Keep On Going! Go, Go, Go! Go, Go, Go! Go, Go, Go! Gotta! Ghost!"
―Transformation announcement with Ghost Driver
"Tengan! Ghost! Mega Ulord!"
―Transformation announcement with Mega Ulorder
For the individual this soul is attached to, see Takeru Tenkuji.
Mugen Damashii (ムゲン魂, Mugen Damashii, lit."Infinity Soul") is the ultimate Damashii of Kamen Rider Ghost, Takeru Tenkuji, accessed via the Mugen Ghost Eyecon. The Mugen Ghost Eyecon was created by the strong feelings of Takeru's seven friends: Makoto Fukami, Alain, Akari Tsukimura, Onari Yamanouchi, Narita, Shibuya Hachioji and Kanon Fukami. Mugen Damashii is the embodiment of his friends' emotions and has a multitude of emotion-based attacks. This is the only form of Ghost's that can permanently destroy the Gammaizers.
Mugen Damashii was released as part of the Ghost Change set GC-13.
Users
History
Chou Super Hero Taisen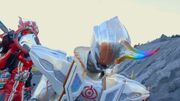 An iteration of Ghost Mugen Damashii was summoned from the Game World as part of a team of five of the Strongest Kamen Riders alongside five of the Strongest

Sentai Rangers

by Kamen Rider Brave, helping to defeat the army of Shocker. Kamen Rider × Super Sentai: Chou Super Hero Taisen

Ghost Eyecon
Finisher
God Omega Drive (Mugen) (

ゴッドオメガドライブ ムゲン

Goddo Omega Doraibu (Mugen)

): Ghost performs a Rider Kick imbued with the combination of emotion powers of his 7 friends and all Heroic Ghosts that manifest together as rainbow-colored energy, similar to Grateful's Omega Drive, but stronger than Toucon Boost's Omega Drive itself. In its first use, Ghost absorbs the attacks from a Gammaizer to cover his arm in rainbow energy to deliver a Rider Punch powerful enough to destroy it permanently.
Notes
Appearances
References
Community content is available under
CC-BY-SA
unless otherwise noted.