Riotrooper member/Moose Orphnoch (ライオトルーパー隊員/ムースオルフェノク, Raiotorūpā Taiin/Mūsu Orufenoku) is a member of the Riotrooper army along with Lion and Mole Orphnoch. After the Orphnoch occupation of the worldwide, he was sent along with his friend to terminate the last of the human beings. However, he was defeated by Kamen Rider Kaixa.

Forms
Moose Orphnoch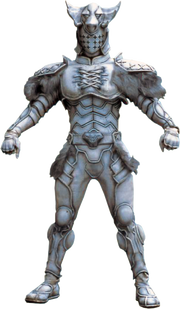 Statistics
Paradise Lost
.
Riotrooper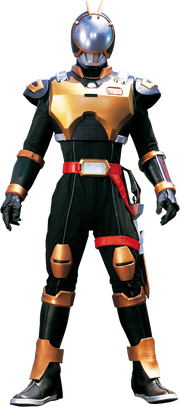 "Complete!"
―Transformation announcement[src]
Rider Statistics
Ability Parameters:
The Smart Buckle gives him the following statistics when he transform.
Full Metal Lung: The vest armor of the Rider provides the most protection, being able to withstand Anti-tank weaponry.
Global Feeler: The antenna on the Rider's head can be used to communicate with the Smart Brain Satellite and the Smart Brain computer network.
Photon Blood: A glowing substance that provides all of the Rider's powers and generates all of the physical features of the armor. The Photon Blood is generated from the Smart Buckle.
Photon Streams: The path that the Photon Blood travels through the Rider's armor. In all Riotroopers, this path is yellow when transforming, white after transformed.
Photon Terminals: Where the Photon Streams connect with the gauntlets and greaves.
This form is exclusive to
Paradise Lost
.
Equipment
Device
Weapon
Vehicles
Behind the Scenes
Concept Art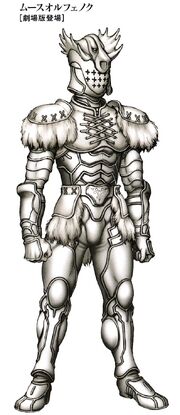 Moose Orphnoch was designed by Tamotsu Shinohara (篠原 保, Shinohara Tamotsu).

Appearances
See also
References